This is related to world building, and also related to player characters when they choose to invest in or participate in trading activities in your world/campaign. In some rulesets the characters need lots of money, in others they don't. Trade has the potential to make lots of money.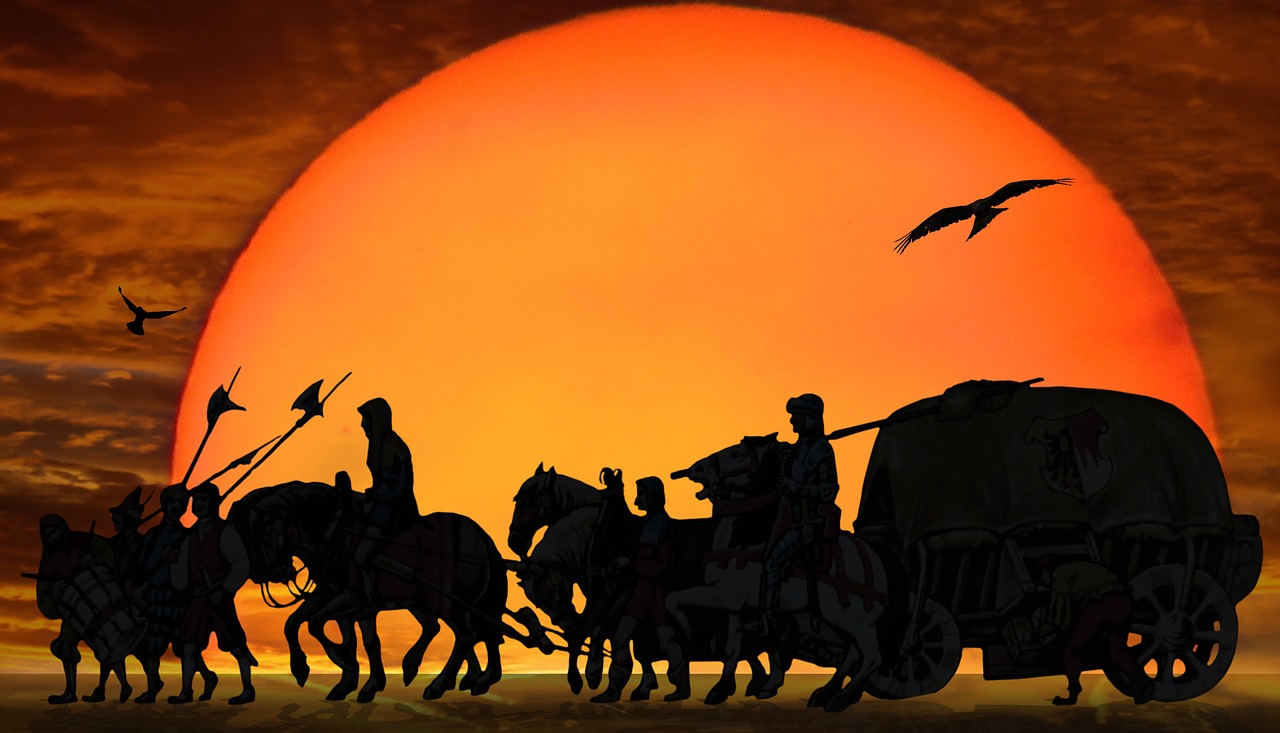 Picture courtesy of Pixabay.
"If you don't take a hard look at risk, it will take you."
--Larry Hite
Trade in general is a mysterious thing. When the trading is between different nations, usually both are better off for it. In other words by some alchemy nations trade and both increase their wealth. Think about that for a minute, and you won't be able to think of many other things where two nations (or even individuals) can do a simple activity that benefits both, sometimes massively.
The key to trading between nations is the cost of production. Nation A can produce good A cheaply, but it costs a lot to produce good B. Nation B can produce good B cheaply, but producing good A is expensive. The difference may come from the skills of the workforce or from natural resources readily available or from differences in infrastructure. When nation A trades their good A to nation B for their good B, both are better off. They both acquired a good for much less than it costs them to produce it themselves.
Trading was a big road to national wealth in the ancient near East, and countries fought over trade routes. One example of trade was the Assyrian trade in textiles to the Hittites in return for certain metals. The Assyrian population produced textiles easily, kind of a national industry, while the Hittites had many metal resources available in Anatolia. Everyone benefited. We can name many more recent examples, of course.
The cost of transportation had to be figured into this. In the modern world the cost of transportation by sea is so ridiculously cheap that we can have even the simplest things produced in China or Mexico and shipped to the USA, more cheaply than producing them in the USA (the difference is in the cost of labor and the cost of living). Transportation for the Assyrians and Hittites was human and four-footed pack animal, but still cheap enough to make the trade worthwhile.
The same forces are at work whether trading in the modern world or trading in a fantasy world or science-fiction world. Where one side can obtain a good cheaply, the other side will trade their own cheaply produced goods for it, assuming there's demand. The Romans traded wine to the Germanic barbarians (who could not at that time grow grapevines owing considerably to climate) in return for slaves, which the tribal chiefs acquired in their wars with one another. This is after the Romans no longer engaged in aggressive wars and consequently no longer collected prisoner of war slaves in large numbers.
So in your world building or your campaign the first question is always what can be produced cheaply in one place and traded to another place that has a good that they can provide cheaply in the trade, assuming both want/need the cheap goods.
But a question nearly as important is the cost of transportation
. Keep in mind that transportation by water is always much cheaper than other forms of transportation, but is subject to availability, warfare, storms, and piracy. Yet even when pirates were rampant there was lots of sea trade because the profits could be so great, when you traded for something that was in great demand such as spices or even just tea from the Far East.
If player characters want to trade then you'll have to decide how dangerous the transportation is, whether they go along or not. If they go along on the trip then it's obviously an opportunity for adventure. For example, Sinbad's famous stories (which are pretty innocuous for modern readers, but weren't innocuous a millennium ago) derive from his trading voyages. If the characters are not going along then you can estimate the percentage chance that the trade and voyage will be successful and roll the dice, and either the characters benefit or they lose some or all of their money (depending on whether the ship/caravan makes it back it all). The origins of the company as an institution are tied with trading, where a group of people pooled their money to support trading ventures while reducing their individual risk.
Trading profit margins are much smaller today because there's little risk and cheap long-distance transportation. But that was not generally true in the ancient and medieval worlds, the risk was quite large, so the returns tended to be quite large or the trade wouldn't happen.
For science-fiction worlds, many people believe there would be very little interstellar trading because the cost of transportation much exceeds the cost of highly advanced means of production. For example, if you need a particular metal you'd be able to set up factories that could convert one metal, or even just rocks, into another, and every solar system is likely to have lots of large bodies that can be mined for ordinary materials. (Think of 3-D printers even today.) Why trade in that situation?
Trade may not always be exciting, but under the right circumstances it can be profitable for everyone involved. My question to readers is, how often have you seen player characters get involved in trade, especially long-distance trade?