Tabletop game publishing is a big step to take, but the reality is it's very difficult for an unknown designer to get a game accepted by an established publisher. So what's a designer to do?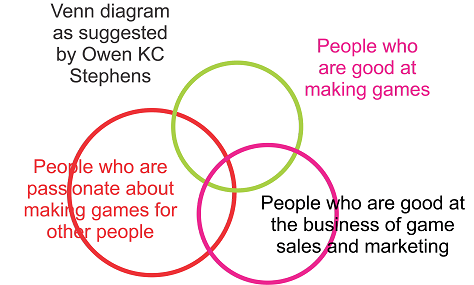 The accompanying diagram is a graphical reflection of a tweet from
Owen K. C. Stephens
. You can read more on Owen's Business of Games blog and help him create future articles on the topic by supporting him on Patreon.
Publishing vs. Designing​
Publishers get hundreds or even thousands of submissions a year and publish a small number games. (Many publishers started as, and may still be, self-publishers.) Fortunately, it's much easier to get a game manufactured than in the past. As a result I encounter aspiring designers who assume that designers are also publishers. That's not the way it used to be, but it is now.
Self-publishing is easier in RPGs because RPG rules are often only books, and books are easier to manufacture than board games. A different set of tasks is involved in being a publisher. It's not merely self-publishing that you're doing, it's publishing in itself. If you take that step of self-publishing, you're no longer just a designer, you're also a publisher. So what is the difference between a designer's tasks and a publisher's tasks?
What Designers Do​
Designers design the games, which involves making and modifying prototypes, and playtesting and writing rules. Then the designers at some point have to approach publishers to persuade the publisher to do the rest.
Discoverability is a huge problem. That is, if people don't know about your game amongst so many, many others, how can they buy it? I've often seen new companies exhibiting their RPG or other games at conventions to try to drum up business; they seldom come back the next year because it wasn't worth it. Advertising often isn't worth the cost, either.
You've got to be a business and salesperson when you do these things, not everyone is good at that. Yet people self-publish, and some make money.
Even if someone else publishes your game, you should be doing some publisher tasks, promoting the game via social media, blogs, etc., being involved in the funding if it's crowdfunding, supporting the game after publication, answering questions and so on (
at places like EN World's Promotions/Press forum
).
What Publishers Do​
Publishers raise money (often through crowdfunding) to pay everyone: to pay for advertising, to pay for manufacture and distribution, to pay the designer, to pay themselves. They edit the game during the creation–and may change it a lot. They usually choose the art style, and hire artist(s). They cope with the logistics of distribution. They advertise and otherwise promote, especially at conventions and conferences. They establish links and communicate with interested parties, also often at conventions. They often ship the game to distributors, some retailers and consumers (though you can pay a fulfillment company to do that for you).
Publishers also manage customer service after publishing, which is a real burden, especially for tabletop games. Zev Schlasinger, who was the "Z" in the very successful
Z-Man Games
, was faced with the necessity to hire somebody to do his customer service (CS)–at that point he ran the operation with part-time employees, and he did the CS. That's a lot of work all done by the publisher. Do you want to do all that?
Book publishers also need editors. Self-editing is not as effective as editing by someone else. In addition to managing employees, the company has to raise money to afford them. Raising money is a big job in itself.
There's a lot to learn about manufacturing. Even when RPGs are just books without additional components like dice or miniatures, a lot can go wrong. If you use printers from overseas, who are usually cheaper, you may run into big communication problems and delays. I know of someone who offered12-sided dice numbered 1-6 as a Kickstarter, and then looked into overseas manufacturers. He tried some out; at one point he got somewhat cockeyed dice as a sample, told the manufacturer, "Don't make these," but they had already produced 180,000 and then
hand sanded
them to make them regular or close to it. They already had a lot of his money. What could he do?
Speaking of challenges with international manufacturing, there's the knotty tangle of pandemic- and war-related shipping problems. Horror stories abound.
Not Making the Choice​
Some designers opt-out of being publishers by giving their game away. Even then, you have to deal with acquiring the art. You could avoid some of the publisher duties, but will you make any money, especially after paying for art?
On the other hand, PDF publishing is practical for RPG books, though impractical for board games. You still have the editing, formatting, diagrams, and other art to come up with.
In the end, many game designers become publishers not by choice but out of necessity. Publishing takes away from your design time, but you may have no other option.
Your Turn: Have you ever published any RPG material? Did you do better than break even? Was the time you spent worth it?
Last edited by a moderator: