The most widespread (by far) RPG has been
Dungeons & Dragons
(D&D), though in quite different forms. And
Dungeons & Dragons
tends to be dominated by magic users, or more broadly, spell casters. Why is that?
"There are no heroes...in life, the monsters win." George R. R. Martin
"Monsters exist, but they are too few in number to be truly dangerous. More dangerous are the common men, the functionaries ready to believe and to act without asking questions." Primo Levi
(I'm going to ignore that the original players of D&D were wargamers and they were used to artillery and very powerful weapons. Then it's not surprising that they included magical analogs to those weapons in the then-new game. I'm pursuing the "real world" design reason, if you will.)
In typical medieval fantasy literature the spell casters are generally less powerful and less "in your face" than they are in D&D. The monsters in typical medieval fantasy literature often aren't terrifically dangerous or numerous, either.
Now think of the real world: yes there are dangerous monsters, but they're never intelligent, nor are there many of them. Most people are never going to see a grizzly bear, or lion or tiger, or a killer whale, except in a zoo. In many fantasy (and science-fiction) settings there are lots of really dangerous monsters such as dragons and demons that don't exist in the real world. If you transfer people from the real world to the fantasy world without giving them some kind of "ace in the hole" then even if they do improve considerably in their hand-to-hand combat ability they still don't have much chance to survive.
So what can the "ace in the hole" be? Technology is what we're using in the real world; a gun that slings pellets is the great equalizer in many situations, and of course now we have artillery and tanks and jet planes and helicopters to even the odds if Godzilla really does show up, and to overmatch the real-world monsters.
In a fantasy world the Aces are going to be magic and possibly mutations to the race or races (including superheroes). The magic can take two forms, magic items that many people can use, or individuals who can in effect create magic as they go - spell casters. Magic items without powerful spell casters feels wrong (to me), it becomes a kind of technology. So if you want to avoid any "smell" of technology you need individuals who are spell casters.
There's a big caveat to this. Some RPGs have reduced danger to the characters to almost nothing. When I first discussed this "ace in the hole" idea with a friend he said only when somebody did something really stupid in his game did they risk dying. If the participants are not really afraid of death then they don't need an ace in the hole. You can play a game without spell casters or perhaps without magic at all, and that will work out. On the other hand, if you play in the older style where the RPG is a game that the players can lose if they are really unlucky or play poorly, then an ace in the hole is definitely needed because without one the players will be overwhelmed.
This brings us back to D&D where, in my experience, magic users do much more damage to opponents than any other class, and quite possibly the majority of the damage to the enemy altogether. Long ago I wrote a simple program (in Basic!) to help me enter numbers to track the relationship over a two day invitational adventure. Unfortunately I can't put my hands on the results, but magic users were way ahead of any other class in damage done. In short, magic users were the ace in the hole that made the difference in D&D. I've tried to diagram this relationship in the below picture.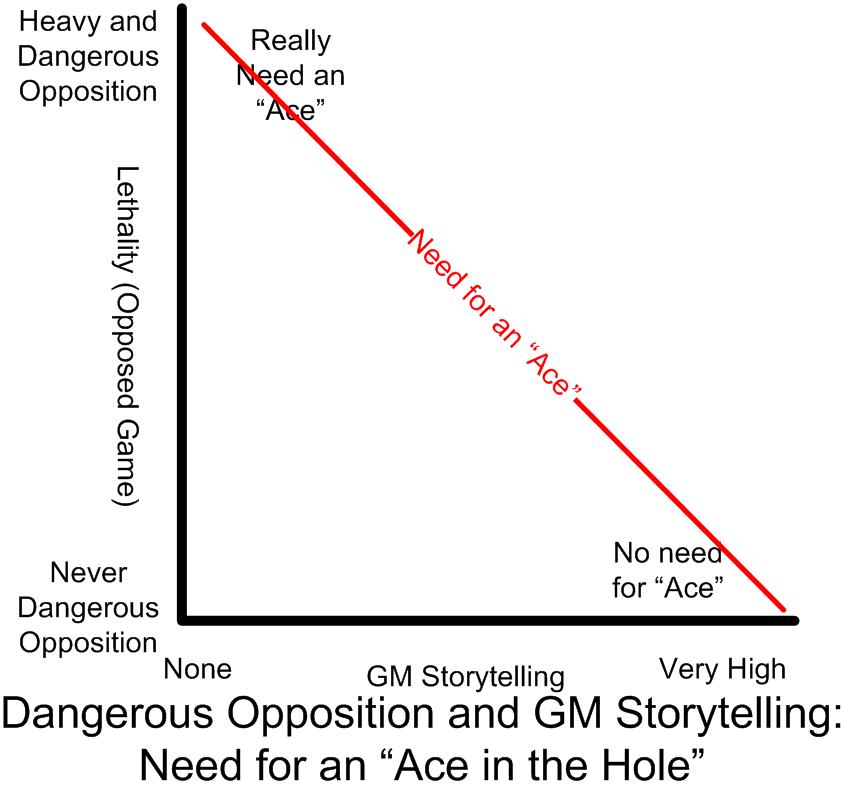 Long ago I played several games with a party that included no arcane magic users, though we did have clerics. It's a recipe for being constantly worried because there are no magic users to bail you out.
But I also played a one-day game where the GM wanted to see the players (who were strangers to each other) messing with one another. Our characters had to watch the others constantly and didn't worry about the monsters because, in comparison, monsters were not dangerous. In this case there were some big-time magic users but they were there to threaten other characters, not to keep the party alive. A few characters died, killed by other player characters.
Examples:
Cthulu: All the dangers of the old gods have been added. And little to nothing added to player capabilities/options. So it's not surprising that insanity or death is a typical result
Undead Apocalypse: There's a whole lot of undead, especially zombies, about. Additional player capabilities may include favorable mutations, medical improvements, and situations where undead are at a disadvantage. But it's still likely pretty desperate without magic.
Apocalyptic War: If war has brought the apocalypse, players may have improved technology in weapons. If nuclear war, there can be mutants - on both sides.
Science fantasy (e.g., Star Wars): While there may be new unintelligent monsters to fight, the players have blasters and light-sabers. In that situation it's unsurprising that intelligent beings are the main danger.
Gumshoe Detective: It's very close to real-world, so there's no need for an ace in the hole beyond pistols and explosives.
We could generalize this for RPGs thus: Compared with the real world, what serious dangers have been added to the game setting/world? And what has been added to player capabilities to counter that?