In the
first part
of this three-part series, I looked back on 2022 as it impacted cyberpunk tabletop RPGs, specifically its crowdfunding. From
Blade Runner: The Roleplaying Gam
e's
million dollar achievement to
Everyday Heroes: The Roleplaying Game
bringing John Carpenter's
Escape from New York
to tabletop to the return of
Misspent Youth: Fall in Love, Not in Line
to the achievement of a one-page cyberpunk RPG with
CBR+PNK: Augment
ed
, 2022 was an outstanding year for cyberpunk RPG crowdfunding. In the second part to this series, we'll look at the traditional releases (non-crowdfunding) from
R. Talsorian Games, Catalyst Game Labs,
Green Ronin Publishing
and more as they continue to show that publishers see the future of cyberpunk in different ways.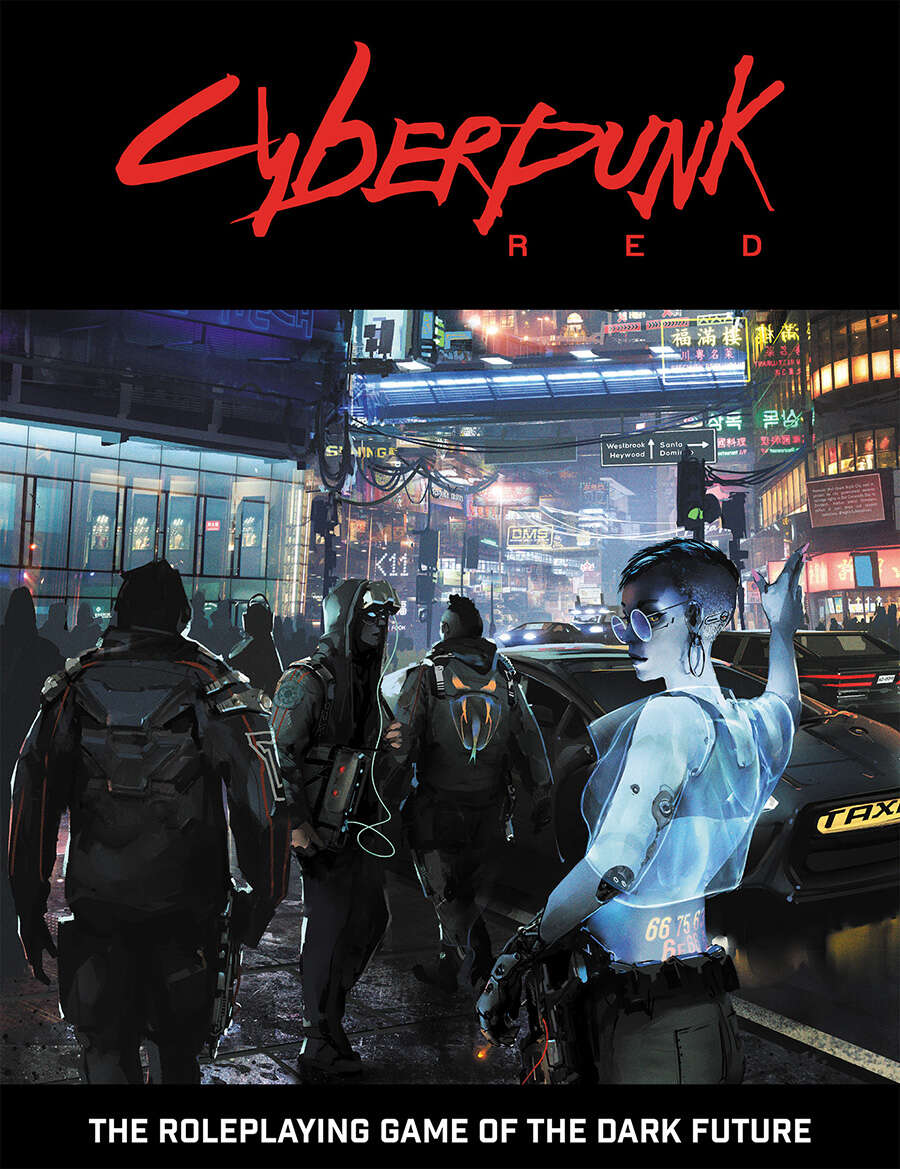 TRADITIONAL RELEASES​
Not every cyberpunk offering came via crowdfunding. The established publishers went the traditional route with their projects, offering them via FLGS and online. Let's start with the original cyberpunk tabletop RPG publisher,
R. Talsorian Games Inc.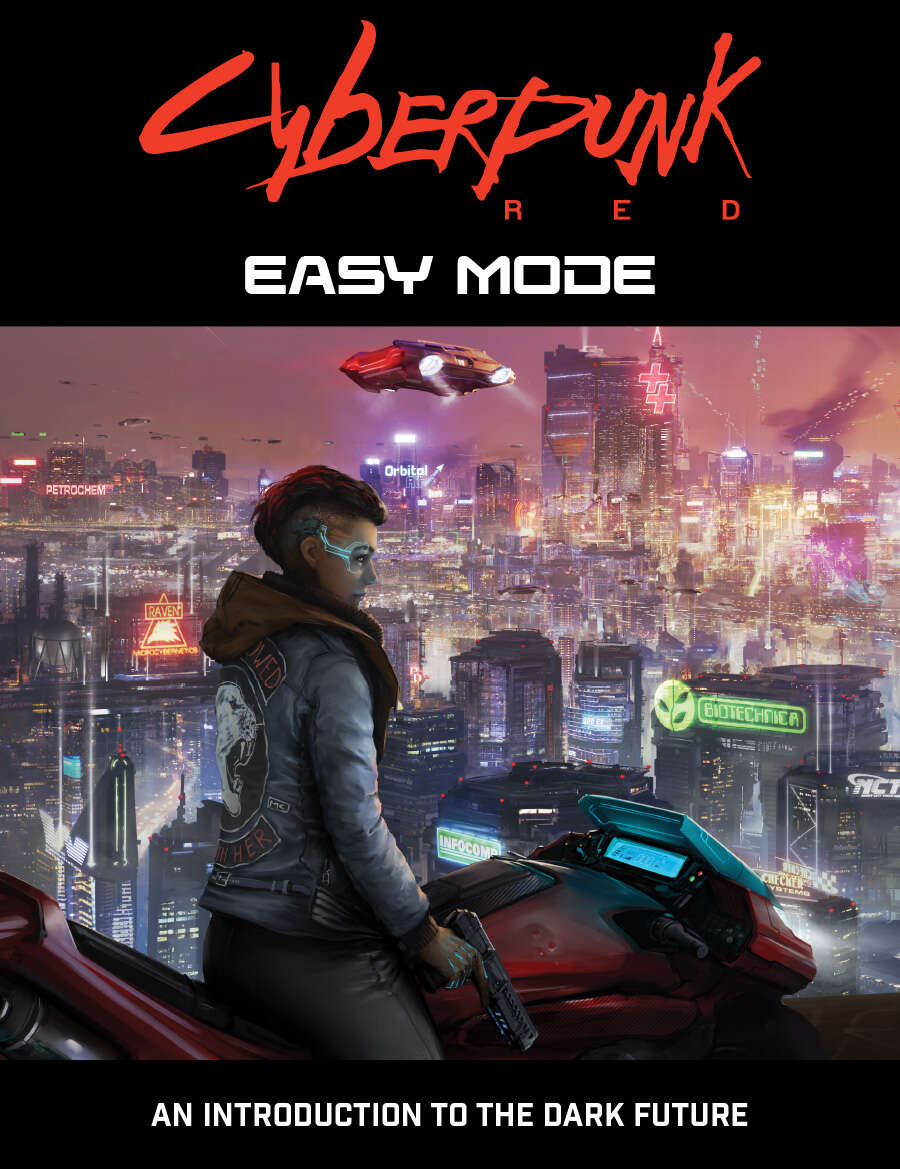 The
Cyberpunk 2077
video game from
CD Project RED
dropped in late 2020. While reviews were impacted by the video game's bugs,
Cyberpunk 2077
received a second life when
Netflix
released the anime
Cyberpunk: Edgerunners
. The show scored highly for
Netflix,
and reinvigorated interest in the video game. In turn,
Cyberpunk RED
(the core rulebook and the
Jumpstart Kit
are
Adamantine
best-sellers on
DriveThruRPG
) benefited from that same increased interest.
RED's
core rulebook has been in print since the drop of
2077,
and 2022 saw
R. Talsorian's
continued commitment to the brand through their fan outreach.
R. Talsorian
did a big piece of that outreach with
Cyberpunk RED Easy Mode
as a part of
Free RPG Day
2022
. In one day, that booklet put the core rules, a scenario, pre-generated characters, and maps into the hands of many fans. R Talsorian has since made the same book available as a free PDF via
DriveThruRPG
. Beyond that freebie,
R. Talsorian
offers a catalog of
free DLC content
intended to help you to customized your experiences in Night City. If
Cyberpunk RED
interests you, Rob Wieland did a
review of the gam
e and some
of the early
supplements
to give you an idea of whether this RPG is the cyberpunk your table needs.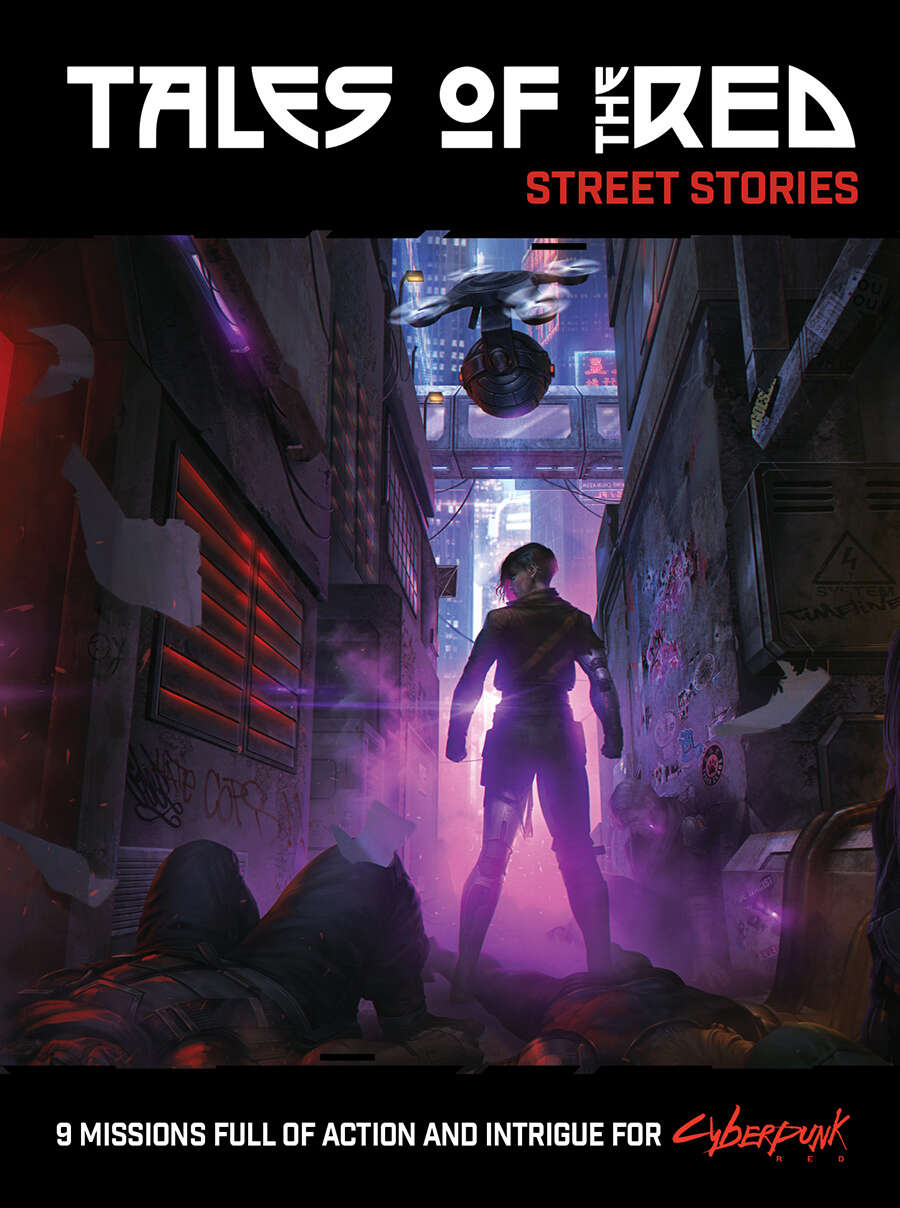 Beyond free content,
R. Talsorian's
major
RED
release in 2022 is the adventure collection,
Tales of the RED: Street Stories
(
Platinum
best-seller on
DriveThruRPG
). This is a well laid out book, a solid set of adventures, and a good resource full of NPCs and other useful items. As with the other books, Rob
took a
look at
Tales of the RED
so you can decide how much you need these tales.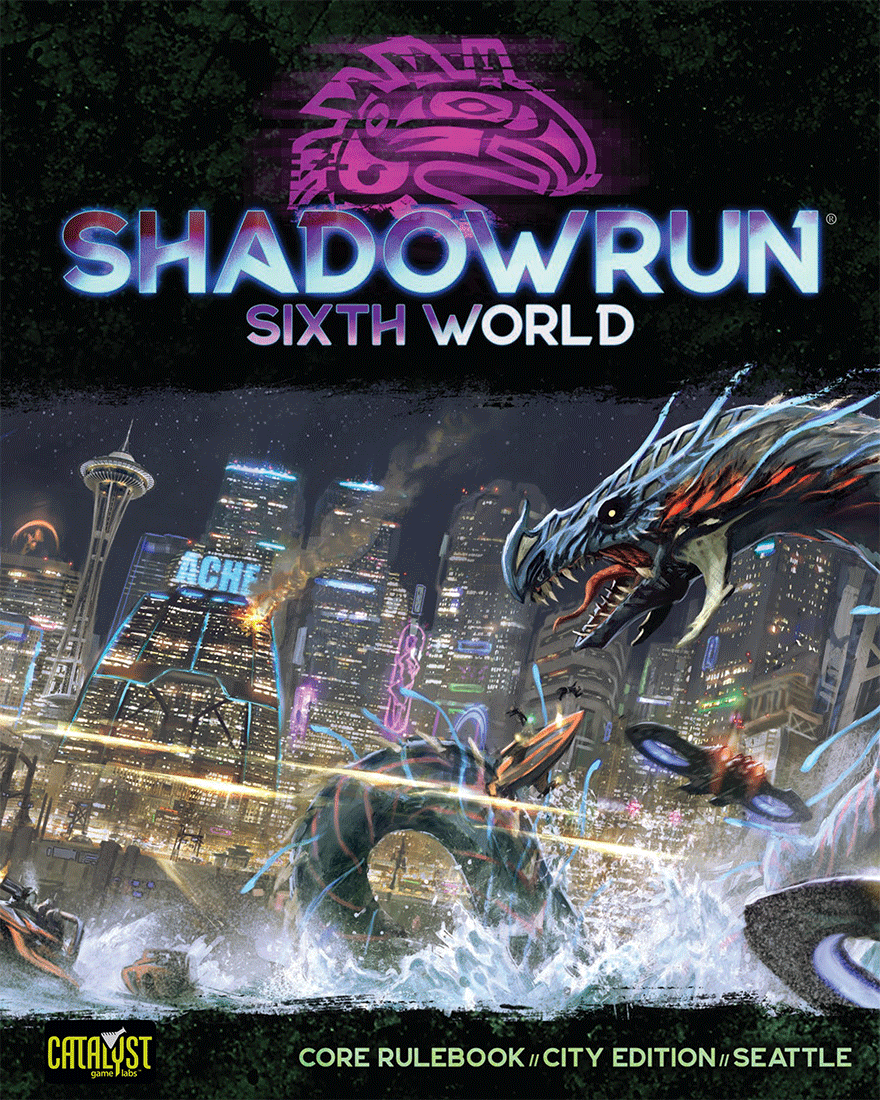 No discussion of tabletop RPG cyberpunk on
EN World
is complete without
Shadowrun
.
EN World's
Darryl Mott
is a longtime fan of the system and discussed some of the offerings from 2022
here
and
here
, among other articles. While many books and
Roll20
support came along,
Shadowrun, Sixth World Core Rulebook: City Edition: Seattle
, the revised core rules for
Shadowrun 6th Edition
, from
Catalyst Game Labs
dropped last year on
September 15, 2021
as a PDF (
Mithral
best-seller on
DriveThruRPG
). The print version of the book released in late '21 and early '22, so Charles Dunwoody was able to
talk about the book briefly in his weekly roundup
. Between these books and
Shadowrun
charity bundles created from
past
and
present
editions, Shadowrun's combination of cyberpunk and fantasy continues to be a major player in the genre's field.
Catalyst Game Labs
released a few pieces of
Shadowrun
prose fiction in 2022. The last of them is Bryan Young's
Shadowrun: Mercy Street (A Shadowrun Novella)
. Released on December 29th, this book continues to tell the story of the Sixth World, expanding the RPG beyond tabletop.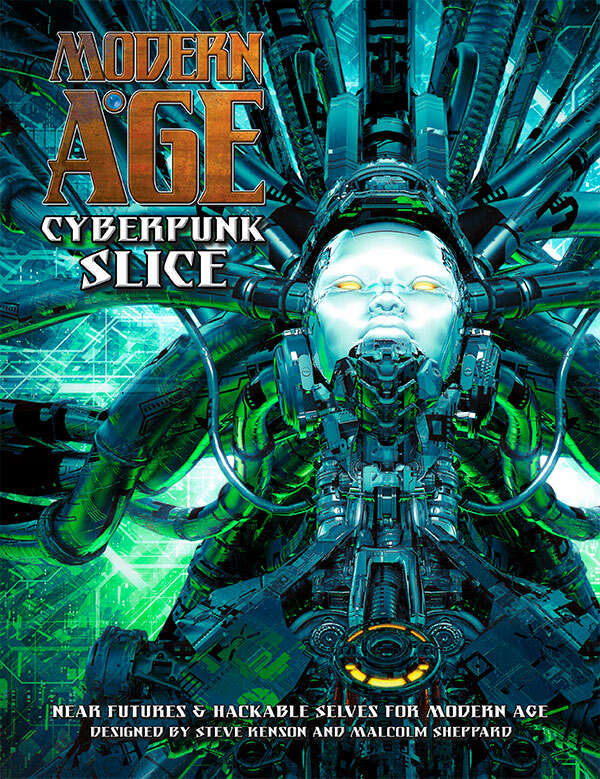 From
Green Ronin Publishing
comes
Cyberpunk Slice: Near Futures & Hackable Selves for Modern AGE
(
Electrum
best-seller on
DriveThruRPG
). This sourcebook adds to
Green Ronin's
Modern AGE
ruleset augmenting the cyberpunk options. While they've touched on cyberpunk for
Modern AGE
with the
Modern AGE Companion
and offered a specific sci-fi/cyberpunk world with Greg Rucka's
World of Lazarus
, this toolkit gives you everything cyberpunk they hadn't already offered. You'll find everything you need to fight the corps, save for a list of those corps. If you're interested in more details, I did an
interview with Malcolm Sheppard and Troy Hewitt
about this sourcebook.
But it's not all large and mid-tier publishers that bypass crowdfunding to go with a traditional release model. Many publishers self-fund their work to take to market. Jonathan Hicks'
Farsight Games
released
Cyber Streets - Rules Light Future Noir Roleplaying
(
Copper
best-seller on
DriveThruRPG
) into the wild of 2022. This RPG uses the
FIRETEAM - Rules Light Military Science Fiction Roleplaying
(
Electrum
best-seller on
DriveThruRPG
) rules system and is perfect for fans of rules-light cyberpunk. The core rulebook has everything you'll need to run these
Cyber Streets
without getting bogged down in massive rulesets.
Micro RPG
has a line titled
Neon Road
. The first offering in the line,
Neon Road: AN 80s STYLE SOLO GAME
, is a
Platinum
best-seller on
DriveThruRPG,
which is outstanding for an RPG that debuted in 2022 and forsook crowdfunding. As a solo cyberpunk roleplay, this game exists in a niche space. Add to this,
Micro RPG's
mission statement
is the stuff that awesome is made of!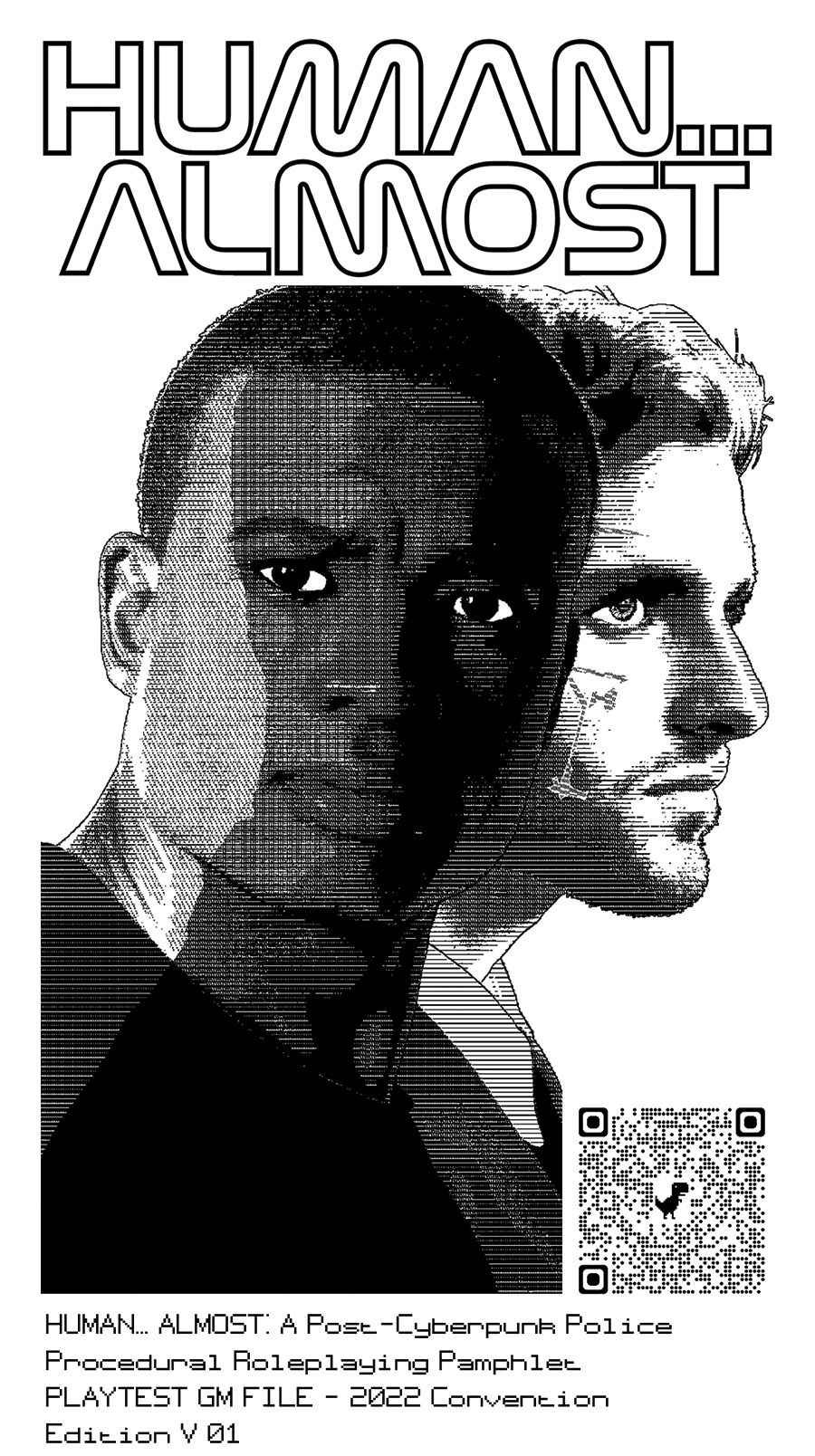 I've talked about my adoration for
CBR+PNK: Augment
ed
from
The Cabinet of Curiosities
, which brings me to my own little piece of cyberpunk,
HUMAN… ALMOST: A Post-Cyberpunk Police Procedural Roleplaying Pamphlet – PLAYTEST VERSION
from
Egg Embry Publishing
. Inspired by
CBR+PNK
plus post-cyberpunk police procedurals like
Almost Human
, this is my attempt at a
Forged in the Dark
pamphlet/brochure RPG. I've written about the
production of the game
and
its impact while vending at conventions
, and with positive reviews from
Andrew Peregrine at
EN World
and
Andrew Girdwood of
Geek Native
matched to its free price point, there's a lot to offer without any risk for the buyer.
BUT WHAT OF THE CORPOS' PLIGHT?
In the conclusion to this series, I'll talk about some of the cyberpunk RPG news from 2022. These are the stories that touch on a few of the more notable tabletop announcements including new projects, new publishing players, and some non-tabletop news.
2022: The Year's Cyberpunk Tabletop RPG Downloads Article Series:
Egg Embry participates in the OneBookShelf Affiliate Program, Noble Knight Games' Affiliate Program, and is an Amazon Associate. These programs provide advertising fees by linking to DriveThruRPG, Noble Knight Games, and Amazon.
Last edited: