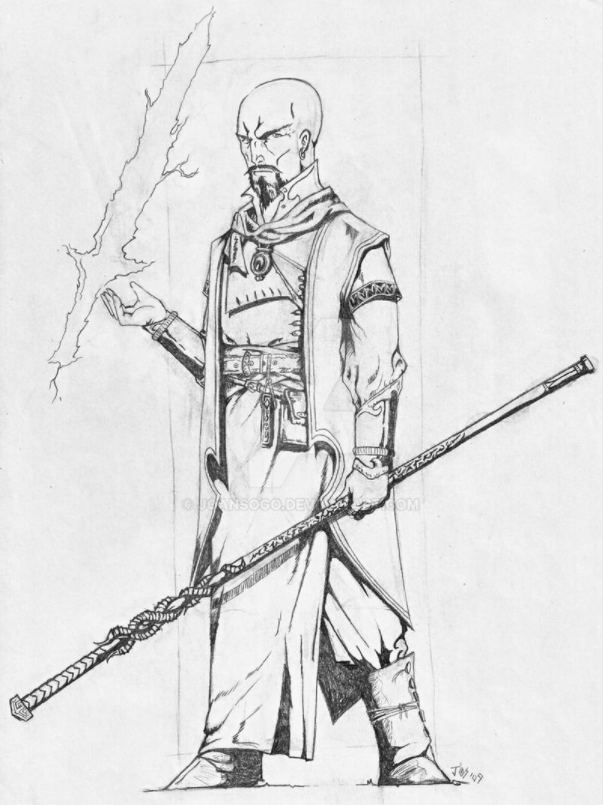 Mordenkainen concept
by JoanSogo
Mordenkainen
Medium humanoid (human), neutral
Armor Class
22 (see equipment)
Hit Points
162 (20d8 + 80; bloodied 81)
Speed
30 ft.

| | | | | | |
| --- | --- | --- | --- | --- | --- |
| STR | DEX | CON | INT | WIS | CHA |
| 10 (+9) | 17 (+3) | 18 (+4) | 20 (+5) | 15 (+2) | 16 (+3) |
Savings Throws
Str + 4, Dex +7, Con +8, Int +15, Wis +12, Cha +7
Skills
Arcana +17, History +11, Investigation +11, Perception +8
Damage Resistances
fire (staff of fiery power)
Senses
passive Perception 18
Languages
Abyssal, Celestial, Common, Elvish, Gnomish, Infernal
Challenge
16 (15,000 XP)
Proficiency Bonus
+5
Arcane Scholar.
Mordenkainen can attune to a magic item as an action and does not need to spend a short rest. In addition, he always has the following spells prepared, they do not count against is prepared total, and he can cast each once per day without spending a spell slot:
4th level:
mordenkainen's faithful hound, mordenkainen's private sanctum
7th level:
mordenkainen's magnificent mansion, mordenkainen's sword (concentration 1 hour)
Elemental Adept.
When Mordenkainen cast a spell that causes fire damage, the damage ignores resistance to fire damage and any roll of a 1 on a damage die becomes a 2.
Greater Portent (1/Long Rest).
Roll three d20s, Mordekainen can replace any attack roll, saving throw, or ability check he or a creature he can see makes with one of the rolls. Mordekainen must choose to do so before the roll, and can use this trait only once per turn.
Magic Resistance.
Mordenkainen has advantage on saving throws against spells and magical effects while wearing
Robes of the Archmagi
.
Signature Spells (1/Rest each).
Mordenkainen can cast
fireball
and
counterspell
without expending a spell slot.
Spell Mastery.
Mordenkainen can cast
detect magic
and
shield
at-will without expended spell slots.
War Caster.
Mordenkainen has advantage on saving throws to maintain concentration on a spell when he takes damage. In addition, she can use his reaction when a creature provokes an opportunity attack to cast a spell at the creature. The spell must have a casting time of 1 action and target only the triggering creature.
ACTIONS
Staff of Fiery Power.
Melee Weapon Attack:
+12 to hit, reach 5 ft., one target.
Hit:
10 (1d8 + 6) bludgeoning damage plus 4 (1d8) fire damage.
Third Eye (1/Rest).
Mordenkainen can use an action to gain one of the following benefits:
Darkvision. He gains darkvision 60 ft.
Ethereal Sight. He can see into the Ethereal Plane within 60 ft.
Greater Comprehension. He can read any language.
See Invisibility. He can see invisible creatures and objects within 10 feet of him.
Spellcasting.
Mordenkainen is a 20th-level spellcaster. His spellcasting ability is Intelligence (spell save DC 21, +16 to hit with spell attacks while wearing Robes of the Archmagi and wielding the Staff of Fiery Power). Mordenkainen typically has the following wizard spells prepared:
Cantrips (at will):
mage hand, message, sacred flame, thaumaturgy, thunderclap
1st level (4 slots):
comprehend languages, detect magic, identify, shield
2nd level (3 slots):
calm emotions, detect thoughts, locate object
3rd level (3 slots):
clairvoyance, counterspell, fireball, tongues
4th level (3 slots):
arcane eye, dimension door, greater invisibility
5th level (3 slots):
cone of cold, dominate person, scrying
6th level (2 slots):
chain lightning, disintegrate, trueseeing
7th level (2 slots):
forcecage, plane shift, teleport
8th level (1 slot):
dominate monster
9th level (1 slot):
foresight, wish
BONUS ACTIONS
Boon of Quick Casting.
Mordenkainen can cast fireball, at 3rd level, if he has a spell slot available.
---
EQUIPMENT
Mordekainen has the following possessions. The stats provided for him here assume he is wearing, carrying, or wielding at some of these items, as noted below:
Ring of Protection
(included in the stats above)
Robes of the Archmagi
(included in the stats above)
Ioun Stone
(Fortitude)
Carpet of Flying
(6'x9')
Wand of Fireballs
Bag of Holding
Bracers of Defense
Crystal Ball
(True Seeing)
Rod of Absorption

Silver Key of Portals
Wonderous Item, Artifact (requires attunement)
This minor artifact works like a Chime of Opening. Additionally you can use a bonus action while holding the key to dispel the arcane lock spell, or an action to cast one of the following spells:
Spells: While holding this key, you can cast, two times per day, each of the following spells: Etherealness, Passwall, Word of Recall
Staff of Fiery Power
(included in the stats above)
Staff, legendary (requires attunement by an 18th level wizard)
This staff can be wielded as a magic Quarterstaff that grants a +3 bonus to Attack and Damage Rolls made with it. While holding it, you gain a +3 bonus to Armor Class, saving throws, and spell Attack rolls.
The staff has 30 Charges for the following properties. The staff regains 3d8 + 6 expended Charges daily at dawn. If you expend the last charge, roll a d20. On a 1, the staff retains its +3 bonus to Attack and damage roll but loses all other properties. On a 20, the staff regains 1d8 + 4 Charges.
Power Strike: When you hit with a melee Attack using the staff, you can deal an extra 1d8 fire damage to the target. You can increase this damage by spending charges, increasing the damage 1d8 per charge spent.
Spells: While holding this staff, you can use an action to expend 1 or more of its Charges to cast one of the following Spells from it, using your spell save DC and spell Attack bonus: Delayed-Blast Fireball (7 charges), Melf's Minute Meteors (3 charges), Meteor Swarm (20 charges), Summon Elder Fire Elemental (9 charges), or Wall of Fire (4 charges).
Retributive Strike: Refer to Staff of Power.
Last edited: