Clerics have three attack cantrips, total.

Sacred Flame d8s
Toll of the Dead d8/d12
Word of Radiance AOE d6's

Yes, it is the highest, but "all other cantrips" is literally the only two other choices they have. And when those are your choices, then you are going to pick Toll of the Dead
There are a lot of other damaging cantrips out there, all of which are available through other means, even for clerics.
Oh, you were saying you wanted it like the GFB and BB cantrips, so I assumed the damage boost at 5th, 11th and 17th like those cantrips was included. I definetly don't think taking those out leads to a better solution.
No, I mentioned it because you and others seemed to want it to go that way.
Why would that be a problem? War Priests aren't exactly breaking the game with their signature ability. And we have a lot of subclasses that now allow "Cantrip + attacks" already.
Because it can also be used with others. For example, keeping it as a bonus action without making it an attack as part of the spell, keeps it open to being
combined
with GBF and BB.
Again, a common issue with homebrewing things and/or normal later publication material is power creep. Allowing "Cantrip + attacks" is an example. Improving this cantrip is another. And, FWIW,
Toll the Dead
is another example of power creep.
I am not a fan of power creep, because earlier features, etc. end up being pointless or in need of revision to remain competitive.
I found the cantrip. It already shed light and made the weapon magical, I felt that wasn't enough and people seem to have agreed. It is also weird you call out your own suggestion as a problem because it adds too much.
Not really as I felt the original cantrip was fine. It does what it was meant to do, make your attack magical without needing to use a spell slot. Until a cleric gains Divine Strike (8th level), it serves the purpose it was intended to, much like Shillelagh.
"Melee" Clerics already have Divine Strike later to keep their melee damage up to speed if that is your focus.
To give a melee cantrip for Clerics with Divine Strikes.
Why? They already have Divine Strikes, which was the purpose of giving them that feature.
Basically, a STR-based Cleric at 14th level can do 3d8+5+any magical weapon bonus, while the same cleric with Toll the Dead will do 3d12 (against an injured foe), which is roughly the same. Of course, the 3d8 version initially done would be less.
The problem then arises when cantrips scale to the 4th die of damage.
Frankly, you want power creep to prevail so have at it. I would just swap around the 6th and 8th level features for clerics and have Divine Strike scale a third time to mirror the cantrips.
Finally, as I said above, I thought the original cantrip was fine as it was but was trying to help "make it better" since that seemed to be the direction yourself and others wanted, while keeping it balanced at all. Ultimately, 6d8+STR mod will keep it on par with 4d12 since you believe the pinnacle of cantrips should be the baseline.
With that in mind, I would just have it add your WIS mod to damage, then increase that by 1d8 at 5th, 11th, and 17th. That would keep it more in check at lower levels IMO since it would rely on both STR and WIS for initial damage. It might raise the floor a bit, but should encourage melee clerics to wade into the fray.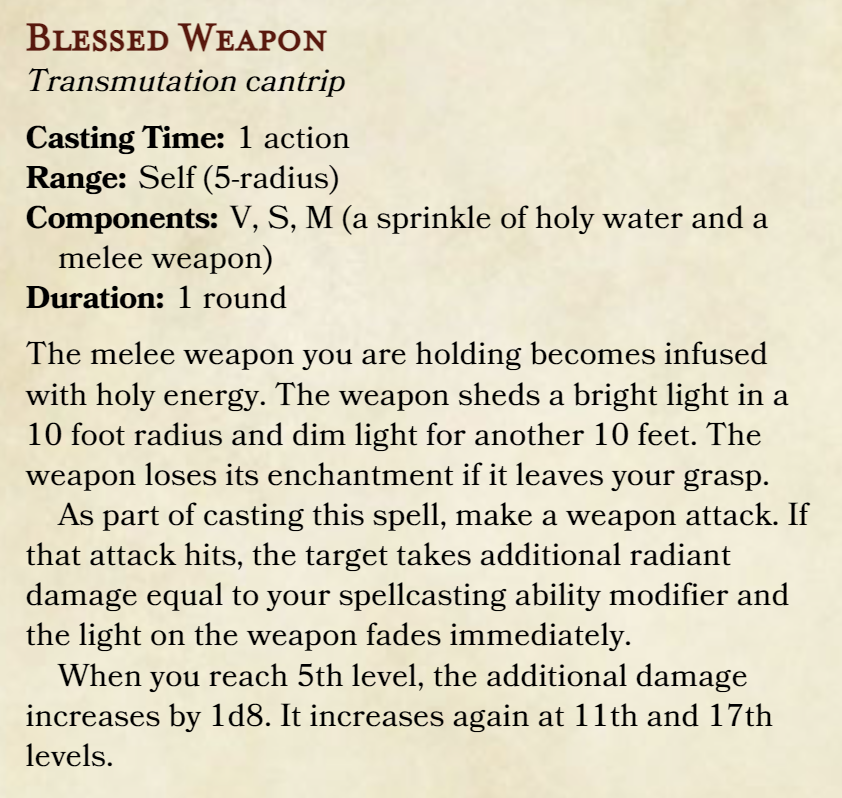 Note, you don't need the clause about making the weapon magical--the cantrip takes care of making the damage magical.