Phew! We're back not non-dragons now. This issue's Dragon's Bestiary is all about underground foes. The first of them is the
biclops
, which I am not converting—it's literally a cross between an ettin and a cyclops: an ettin with one eye in each head. Since they effectively have two eyes, they don't suffer from the depth perception problems that cyclopes have. I'm sure you all can make that monster for yourself quite easily, if you really want to.
The monster I'm
actually
going to convert is called the
averx
, because I always thought they were kinda neat. They look like foot-tall devils and like to steal things, set traps, and use misdirection to play tricks. Their Intelligence is listed as Genius (18), but when I read their entry, I can't help but pronounce that the Wile E. Coyote way, all three syllables. But they'd be the one to drop an anvil on you.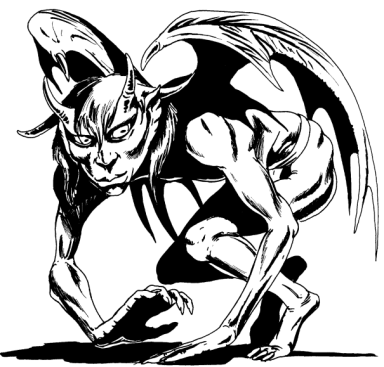 Art by Jim Holloway
Averx
The Dragon's Bestiary, Dragon Magazine #172
Created by Costa Valhouli
Averxes are subterranean fey who resemble tiny humans with gray skin, batlike wings, ivory horns, and bright, amber eyes. This devilish appearance leads many to call them "dungeon demons" or "cave devils," although they are far more mischievous than cruel. They frequently wear crystals as jewelry but rarely wear any other sort of clothing, and they mostly eat mice and food stolen from travelers.
Tricky Thieves.
Like many fey, averexes enjoy playing tricks on people. They are expert trap builders and thieves and enjoy stealing from people—especially from people who act in noxious ways. Cavern dwellers who are rude, cruel, or destructive (most often goblins, who tend towards having filthy habits) invite the nastiest pranks from them.
Averxes who build traps often bait them with magic items, especially cursed items. These fey are naturally immune to curses and thus can handle cursed items with impunity, but they know most creatures aren't as lucky as them.
Crystal Beauty.
Averxes live in subterranean colonies of a few dozen individuals. They typically live in crystal-lined caverns. They take as much care of these caverns as pixies take of their flower gardens, spending much of their time polishing the crystals, rearranging them like stones in a Zen garden, and carefully enhancing and shaping their growth. Any intruder who damages these caverns, whether through deliberate mining, accidental breakage, or simply gem collecting, will incite the averexes' anger. Some averxes prefer to live in constructed dungeons. In these cases, they usually choose to live in rooms that are richly decorated with carvings, murals, and fountains, and they are just as possessive about these decorations as they are with crystals.
Legends and Lore
With an Arcana check, the characters can learn the following:
DC 10.
Averxes are tiny, subterranean fey. They are notorious tricksters and trap-builders.
DC 15.
These fey typically live in caverns filled with beautiful crystals and gemstones. They are very protective of these jewels, and nothing angers an averx more than damaging or stealing one.
DC 20.
Averxes are utterly immune to curses. They are known to use cursed magic items with no problems.
Monster Encounters
Terrain:
caverns, dungeons
CR 0-2
4d4 averxes
Treasure:
quartz pendant (25 gp), dungeoneer's pack,
cursed +1 shortsword, oil of slipperiness, unliving rune
Signs
1. Rhymes, random phrases, or insults graffitied on a wall in several different languages but by the same hand.
2. A very delicate trap.
3. Glowing crystals growing out of the wall.
4. A magic item just sitting there, ready to be taken
Behavior
1-2. Trying to steal a character's belongings.
3. Building a trap.
4. In its lair, rearranging crystals
Names
Balbin, Heyok, Hixx, Inik, Ximon
Averx


Tiny fey
Challenge 1/8 (25 XP)
AC
15 (natural armor)
HP
4 (1d4+2; bloodied 2)
Speed
10 ft., fly 40 ft.
STR
6 (-2)
DEX
16 (+3)
CON
14 (+2)
INT
16 (+3)
WIS
10 (+0)
CHA
12 (+1)
Proficiency
+2
Maneuver DC
13
Saving Throws
Dex +5
Skills
Deception +3, Engineering +5, Perception +2 (+1d4), Sleight of Hand +5 (+1d4), Stealth
Senses
darkvision 120 ft., passive Perception 15
Languages
Common, Sylvan, Undercommon
Immune to Curses.
The averx is not subject to curses or cursed magic items.
Innate Spellcasting.
The averx's spellcasting ability for this trait is Intelligence (spell save DC 13). It can innately cast the following spells, requiring only Seen components:
At Will:
minor illusion
1/day each:
faerie fire, levitate
Polyglot.
The averx can read and write, but not speak, all languages.
Ventriloquist.
The averx can mimic sounds it has heard, including voices. It can also throw its voice so the sound seems to originate up to 30 feet away from the averx's actual location. Recognizing the sounds as imitation requires a DC 13 Insight check.
Actions
Crystal Dagger.
Melee Weapon Attack:
+5 to hit, reach 5 ft., one target.
Hit:
1 piercing damage, or 5 (1d4+3) piercing damage if the averx is Medium sized. The target must make a DC 13 Constitution saving throw against poison or be poisoned for 1 minute. While poisoned, the creature hallucinates and is confused. The creature may make a new saving throw at the end of each of its turns, ending the confused condition on itself on a success.
Enbiggen.
The averx can magically change its size between Tiny and Medium. While Medium, it has advantage on Strength checks and Strength saving throws, and its weapon attacks deal an additional 2 (1d4) damage.
Break (Recharge 6).
The averx touches a Small or smaller nonmagical item made of leather or wood and the item becomes damaged, as per the section on Maintenance in the
Adventurer's Guide
. If the item is being held or worn, the bearer may make a DC 13 Dexterity saving throw; on a success, the item is unharmed.
Bonus Actions
Faerie Step (Recharge 6).
The averx magically teleports up to 30 feet to a space it can see.
Invisibility.
The averx and any equipment it wears or carries magically turns invisible until the averx attacks, becomes incapacitated, or uses a bonus action to become visible.
Combat
The averx doesn't engage in melee combat unless it has no other recourse, preferring hit-and-run attacks, sabotage, and using its magic and Ventriloquism to leading foes into traps and dangerous locations. If it needs to fight, it becomes Medium size and uses its dagger. When encountered in a group, averxes usually flee as soon as one of their number if killed.