Here's the start of Creature Catalog II. In another departure from the norm, the following is actually a variant of an existing monster: the faerie dragon. This one is called the
phase dragon
, since it's associated with the Ethereal Plane. As a variant, they use the faerie dragon's Legends and Lore, Encounters, Signs, Behaviors, and Names.
An article in a later issue of Dragon (#146) has a few "drakes" that will also be turned into faerie dragon variants. I like the idea that a flock of faerie dragons will have a few oddballs in it.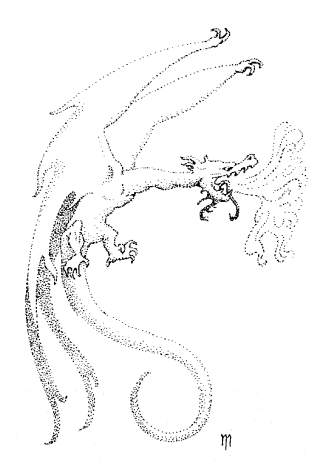 Artist: Bob Maurus
Faerie Dragon Variant: Phase Dragon
Creature Catalog II, Dragon Magazine #94
Created by Samuel Offutt
These tiny dragons are a rare mutation of the faerie dragon, hatched sometimes where the Feywild intermingles with the Ethereal Plane. They tend to be a bit more serious-minded and calmer than their kin, as their exposure to the Ethereal dilutes their "feyness." When first hatched, their scales resemble mother-of-pearl, and they become paler as they age.
Phase dragon innately know different spells than faerie dragons do:
5 years old, at will:
dancing lights, mage hand, minor illusion
10 years old, 1/day:
faerie fire
30 years old, 1/day:
gaseous form
50 years old, 1/day:
faithful hound
Additionally, phase dragons lose the Prismatic Light action and instead gain the Ethereal Sight trait and Ethereal Jaunt bonus action.
Ethereal Sight.
The phase dragon can see into both the Material Plane and Ethereal Plane.
Ethereal Jaunt.
As a bonus action, the phase dragon magically shifts from the Material Plane to the Ethereal Plane or vice versa.
Finally, phase dragons that are 30 years old or older gain Truesight to 10 feet.
Last edited: