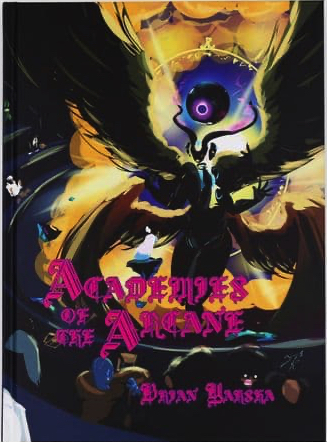 It's hard to believe the
Harry Potter
series is 25 years old. It's harder to believe that there hasn't been an official RPG in that time, though various industry stories have noted that plenty of companies have tried. A few games have tried to corner the magic school RPG market recently. Kids on Brooms let players build their own magic school in the same style of the books with less of the issues.
Strixhaven: Curriculum of Chaos
brought campus life and Challenge Rating together. Now, designer Brian Yaksha brings
Academies of the Arcane
to his weird fantasy system TROIKA! Does the book get a passing grade or flunk out? Let's play to find out.
TROIKA!
Is an OSR-inspired weird fantasy RPG that really leans into the weird. Imagine D&D not inspired by pulp fantasy and
Lord of the Rings
but films like
The Dark Crystal, Labyrinth
and the Terry Gillam animations from
Monty Python's Flying Circus
. This is a game where instead of the typical combination of fighter, wizard, thief and cleric, a group of PCs might be a sentient spell, an undead giant's foot, a shadowy assassin of shadows and an insurance adjuster from Pennsylvania. My
earlier review
goes into more detail on the system and general feel of the game.
This book focuses more on the magic side of things. Magic in
TROIKA!
Is meant to be capital-S strange and a school full of wizards is built to be a weirdness magnet. There are another set of 36 character types, all of which are spell-casters. While the Prodigal Magus and Daughter of Mischief feel like classic archetypes in a setting like this, things like the Rusted Hand of Fateful Chains can drive the wild side of the experience. Each entry has a small blurb but the players define how these weird titles work at their table.
More magic users means more magic and the book contains several new spells and magic items. Most of these spells fall on the quirkier side of things. Want to swamp an enemy in cruel miniatures of yourself that pull their hair and poke their eyes? Project your face on the moon to boldly proclaim your power? Plug your ears and cause something to disappear so long as you keep whispering "no" to yourself? The artifacts follow a similar route, though most are taken from the classes in the earlier part of the book.
Building a school comes down to rolling or choosing on a collection of charts. These charts determine everything from the pompous school title to the weird outfits that students wear to class. The charts get into some strange math thanks to
TROIKA!'s
focus on the d6, but there's a lot of funny, spooky and unusual entries on the charts. If you're expecting a fully formed setting out of this book, you'll come away disappointed. But if you want some unusual ingredients that your table can assemble into an idiosyncratic magic school, the book excels.
In fact, all the lists and charts are fairly system neutral. This book could easily be used for any fantasy game where the GM wants a magic school that really pushes the limits of what players might expect. Any setting where magic is weird and powerful might benefit from a few ideas in this book.
Academies of the Arcane
offers some strange setting ideas that give magic flavor above and beyond what one might expect in a magic school book.
Last edited: