It's the time of the year again, Spring has ended and the forest and greenlands have all bursted out in a vibrant green. This also marks the time of the Pale Moon, a festival held once a year to celebrate the founding of Ravinica centuries ago.
Whilest the Pale Moon festival is celebrated all over the country, certain locations hold bigger feasts then others. And to whatever reason is your own, you find yourself on route to the city of Kraven, near the forest of Fuamnach. where the biggest feast in the region is held.
the festival starts tomorrow, and you are all gathered in the small town of Hunter's Point.
Hunters Point is a small settlement, more ment as a stopping point then a true place to live.
Though some have made it their home. Some of which include the owners of the 'Stuffed Quiver' Tavern.
The large stables from which the transport through the forest departs.
there is also the "Iron Pixie" Blacksmith.
Then there are a few houses build that seem to house the few people that have decided to call Hunters Point their Home.
on the outskirts of the small village several tent camps can be seen that belong to hunting parties that have the nerves to hunt in the Forest itself. For since it is said that deep withing the forest lies a portal into the Feywild, the forest is a mysterious place in which even the most seasond survivalist would get lost.
the last building of note is a temple dedicated to the Lord of the Hunt and Travels, most that venture into the forest seek out his blessing before they do in hopes of a safe return.
[Sblock]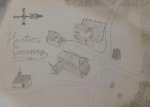 My apoligies, Its a Old draft, seems i have misplaced the final version
the Tents would be North of the Tavern and the houses would be where "Hunters Crossing" is written)
[/Sblock]
Some of you just arrived this day, others might have been here in Hunters Point for atleast a day now, and whilest normally a transport would have already have left around noon, it is several hours later and the caravan has yet to arrive from the other side of the forest.
as some of you wander around you can see a group of other travelers gathering in the middle of the village around what seems to be the village elder trying to calm everybody down.
Whilest around the edge of the Forest a few hunters can be seen searching the perrimiter.
A General Air of unease can be felt.
| | |
| --- | --- |
| OOC: | I'll leave everyone some space here so that you can discribe what you are doing at this point in time. |
Last edited: