A thought that appeals to me (because I find mid and high level casters too powerful because they get strong spells and a lot of them IMO) is to allow players to build their spell progression for their PC, allowing them to focus on getting powerful spells at the RAW rate or more spell slots of lower spell level.
CONCEPT:
when you gain a new level in your caster class, you gain a number of spell levels equal to the highest spell level you can cast to spend on spell slots (limited by your maximum spell level). You must spend all of your gained spell levels on spell slots when you gain them. (No holding onto them.) ADDED: You cannot have more slots of a higher level spell than the number of spell slots of the preceding spell level.

ADDED: You cannot have more than one spell slot of each spell level 6th and higher.
Here is a couple examples.
First is the "I want powerful spells and less of them" example. Here, we see the player buying the highest level spells they can afford with each new level, but it keeps their lower level spells less plentiful, limiting them to fewer spells over all, but allowing them the strongest ones.
Here is an example of a player who "wants more lower level spells and isn't as eager for higher level spells", allowing them to use magic more often, even if their spells aren't as powerful: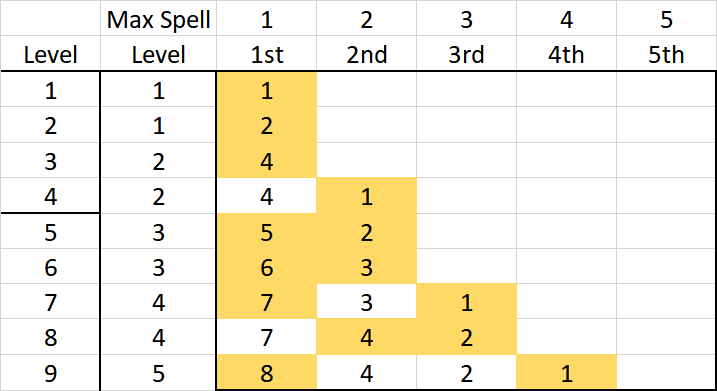 So, while the second build has no 5th level spells, and only one 4th level spell, they have more 1st and 2nd level spells, allowing them to do buffs, utility, etc. more often instead of a "big" spell.
Again, I know this is nothing compared to the normal 4, 3, 3, 3, 1 RAW progression, but that is the
point
.
If you don't like the idea, feel free to say so, but please don't argue the premise that a reduction in spell casters power is warranted or not. Thank you!
My concern:
is the concept too complex for most players? I could create a powerful only, mixed, and lower abundant options instead of allowing players to build their own?
Last edited: