OK Buzz, here is my Afternoon event description: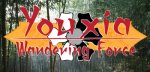 Time: afternoon (3:30 p.m.) slot;
Game system: Fate Accelerated plus playtest of Youxia: Wandering Force - Character Creation / Adventure Creation deck system
Event Title: Youxia: Wandering Force playtest
Description: The lands prospered under the rule of Emperor Li and all of the people mourned his sudden passing. This was joined by suffering as his son took the throne and began a reign of corruption. Sensing weakness, old enemies stir in the south waiting for the time to strike. Now only a few wandering heroes (Youxia) have the will to bring justice back to the people and honor back to the land.
In addition to using the awesome Fate Accelerated rules we will be trying out a card based character creation system and adventure creation system. Since this is a playtest, please excuse any small hiccups that may be encountered. no experience necessary. Fate dice will be provided.
The Fate Accelerated rulebook PDF is available for Free here:
http://www.evilhat.com/home/wp-content/uploads/FAE.zip
Content Rating: Adults Only
Number of Players: 6
Table Preference: D,E,F, or G please.
Last edited: