So, the battle with Vecna got me thinking more about grids and cover and such. Often, I use powerpoint for my battlemaps, etc. and I realized I think (pretty sure, actually) I was making an assumption about cover and some other issues.
Now I am asking others here what your interpretations/rules/readings of the rules are.
1: Three-Quarters Cover.
Below is a recreation (FIGURE 1) of the example in the DMG (p. 250) illustration an example of 3/4-cover. From the instructions, I think they messed up and this DOES NOT show 3/4-cover.
My
assumption
(given the example in the DMG) was you drew the lines from the corner closest to the target. But the text actually says just "choose
A
corner of the attacker's space".
So, in FIGURE 2, I chose a different corner and drew the lines-- and look at what happens! It is no longer 3/4-cover because only ONE line is blocked. Lines 1, 2, and 3 are all good.
This implies the example in the DM is wrong and the target would only have half-cover, not 3/4-cover.
If not the closest corner, I think matching corners on the spaces would be a good way also: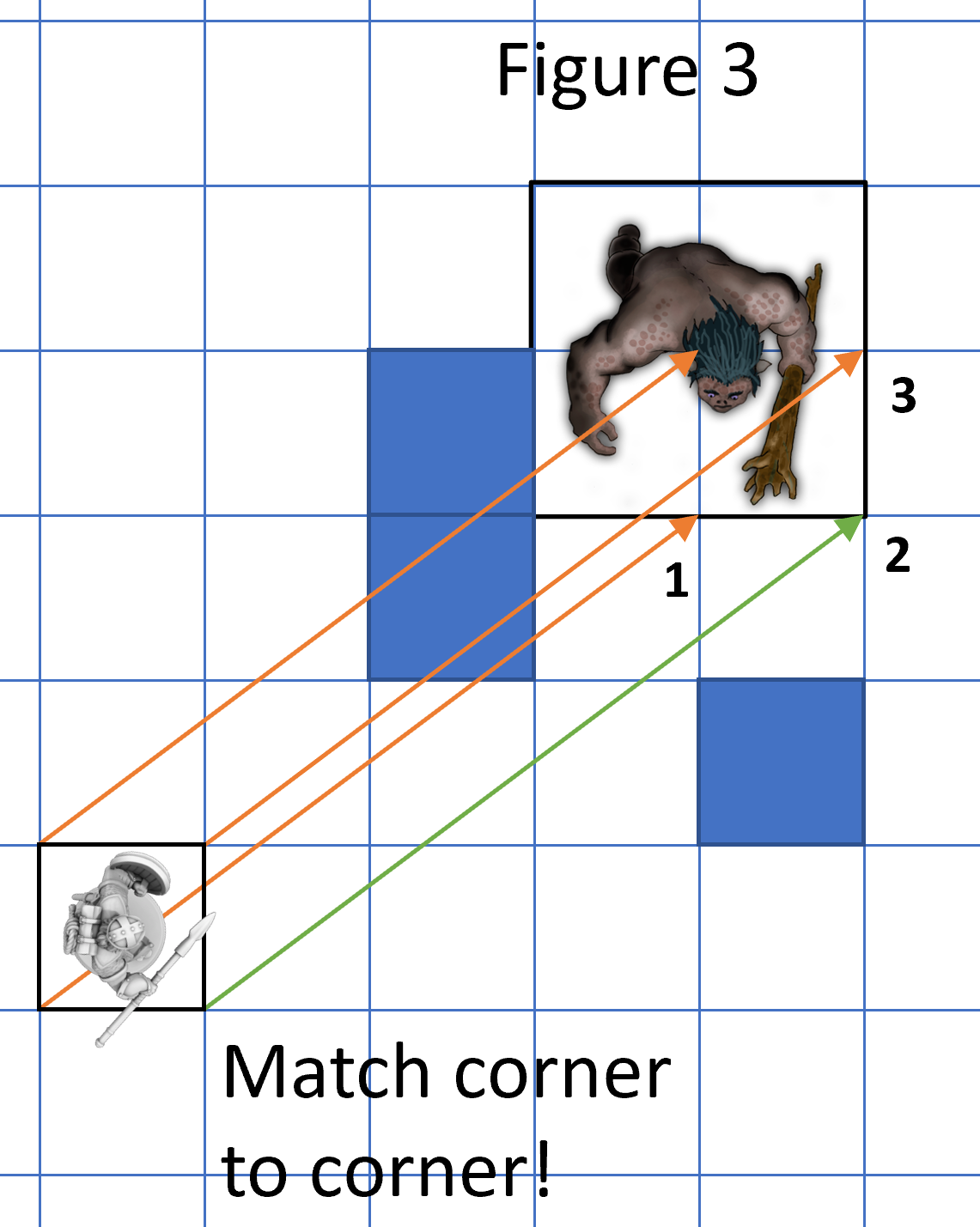 With this mechanic, only line 2 is good, lines 1 and 3 are now blocked. So, you
would
have 3/4-cover this way.
2. Occupying a space with an obstacle.
The pillars in the Vecna battle got me thinking about this one. I looked in the DMG, but couldn't really find anything on this specifically. In my maps, I normally don't have obstacles occupying less than half a space, but the corner-squares of the pillars easily occupy less than half the space.
So, in location A, the PC can't occupy the space because the pillar easily takes up half the room. But in location B, the PC
can
occupy the space because the pillar takes up less than half the space.
Others might follow, but that's it for now.
Any one care to share their thoughts on these two topics or know of any rules I've misread or just plain missed??
Last edited: