Last night, the 5e Dungeons & Dragons live-stream game
Critical Role
started its second campaign. Upwards of 100,000 people watched it live!
They've been talking about the new campaign for several weeks now, and have posted teaser images of the
player characters
. Last night it was confirmed who was playing which silhouette and most of the classes.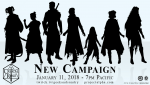 From the
Geek & Sundry Website
:
As #SilhouetteWatch draws to a close with just one day left before we learn who all the new characters are, we have some updates on how you can watch and listen to Critical Role: Campaign 2!
If you prefer to catch up with Critical Role in audio form, Campaign 2 podcasts will be released a week after the episode airs. That means you can listen to the very first episode of the new campaign on Thursday, January 18.
Critical Role will be available for VOD instantly for Twitch and Alpha subscribers, and will also be available on Geek & Sundry's YouTube channel and right here on GeekandSundry.com on Mondays — meaning that we will not keep the video unlisted on YouTube. So if you can't watch live with the gang, head to one of those channels on Monday, January 15 for the first episode of the new campaign.
And of course, you will still be able to watch Critical Role live on YouTube (yes, we'll stream on YouTube for this campaign!), Twitch, and Alpha at our normal broadcast time, Thursdays at 7pm PT.
What's your preferred method of enjoying Critical Role? Let us know in the comments below and make sure you tune in Thursday, January 11 (tomorrow!) for the debut of Critical Role: Campaign 2.

[h=3]
WANT MORE CRITICAL ROLE?
[/h]
​
While not the first livestreamed D&D game, Critical Role is easily the most popular with tens of thousands of dedicated fans (known as "Critters"). Its
first video
has over 6 million views on YouTube, while the
finale
of the last campaign has over 290,000 views on YouTube alone —a number comparable to the total members of ENWorld—and likely many, many more tuned in live.
For those of you curious about CR but intimidated by the continuity of 115 episodes and probably four-hundred hours of programming, this is the perfect time to jump into the show and engage with the fanbase.
If you're a subscriber to G&S Twitch stream you should be able to watch the show immediately (remember: if you subscribe to Amazon Prime, you get one free Twitch sub with that).
I recommend watching at 1.25x or 1.5x speed on Twitch or YouTube, and you can blow through an episode in 3 hours.
​