Inspired by Morrus's old
hexographer map of the RPG Community
(unfortunately lost), I give you a
Community data map
of many of the forums that we all tend to use.
Follow the link to interact with it.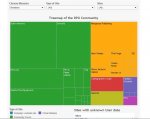 Go to the visualization
There's a number of sites that I'd love to include if I could find user data: Members, Posts, Threads
I'm sure there's also a number that I have overlooked, so feel free to let me know if you think there is an important site out there that I missed.
Let's try to limit it to sites with decent stats (1000 members, 3000+ threads) and who's primary focus is RPGs -- otherwise we'll all be here a long time
Last edited: