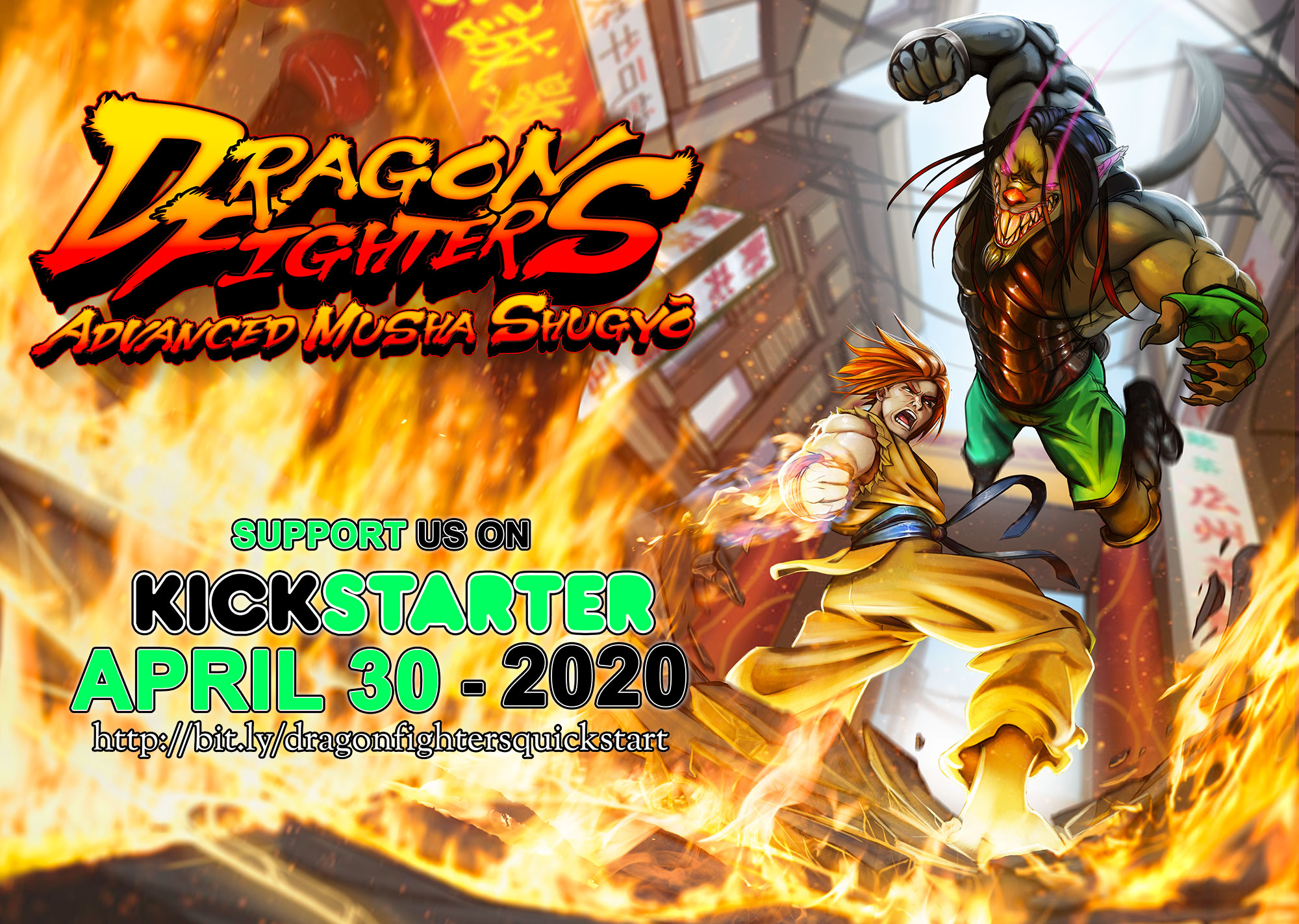 Acchiappasogni
is pleased to announce the arrival of
Dragon Fighters
, the evolution of the
Musha Shugyo RPG
. This game will be launched on
Kickstarter on April 30, 2020
, in English and Italian.
The first edition of Musha Shugyo RPG was published in 2014, thanks to crowdfunding with a 253% success on the Ulule platform! After many years, here comes Dragon Fighters, a brand new evolved and expanded edition of the famous Italian tabletop fighting game. Written and designed by Luca De Marini, Musha Shugyo has won a place in the hearts of a myriad of players around the world, creating a very active and prolific fan base. Thousands of characters, either original or inspired by comics, anime, and video games, were created for this hybrid between Gamebook, RPG and board game. Not only that but dozens of mini-RPGs and lots of other fan-made materials! Musha Shugyo boasts many original products, such as Agon WW2, NOI / LORO, Rotten Core, and Darkmoor.
Dragon Fighters is an evolution of Musha Shugyo. The mechanics have been optimized thanks to the precious contributions of Alessandro Costella, a young and talented game designer. The system has been expanded upon, made much more balanced, while making it more exciting too, thanks to the arrival of Dragon Chi and many unpublished optional modules. You can imagine the new Dragon Fighters as a real arcade console inside a board game! We have focused heavily on the flexibility and adaptability of the previous Musha Shugyo, which was able to create every imaginable action game style. For this reason, too, Dragon Fighters is a product that is fully backward compatible with its predecessor. This means all the RPGs, expansion modules and components of the original Musha Shugyo will still be fully usable!
Dragon Fighters will give you, even more than the first Musha Shugyo, an unmistakable feeling of old-style electronic games, fighting games, and arcade rooms, in which many of us have spent the most exciting years of our youth. To do this, we have chosen young and talented illustrators such as Andrea Negroponte, Alex Irzaqi and Daniele Ciciriello, coordinated by the creative direction of Luca De Marini, author of the game and of the graphics that will enrich the product. To top it all off, you will enjoy an amazing Original Soundtrack made entirely by the Italian composers from Sonor Village because we firmly believe that the ear, in addition to the eye and the mind, wants its part!
How come a Kickstarter?
Acchiappasogni is a reality in the gaming sector wholly devoted to the popularization of role-playing and tabletop games. Creating such a well-finished product, both from a design point of view and from that of the graphic and sound sector, is not an easy task. We involved many professionals to produce something unique. In addition to the authors, there was the work of our English editor Guy Larke, together with the Italian one, Carlo Teo Pedretti. The amazing art you will see is from our illustrators Andrea Negroponte, Alex Irzaqi and Daniele Ciciriello, coordinated by the creative direction of Luca De Marini, author of the game and director of the graphics within. Then, there is the composition of the Original Soundtrack by Sonor Village, which will not just be a mere Main Theme but a series of tracks that can be used during gameplay in the most disparate situations, from combat to mystery to adventure scenes! Dragon Fighters will be presented with a series of expansion modules and mini-RPGs included, ready to play, as if they were video games for a one-of-a-kind " arcade console board game".
As is Acchiappasogni's tradition, we want to reward our Backers with exclusive rewards reserved just for them, involving many other established Italian authors in the project. There will, in fact, be a series of mini-RPGs created by various authors and friends of Acchiappasogni in addition to many other surprises. The more achievements we can unlock, the greater the exclusive content for our supporters!
Who knows about Acchiappasogni, knows that our company is synonymous with support and guarantees the development of future products. We created for you a Quickstart Guide that has the same level of graphics and layout that you can expect from the finished product. We are up to the challenge! Now, we just have to push on the accelerator and gun it... together! Thanks to Kickstarter you have the opportunity to help us on the front lines.
Luca De Marini, President of Acchiappasogni Editions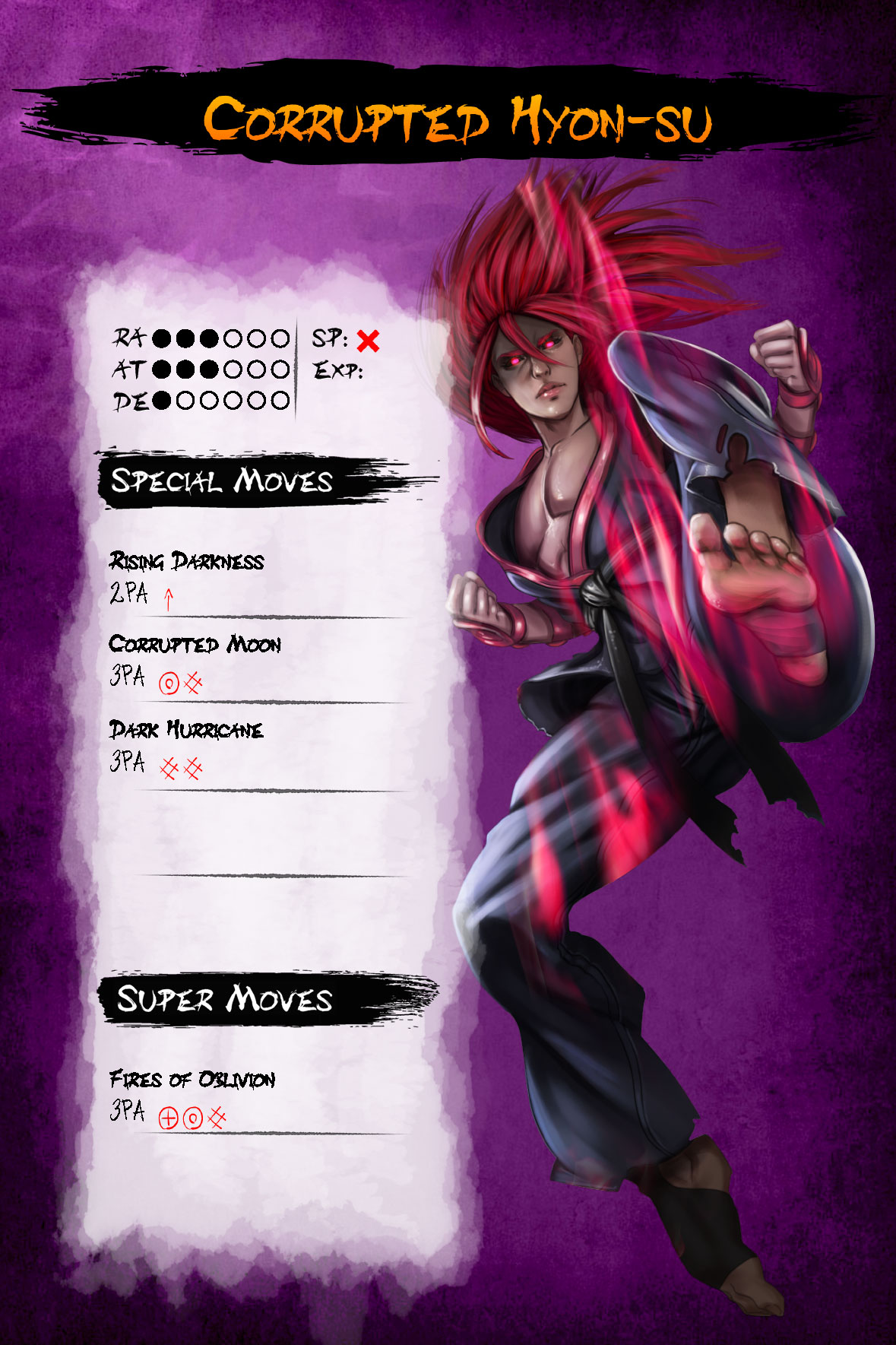 Dragon Fighters in brief
Dragon Fighters is a game that will keep you glued to the table with its cinematic action scenes, combos, special techniques, and super moves! Thanks to its Symbols-based system capable of recreating both simple and detailed situations, you can relive the thrills of the arcade games you have always loved, from fighting games to platformers (and even space shoot 'em ups)! The Secrets of Chi, the first official expansion for Dragon Fighters, will be included in this Kickstarter, with an updated and improved edition for the occasion. This is a new edition of the most popular expansion for Musha Shugyo, which introduces new Game Modes, 13 new Symbols, and new Optional Modules to expand your gaming experience.
Thanks to this Kickstarter we will introduce to you a series of new expansion modules and mini-RPGs that will make you discover the potential of the Dragon Fighters system:
Dawn of Oblivion, in which you will play the role of a space pilot adrift in the universe, forced to face the threat of Cancer Beasts.
Steel Sun, where you can play the role of a samurai, ninja, or a master of martial arts as you face the threat of dark powers trying to seize feudal Japan.
Mecha Romancer, an expansion module that will allow you to recreate any kind of Super Robot existing in popular Asian animation and comic books.
And many others!
For Mecha Romancer, in particular, we also involved Fabrizio De Fabritiis, Chiara Mognetti and the team of Robabot Centurion, and the Italian Guardians, two wonderful independent Italian comics. Their contributions will be a real flagship for Dragon Fighters!
In the base game, you will take the role of an extremely skilled martial artist who undertakes a journey to achieve perfection in his fighting style and control of his inner energy... his Chi. After years of fighting and grueling training, you have awakened your Dragon Chi, a legendary energy that only mythological heroes (such as supermen, demigods, glorious warriors, epic champions and the like) have been able to harness in the past. This story is about your Musha Shugyo (literally translated from Japanese "warrior's pilgrimage") and how you will use your spiritual energy and martial arts to change your life ... or the world!
With this Kickstarter, you can take home an authentic board game console full of mini-games ready to try in Single-Player Mode, Multiplayer, or in many other Game Modes.
In short, Dragon Fighters is not just a fun action-packed table fighting game, spectacular combos and breathtaking fights, but it presents itself as a real laboratory with which you can experiment with many different game styles and develop epic scenes and mysteries you've been dreaming of since childhood.
Ready to rumble, everyone?
Dragon Fighters is coming!
For more information: