Going camping tomorrow. Internet is spotty gonna be short of juice as well.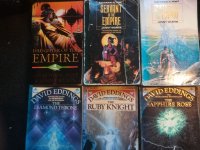 Raymond E Feist and Janny Wurts Empire trilogy (last read 2007) or The Elenium by David Eddings last read 90's or early 2000's?
Plan is for 8 days between weather and cabin fever I expect it will be shorter. Probably my favorite trilogy ever or Eddings best work imho.
I'm taking both. But what one should I read?
Last edited: