In 2017, Eric Bloat launched his first kickstarter
Dark Places & Demogorgons
(review)
via his company Bloat Games. He expanded on his
Survive This!!
ruleset from
Survive This!! Zombies
to introduce an 80s town overrun by monsters. He also releases RPGs and supplements on DriveThruRPG.com.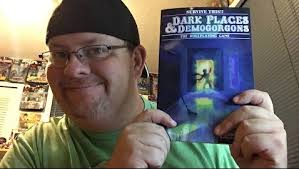 Eric fulfilled three kickstarters in 2018 and has three so far through April 2019. He started writing games because of his love of RPGs and he uses kickstarter to bring better value to backers like hardcovers, better paper, and boxed sets. He always wanted a red box RPG similar to D&D and he achieved that with Vigilante City. He plans on three more kickstarters this year, with one covering books 3 and 4 for Vigilante City and two as yet unannounced. His latest kickstarter is for the
Blackest of Deaths
, a new deadly ruleset of fantasy dungeon crawling and mayhem.
Eric also worked with Wet Ink Games to support their recent kickstarters as well as creating new games that have more of an indie feel. Eric supports all this additional work by bringing on more freelancers to produce more content and bigger books. He also keeps ten to twelve different projects he is working on open at a time and when he slows down on one he switches to the next until he circles back around. Eric wants to make his RPGs available to everyone who wants to play them, offering lower priced PDFs and working with those on extremely tight budgets to get them his RPGs.
Survive This!!
is a ruleset that blends OSR rules with some D&D 5E concepts like advantage. It is not a retroclone, however, of any previous RPGs. Eric felt that D&D 5E brought back how RPGs were played in the beginning with interesting worlds to explore and play in and he wanted to use a similar approach. He started with zombies to offer something other than another fantasy RPG.
Releases for Survive This!! include
Zombies! 2nd Edition
,
Dark Places & Demogorgons
, and
Vigilante City
. All three RPGs use the same base rules and can be used together. Monsters like Bigfoot or the Loch Ness monster from the
DP&D Cryptid Manual
can stalk the parks and lakes of a city of supervillains built with the rules from the
VC Villain's Guide
. Eric introduced new concepts into Survive This!! games like simplified XP based on what the characters accomplish rather than killing monsters and gaining loot. The attribute of survival can be spent to allow rerolls and stave off death. Players familiar with D&D can start playing a
Survive This!!
RPG and understand the rules in minutes.
For
Vigilante City,
Eric kept the leveling improvement of the OSR to allow PCs to grow from some guy in a mask brawling on a street into an actual hero. This arc is similar to
Batman: Year One
and Netflix's
Daredevil
. PCs in
Vigilante City
always stay street level in power but have to grow into heroes. They haven't figured out crimefighting yet when they get started. They grow into it.
Eric said the best place to follow Bloat Games is on
Facebook
. He is also on various other media like Instagram and MeWe. He looks forward to third party support that is coming for
Survive This!!
and the
Blackest of Deaths
RPGs. He really appreciates the backers of his kickstarters and especially those that sign up over and over. And if you want one of his RPGs but truly can't afford it, email him and discuss options with him.
This article was contributed by Charles Dunwoody as part of EN World's Columnist (ENWC) program. Please note that Charles is a participant in the OneBookShelf Affiliate Program, an affiliate advertising program designed to provide a means for sites to earn advertising fees by advertising and linking to DriveThruRPG. We are always on the lookout for freelance columnists! If you have a pitch, please contact us!
Last edited: