So, I've been idly thinking about what Lord of the Rings might have looked like, had it been made in the 80s. This all got started with David Carradine in the Sword & Sorcery cheese The Warrior and The Sorceress. Back then, I think he would've made a great Aragorn. Weathered, but noble, and he would've had the physicality for the role: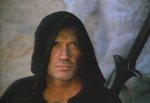 From there, I've got Mark Hamill as Legolas, Harrison Ford as Boromir, Sandahl Bergman as Galadriel, Warwick Davis as Frodo, Phil Fondacaro as Gimli, and Gollum as a Jim Henson Co puppet. Oh, and Christopher Lee as Saruman, still. As much as he would've wanted to do Gandalf back then, I don't think he'd be right for the part. No, Gandalf needs someone with the right mirth about him. And for that, I go with Sean Connery. Maybe he would've understood the script back then!
So, what are your thoughts for the cast of an 80s-filmed Lord of the Rings?