One-shot adventures, like binge-watching a great mini-series, can be fun, but sooner or later any FRP gamer will want to try a campaign, a sequence of interconnected adventures where the stakes—and hopefully achievements—can be higher. More time spent with friends, doing more and for longer. Many campaigns eventually run out of gas and fade away, but others go on for literally decades, building hopefully fond memories (and what else is any life, but a collection of memories? So what are we really doing as we live our lives? Building a collection of memories!) of times spent with friends around a gaming table.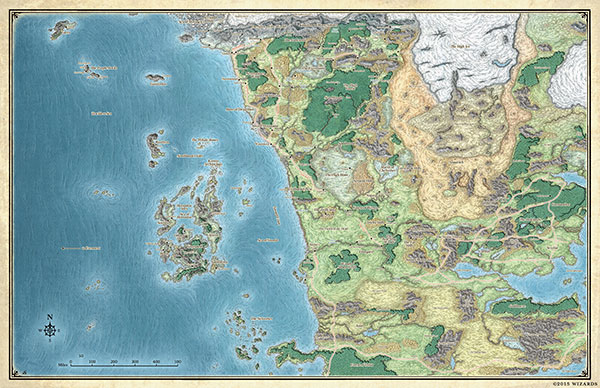 Which, because where I truly live is in the Realms, brings me to getting a Realms campaign up and running.
There's no right way or wrong way to play D&D or DM adventures or run a campaign, but here's how I did it—and more importantly, why.
First, to save time and confusion, I provided statted-up characters, with backgrounds, who were all younglings seeking their fortunes and leaving their home community--the SAME home community--for the first time. This let us jump over the confusion of learning what all the attributes were, and more importantly let me build "day job skills" and a past into every character. I let the players pick from among twice as many characters as were needed (to give them better class, race, gender, and background choices), and often the PC party included an extra character, run by me as DM until it became needed: whenever a PC died or was rendered unconscious, that player took over the ringer for the rest of the play session, rather than being shut out of playing.
And those character pasts handed the players problem situations (such as family reputations, feuds, and debts to others) for their characters that could be exploited or ignored, depending on how play went.
(As play went on, some players will want to try other classes, so from the first I was prepared for PCs to retire, as opposed to dying gloriously or otherwise. Many retired PCs came out of retirement as temporary reinforcements, or established businesses and had families—from whose ranks future PCs could be selected.)
Second, I provided my players with a brief Players Pack: a brief summary of what they knew of their surroundings, complete with laughably incomplete "Here Be Dragons" maps of the Realms (that is, a tiny known area surrounded by arrows pointing off the map that said "Thay a long way off in this direction" and suchlike. This was their "starter common knowledge," and yes, we had a Session Zero where everyone could leisurely ask, and write down my answers to, their questions that arose from reading the Players Pack. Their characters might be naïve, wide-eyed innocents venturing forth into a big, scary world…but they "knew what they knew," and could use that as a solid foundation to stand on.
Third, I encouraged players to speak as their characters, with the exceptions of player-to-player: "Pass me that d12, please?" or "Pass the chips" or player-to-DM: "I've lived here all my life; have I ever seen this guy/that badge before?" And I extended this, starting with the beginning of the first play session, with councils of war held in-character, wherein the PCs discussed where they'd go and what they'd try to do; as heroes changing the world rather than younglings reacting to what the world does to them, I wanted them to get into the habit of choosing their destiny.
Yes, this meant I had to detail the world in all directions (immediate vicinity, at least) and have adventures ready to go no matter what locales and activities they chose, but I had this big, detailed world already that just had to be gussied up with local detail. (So that, plus answering all my players' questions for years upon years, is why you got a deeply detailed Realms.)
Yet it was worth all the work, because the players, through their characters, got to choose.
Even in the "home" Realms campaign, after decades of ongoing play, I've always encouraged these in-character "councils-of-war" where the PCs discuss where to go next and what to do, so they feel the master of their own fates, not stooges being pushed around by a mighty godlike Dungeon Master (or worse, a DM behaving in such a way as to seem the players' adversary).
A life is a series of moral choices, and deep down we all know it; arrange matters around your gaming table so as to give your players moral choices for their characters to make, and the adventures will MATTER more to them, and so be more meaningful, achievements rather than "ho hum, more monsters slain, treasure divvied up, on to the next one."
Fourth, I made sure the players had an array of adventuring choices, including a hack-and-slash for venting real-life frustrations, and a mystery or two (because everyone loves a mystery; there's a lure there, that can be pure enjoyment if the mystery doesn't
have
to be solved for your own survival or freedom). Including some that seem easy, as opposed to the take-on-the-Great-Dark-Lord sorts.
For my library mini-campaigns (run at public libraries where I worked, as teen programs, one afternoon a week for 13 consecutive weeks), I lacked time for the players to have their characters wander about and pick their first adventure, so I hit upon the notion of adventuring charters. The adventuring band would begin play in Cormyr, having just been granted a royal charter that gave them a condition for granting the charter, which was the only legal way the PCs could go about armed in the country. This was a "do first" task. As in, before you independently seek adventures for your own benefit, you, the fledgling Company of the Unicorn or the Azure Sword or the Bright Blade, must complete this task (eliminate these troublesome brigands or drive the goblins out of the hills around this border valley). The task forced the PC party into exploring caverns or a ruin that their targets were using as a lair, and the icebreaker adventure was under way...and could be crafted to clearly point ways on to several other adventures, giving the players their first real choices.
And what do successful real-life and gamer adventurers do? Make the most of their choices.
Last edited by a moderator: