Last week, my son Logan finished up a 3.5 campaign called
"Raiders of the Overreach"
which he'd been running since October 2019. That was his second campaign in the same game world, the first being
"The Durnhill Conscripts."
But we jointly decided that when we finished up his latest campaign we'd let one of our players, Dan, put on the DM hat and run a campaign, which has the added bonus of allowing Logan and I to be on the same side of the DM screen for the first time for a whole campaign.
Dan has decided to name this new campaign "Ghourmand Vale," as that's the location where (at least for a bit, early on) the action's going to take place. It's going to take place in the modified Greyhawk campaign world where my first two 3.5 campaigns,
"Wing Three"
and
"The Kordovian Adventurers Guild,"
took place. (So there's always the possibility that we might get a few appearances by some of the PCs/NPCs from those campaigns.)
In any case, here are the PCs we've created for this campaign, which we're due to start on Wednesday, 15 June 2022 when Dan and his family get back from their vacation.
Logan decided to run an elf archer and had originally set his PC,
Chaevaris Noarunal
, up as a ranger before he discovered a 20-level archer class on a D&D Wiki site. So that's his current plan: run Chaevaris as an archer through all 20 levels, in part just to try out the archer class, which is new to all of us. He plans on having his elf PC look down upon the shorter-lived races (like humans) as "children." Here's Logan's depiction of Chaevaris:
And speaking of humans, that's what I'll be running - specifically, a sorcerer named
Alistair Mandelberen Pastlethwaite
. Poor Alistair has a few things running against him: he doesn't yet realize he's a sorcerer, for one thing, and doesn't consciously cast spells - things just seem to happen around him. As a result, all of his initial starting spells are comfort-related (
endure elements, unseen servant, mage hand
) instead of being particularly useful during combat and it'll take him a bit to realize that irritating grackle that keeps hanging around him is his familiar. Worse yet, he was born into a noble family and has lived a life of luxury (thus far), but when his sorcerous abilities started manifesting his father made the obvious (to him) connection that Alistair must have been trafficking with demons and has cast him out of the family. So Alistair's going to start out as a real fish out of water, having to earn his own living for the first time in his life and not really having any real idea of how exactly to go about it. Here's the image I'm using for Alistair: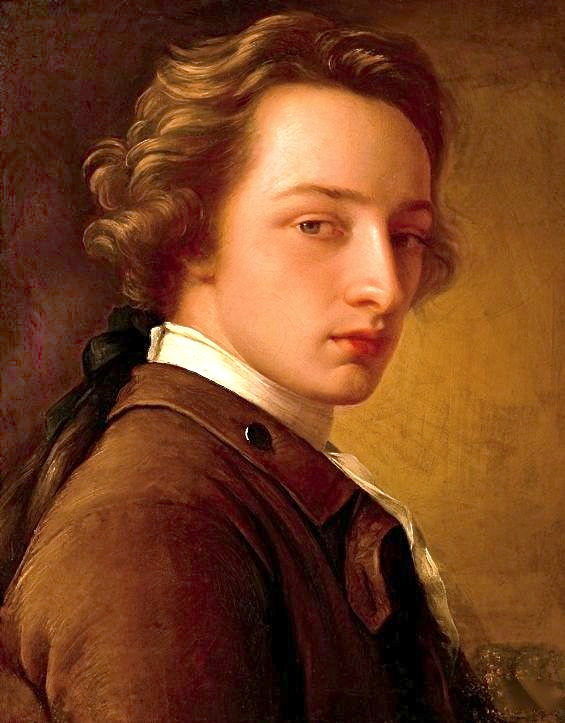 The last member of our household is my nephew Harry, who decided to give a half-elf paladin a try. His PC is named
Harlan Starblade
, his mother's an elf and his father's a human, and he worships Pelor. And that's all the backstory Harry needs (or intends to come up with). Here's the image he chose for Harlan:
And that leaves Dan's wife, Vicki, a noted lover of halflings who has always feared running a halfling PC in any of my campaigns because she knows I'm not a big fan of them. In fact, she was hesitant to run another halfling PC because in "The Durnhill Conscripts" my PC hated halflings and picked on her PC mercilessly as a result, but I promised her that Alistair has no dislike for halflings (quite the opposite, in fact: he believes they're just mythical beings from fairy stories, although I haven't told her that yet), so she'll be running another halfling rogue, this one named
Ageratum Purslane
. Here's the image she came up with for Ageratum:
Normally, our party would be rounded out by a fifth PC played by Dan and Vicki's youngest son Joey, but he just graduated high school last month and will be moving a short distance away from home to attend college in the fall, and as a result has decided he won't be joining us in this campaign. (He'll continue on in my
"Dreams of Erthe"
campaign through the end of summer, at which point his PC will enter NPC status and be traded out among the other players as to who'll be running him along with their own PC each session. And he might occasionally join in a session or two as school breaks allow.)
So, we don't know a whole lot about this campaign, as the Ghourmand Vale is a part of the Greyhawk campaign world Dan created on his own (much like I did with Kordovia) and dropped onto the map. Dan has stated he's going to start us off with two NPC clerics of St. Cuthbert, who'll be traveling with us for a while (at least to start with).
Likewise, this will be the first Story Hour I attempt where the DM wasn't either myself or my son, which means when I write up the sessions I won't be able to pick the brain of the DM as quickly as normal to ensure I haven't put in any inaccuracies. The easiest way to do it would probably be to do the write-ups as Alistair's journal entries, but that has the unwanted side effect of putting him in the role of main character and I don't want that. So we'll just have to play it by ear and see how the first session goes.
Johnathan
Last edited: