Newbie D&D 5e DM, so please be kind.....
I've just started running 5e for my group, and have started with the Forge of Fury adventure from 3.5e, updating the creature statistics as best I can. I've noticed that there appears to be no attribute damage any more, from any creatures (e.g. wraith, succubus), it's all about reducing max HP...
So I guess that's how Yellow Mold would work, but for what level of damage? See the included stat block for my interpretation. Yellow Mold was always designed to be lethal, so I have set a relatively low DC but made the potential damage significant at 1d10/2d10 if the saves are failed. Players should be level 3 or 4 by the time they encounter it, by the way.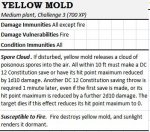 I guess this kind of thing will be covered in the DMG, but wondered what people thought?
Cheers,
Z