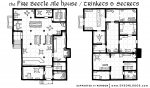 A "basement tavern", the Fire Beetle is built underneath "Trinkets & Secrets", a fortune-teller's storefront and the closest thing to a "magic shop" as you'll find in Letath.
The Fire Beetle Ale House is a classic fantasy tavern – dark, windowless, smokey, serving ale and whatever hot stew is on that day. Entry is by a set of stairs down practically underneath the entrance to Trinkets & Secrets. As expected, it has an anachronistic bar with a grizzled but friendly bartender behind it, some booths for quiet discussions, and a pair of private rooms for meeting mysterious strangers in or handing over ill-gotten gains.
Behind the bar is the owner's office, a storage room, and access to the owner's upstairs apartment. Sharing the upstairs with the owner's apartment (but with no common access) is Trinkets & Secrets – home to a fortune-teller and their spouse, with a room for private seances (and for examining trinkets being pawned off here) as well as a small store where charms, medallions, and lucky trinkets can be bought (and a moderate selection of spell foci and components).
High resolution versions of the map with and without grid (along with the commercial use license) can be found at the blog:
https://dysonlogos.blog/2019/06/06/firebeetle/