#040 Waterdeep by Troy Denning (Avatar 3)
Read 29/12/19 to 3/1/20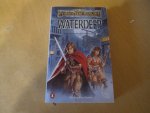 Book 3- and almost immediately it is better than the first two, as in the style of writing is much more descriptive (and therefore emotive and visceral) and things seem less random or plodding. That sounds bad- just to clarify the first two books are not bad, only they seem to meander, or else are (in places) less descriptive (crafted) than this one.
So, the two Tablets of Fate need to get back to Ao, in the game are Midnight, Kelemvor and Adon (Team Good Guys), Cyric (Team Evil Bastard) and Myrkul & Bhaal (Team Dying To Meet You) and the usual smattering of heart-warming heroes of the realm (primarily Elminster, but a bit of Blackstaff at the end).
So the chase is on, specifically (in a very roundabout way) to locate the second Tablet of Fate in Waterdeep (which it isn't), eventually Midnight ditches Adon (lost presumed dead) and Kelemvor (just lost) and makes her own way to in to the Realm of the Dead to go fetch the second Tablet of Fate, which Myrkul is using as a weather vane.
The Realms of the Dead is very good, if your players are going to go there then read this one, I'm loving the descriptions of the forlorn spirits screaming for their gods, or associated avatars, wandering the Fugue Plains wondering why they're not getting their promised portion of afterlife. There's some really excellent description here of Myrkul's Bone Castle and the city surrounding, well worth the effort.
Back to the plot, the Tablets of Fate are gathered, then lost, the squabbled over, then found again and then... lost again, as the three sides of the conflict all try to get what they want. The finale of the piece takes place in Waterdeep, as Myrkul's servants invade the city through a gateway to/from the Realm of the Dead, while the god of Death goes after the Tablets. The action is great, and proves a great backdrop to the main event atop Blackstaff's tower, eventually Myrkul gets a go on his own ride (by which I mean he dies) and then- at last- Cyric gets in to the mix and it all goes wrong/right, depending on your perspective.
Hey, what's the thing with Zombies in this book- they seem to be almost impossible to kill, a gang of a dozen is enough to put the frighteners on the heroes. I get that magic is bust but I once DMed a game in which a 4th level Ranger managed to whittle away easily a dozen of the shambling mindless undead by wandering a circular corridor (keeping ahead of the Zombies) shooting then retreating, repeat indefinitely. D&D rules-wise the Zombies didn't stand a chance.
Anyway...
In the end Adon lives and has his Clerical powers restored- he now worships Mystra, Kelemvor is dead (although I have a feeling we're going to be seeing him again), Cyric is a god and Midnight changes her name to Mystra (she's a god too).
So, happy ending- I really liked it.
Although, and here's the caveat, there is still the usual problem with Kelemvor being an idiot, Midnight even gets in on the act. These two are constantly throwing themselves in to each others arms/beds (while proclaiming their love), and then doing what they can (when they can) to mock their words and (supposed) emotions.
I get it, the plot doesn't work so well with a smooth ride, it just feels wrong-bad when I'm reading it, a little groan escapes- 'not this again', as the pair take it in turns to undermine each other. Oddly, Adon is back, and mostly the voice of reason- after two books of wanting to know what he's for, what part he plays, then this is the one in which he turns up- with something to say.
So, the big epic picture is grand, a nice Campaign to play out, without the squabbling between the three PCs then it'd be a much easier (and possibly more believable- whatever that word is worth when you're writing about a fantasy milieu) ride for the heroes, and a much shorter, and possibly less interesting story.
Read.