#037 Realms of Magic Anthology Ed. Brian Thomsen & J Robert King
Read 15/12/19 to 17/12/19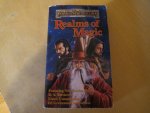 Well that was a turn-up, I really enjoyed a lot of the stories in this one, even though several of them were not the sort of thing I usually go for. There are magical worlds in here, worlds soaked with the stuff- magic-rich, the kinda thing in my own game I tend to shy away from. And yet...
So, we have-
Guenhwyvar by RA Salvatore,
in which we meet Josidiah Starym, bladesinger of Cormanthor, and spend a while with the precious elf watching him agonise over his friend Ander the Wizard's decision to imprison a gloriously regal (and familiar) looking black cat in the form of an ebony amulet... a bit of back story.
Smoke Powder and Mirrors by Jeff Grub,
in which a bunch of (famous- some of them) Wizard's apprentices drink and grouse about their lives (and masters) and the upstart blackpowder weapons that are stealing their thunder. Jehan, one of the apprentices- full of dutch courage, gets himself in to trouble; and has to be rescued by... well, read it and see.
The Magic Thief by Mark Anthony,
in which we meet Zeth, with the mark of the gor-kethal, the aforetitled- 'Magic Thief'. It's all right- a bit of fluff.
The Quiet Place by Christie Golden,
in which Jander Sunstar the elven Vampire with a conscience finds a friend, and then leads the bad people to his friend's door. Walk on Jander Sunstar, your journey is not yet over.
The Eye of the Dragon by Ed Greenwood,
in which... hang on, here comes the rant- I've not read any of the Elminster books yet but I'm already starting to fret a bit at the prospect. So, first off- Elminster's not in it at the start and so, like a literary version of Where's Wally I'm taking account of everything that's said- looking for a stray 'ye' in conversation, a character in mismatched ware, or sagacious beyond the Buddha. Then suddenly... Elminster, didn't see that coming- and he's all things to all Wizards/Sages/Deities.
Then there's the social democrat (working class) in me, I'm reading a (fantasy fiction) story about the posh (and rich) daughter of someone posh (and rich) who sets out to strangle to death an Archmage and gets off with it because her nan was a bad lady. The Marxist in me is screaming- if this was someone less posh (and rich) then they'd be toast. But then I remember this is fantasy fiction, and bares no resemblance to the real world. And breath...
Then there's the fact that every paragraph has something in it which sings of Greenwood's beautiful and complex world- the Forgotten Realms, he has words for things that are like the words for the same things that we have only better, and more Faerun-shaped.
In summary- Elminster- Meh! Posh rich lady with bad granny- Gah! Everything else- Huzzah!
Every Dog His Day by Dave Gross,
is a cracker- still giggling about it now, I got it early in the piece- and the reverse. I figured out the secret and the switch- and it didn't take an iota out of the sparkle. Nice story Mr. Gross... and hang on, did you just reference Hamlet- between a corpse 'and a handsaw'?
The Common Spell by Kate Novak-Grubb,
sentimental but then again- another cracker, although- as with the story above the answer is but an anagram away, and easy to spot. Perhaps that's why I liked both of these stories so much- where they were going was obvious, you (the reader) can therefore hang out of the window and watch the story go by. Nice work.
The First Moonwell by Douglas Niles,
and another- Silmarillionesque but- y'know, readable. Nicely done, no great shakes, but a nice in to the Goddess and her fave son the Leviathan. Again, I got that we were making a pool (and a window) in to the world early, but that didn't stop the enjoyment.
The Luck of Llewellyn the Loquacious by Allen C Kupfer,
and yet another fun romp in which Llewellyn beset on all sides by vicious Halfling gangs talks his way in and out of trouble.
Too Familiar by David Cook,
another one that just works- Brown Maeve gets her choice of Brownie familiars, she opts for the one that has already fallen furthest.
Red Ambition by Jean Rabe,
Szass Tam lich Lord of the Thay does a little light exploring, slays his g/friend (lich-to-be) and then is made to confront the fact that the Lady of the Mists has made a mug out of him, another little gem.
Thieves' Reward by Mary H Herbert,
more of Teza and her magical water horse, the pair have a bond don't you know, nice Red Wizard walk on.
Six of Swords by William W Connors,
another sentimental tale about a bunch of adventurers post adventuring days, having sacrificed one of their members (back in the day) to escape their terrible fate; the gang are now haunted by a ghost of/from their past.
The Wild Bunch by Tom Dupree,
and more sentimental- although expertly done, it seems the way of the mage is a hard one- study, dedication and long hours, rather than just wearing the robes and blasting your enemies. Lesson learned.
A Worm Too Soft by J Robert King,
a noir (Dashiell Hammett) style story about an expert thief/security consultant drawn in to a world of illusion. Too cool for skool.
Gunne Runner by Roger E Moore,
a halfling & Wizard team up in another detective-style (whodunnit) story, sometimes soaked in magic (handy magic items y'all) but well played out. A lot more blackpowder trouble, more than any of my campaigns could handle, but... worth consideration.
The Direct Approach by Elaine Cunningham,
a Drow Wizard (/Fighter) meets a time-travelling barbarian/Valkyrie in Skullport for fun and high-jinks- the scene in which Vasha the Red braids the Mind Flayer's three remaining tentacles is priceless. I bloody loved this one- the place reminds me of the Star Wars cantina and Wormy's gaff as depicted in older Dragon magazines. A corker.
So, there was a lot to like in this one- and I raced through it every chance I got, so there's that... as with the other anthologies lots of nice insights (mostly in precis) of the various peoples, places and other stuff of the Forgotten Realms. Some of it made my brain smart (not clever- smart) but all well written and put together, while the stories were diverse, although all connected by 'magic' they seemed to hang together better than in the previous anthologies.
Read!
Last edited: