#080 The Simbul's Gift by Lynn Abbey (Nobles 6)
Read 29/6/20 to 7/7/20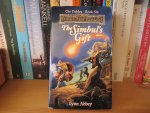 Book 6- and the best one by far, possibly... don't get fooled with me taking nine days to read this, I've been busy- oh so busy, I promise you. Work, actually jobs to do around the house, but also- some would say more importantly (that someone would be me) a crisis of confidence with regard my lockdown D&D VTT game. So, while I've been spending my days making fences, painting fences, digging and weeding, and... well, lots more bloody painting- I've also been spending my downtime reading through a variety of D&D modules trying to decide the scope and scape of my present campaign. Very important stuff, I assure you.
So, my fifty pages a day minimum hasn't gone out of the window, it's just that I've been reading D&D stuff- apologies, but it's been great.
Back to the book, this is one of the best written FR books that I have read so far, by which I mean the style, use of language, structure and the story-telling skills employed. Don't get me wrong- there's nothing astounding to be had here- save for the Red Wizard who loves his daughter (maybe) but it's just very well put together, and the story well-told. It treats the reader as an intelligent confident/e and tells us all we need to know- drip, drip, drip; and it just works.
All of the characters are well done, there's no-one here that has a voice who's thoughts aren't made all the more complicated by love, life, and/or lust. The situations and persons depicted are all well conceived, and offer amazing insights into the ways and means of those depicted- particularly the Red Wizards, and the Simbul (of course).
There isn't a character in the piece that the reader isn't left feeling something for- mostly sympathy, in contrast to many of the other novels its not simple, its not childish, its not whizz-bang... or indeed, very exciting. It's a great book, and a great author- and an incredibly interesting story (that mostly goes to all the usual places- only, mostly- there are a few welcome diversions) but its not gripping, it unfurls and unfolds- makes you smirk as you read it, every now and then.
You also get the feeling that Lynn Abbey has read Greenwood (and many others) and decided she'd like some of that- so there are all the authentic names of people, places, and events et al that jigsaw into the Realms canon, but she's much better than Greenwood- she's a great writer, if this is a fair example of her oeuvre.
It's so different from many of the other novels that have passed this way as to make me think that this one somehow doesn't fit, I'd like to see Lynn Abbey do some fantasy sequence action events et al, to get deep into the mythos and magic- can she write a really great fantasy novel, some of you must know, you've read ahead- can she do it? Does she have a great novel in here somewhere? If so, what's it called so that I can look forward to reading it?
Oh, but what's this one about- something's going on in Yuirwood (new/old gods arising), Ebroin of the Cha'Tel'Quessir is trying to decide who or what he is- and how he should live his life, and also if his father is his father- because he should be dead, but he isn't, is he? He knows that his mother is dead- he watched it happen, he knows that the Simbul is the cause of all of his trouble, and... he's discovering that the things that he thinks he knows are, well... he's questioning everything.
The Simbul is also having to do some heavy thinking, about some similar topics.
The Red Wizard Lauzoril is also finding out what's important in life.
There's a lot of hope here, again it's a great novel, but of a kind.
Great, well-written, and clever book- Read.