Dear EN World, we warn you not to read beyond this first post if you wish to avoid spoilers for the adventure path ZEITGEIST: The Gears of Revolution. To everyone else, this is your chance to play the villains of a campaign being run for your fellow gamers.
Sure, we're offering some rewards to those who participate, but the real fun is knowing you'll be able to cause other gamers grief.
To read the (spoiler-tastic) details of the villains, scroll down. Then chime in with your idea on how to rule the world, and questions about the conspiracy's plot. If you'd like to run the campaign yourself, check out our Kickstarter to create a
hardcover compilation of the first five adventures
.
And please remember, if you discuss this event elsewhere on the boards, other EN World members are playing the campaign. Use spoiler tags where necessary.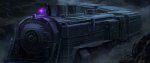 Last edited: