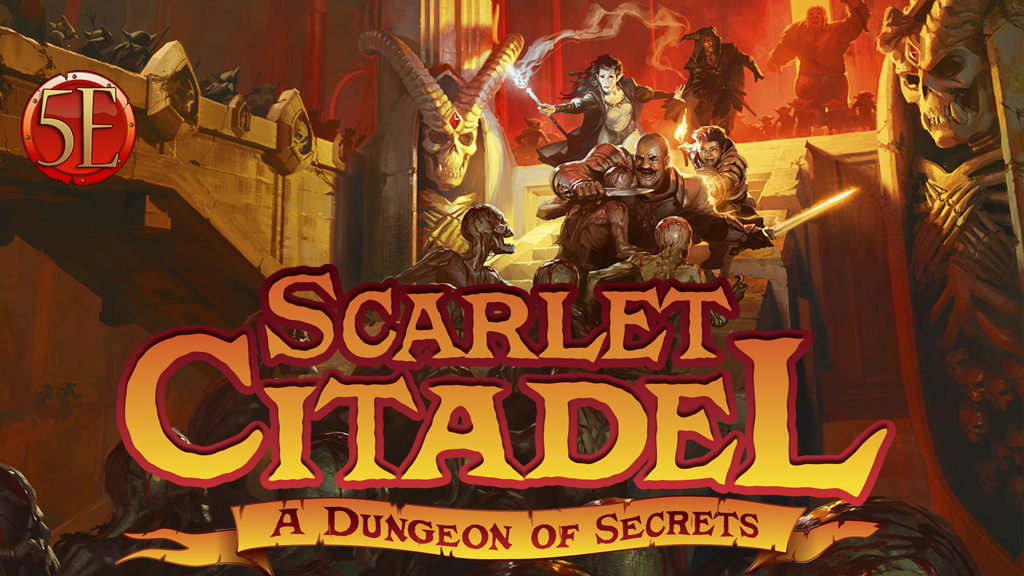 From the kobolds who brought you Empire of the Ghouls, Deep Magic, Creature Codex, Tome of Beasts, and Tome of Beasts 2
comes a brand-new dungeon-delving adventure,
Scarlet Citadel for 5th Edition
, now on Kickstarter!
Written by tabletop
RPG luminary Steve Winter, Scarlet Citadel includes a sprawling adventure for 5th Edition in the classic style for 10 levels of play,
fully compatible with the fifth edition of the world's oldest roleplaying game.
Original traps and new monsters lurk in the citadel's depths, as do magical mysteries and nefarious plots. Malevolent creatures spin shadowy webs, enchant foul magics, and summon forth dark gods. In Scarlet Citadel for 5th Edition, players will face harrowing foes, meet curious allies, and unearth the ancient treasures and secrets that lie scattered everywhere!
Along with this massive adventure, this Kickstarter project includes the Scarlet Citadel Map Folio. These ten beautiful, full-color, fold-out battle maps by cartographer Jon Pintar depict all levels of the dungeon and are perfect for tabletop RPG miniatures.
Plus, the folio includes several smaller overlay maps that allow Game Masters to easily depict traps, hazards, and other unique features in the dungeon!
Check it out today!
https://www.kickstarter.com/projects/deepmagic/the-scarlet-citadel-a-5th-edition-dungeon-of-secrets/description
Last edited: