Seros Animus

[section]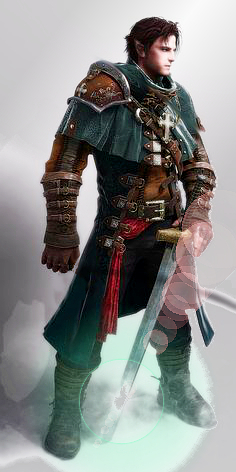 ~
We really are being paid to attend a party ... fancy that.
The apprehension of FJ II's inspection melted away as much as foam from the head of a weak ale once he congratulated the party and invited them to join in the festivities. Though he had not shared in the dangers that the rest of his companions had, it
had
been a long journey from Venza: a chance to relax and take in the town was incredibly appealing.
Already the music was something wonderful, just as enthralling as the piping Satyr in the forest. In fact, he thought he
knew
this song: Yes, yes, the crew he had sailed with to Venza had sung it as they worked! Something ... something about a Down in the County? And a Star? It was upbeat, and it was catchy, and he liked it. This Rornish soldier had a fondness for the lute and drum, regardless of his lack of talent with either, for could not a simple peasant still appreciate the culinary excellence of a master chef?
His stomach growled again just from the inner monologue.
" Right! So. Firstly, A bite and a pint sound wonderful,"
Seros admitted, cheer clear in his tone as he clasped his hands together,
" I'm buying. Who's having?"
[/section]
[sblock=OOC]
@
Deepthought
, roll off for the Masterwork Longsword, if you're game? Just a straight best of 1d10?[/sblock]
[sblock=Seros's Stats]
Character Sheet
HP
: 10/10
Condition
: Seeking Dance and Drink
Initiative
: +2
Perception
: +9
AC
: 17
Flat
: 14
Touch
: 13
Fort
: 3
Reflex
: 2
Will
: 5
In Hand
: Nothing
Longsword (Two-Hands)
: +3, 1d8+4, 19-20/x2
Sling
: +2 1d4+3, 20/x2, 50. ft.
Bullets
: 20/20
Orisons
: Unlimited
Detect Magic
Disrupt Undead
Guidance
Read Magic
Level 1
: 1/Day
Bless
Divine Favor
Other daily abilities
:
Judgment
: 1/1 Remaining
Daylight
: 1/1 Remaining
[sblock=Adventure Notes]
Transactions
:
Total Coin: 20.51 GP
Game Info
:
[/sblock][/sblock]