Jonas ends one of the skeletons with a mighty blow, sending broken pieces of bone raining over the side of the railing and onto the floor below. Although not as dramatic, a flurry of arrows, acid and elemental blows take down the others. The last, somehow, disappears into extra-dimensional space as the spell ends, and the main group of adventurers can hear Pirvinia and the wounded man pursuing the swarm of spiders as it skitters down the hallway and under the door to the right.
The door was closed, but that did not deter Jeremiah. Trying the door, he lowers his shoulder and, in a display of considerable strength, smashes through it in the first attempt. Pirvinia hears a gruesome pop as he does, and is left to wonder what sort of injury he sustained in doing so. He winces, but continues inside.
The room seems to be a small office, filled with shelves of various books and documents--quite possibly a treasure trove of historical information (and the exact sort of thing your employer would be interested in.) There are two beds set up here, and both of them are occupied. One of the residents Pirvinia is already familiar with, it is the reforming body of the vampire just bested in combat. Another is a female, apparently asleep. Her monstrous features leads Pirivinia to think she is of the same kind. Curiously, she does not move as either Jeremiah nor Pirvinia enter.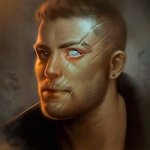 A quiet gasp from Jeremiah is followed by only one word,
"Evelyn."
Pirvinia can hear it clearly, although Jonas, Thuvian and Samad, now running up after finishing up the last of the skeleton guards, don't quite catch it. Pulling a vial of clear, apparently unpolluted water from the ragged folds of his clothes, he steps towards the female vampire's bed, his falchion scraping on the floor.
[sblock=Combat Over]We're still watching the clock, but it's not exactly combat any more. Jeremiah is closing in on the female vampire.[/sblock]