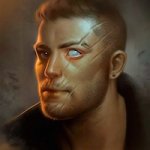 . . . Jeremiah Katarsis . . .
Listening, the man seems rather disheartened by Thuvian's words. Speaking in the same labored style, he replies,
"That long... I had no idea. If the surface world has healed, then it would be... No mind. The point, if there ever was... one of the haven's residents learned how to, errr,"
Jeremiah pauses, searching for words,
"induce vampirism. Her books told her how... not sure if they spelled it out... or if she fiddled it. Either way... beginning of the end. With captive audience, the death began. I barely escaped... or, I didn't. Not sure. She must be ended, if you want to explore here or that sort of... thing."

[sblock=Jonas and Samad]Barely detectable at the stand-offish distance the group is to Katarsis, the man has an off-putting component to his odor that is hard to place, at first--it is out of control infection.[/sblock]