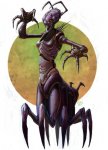 VRUSK
Size:
Large
Attributes:
AGI +2, LOG +2, REP +1
Skill choices:
perception, bureaucracy, [vehicle], computers, accounting, [artistic], running
Exploits:
Ambidexterity.
All Vrusk are ambidextrous. They use both hands equally well, suffering no off-hand penalties.
Carapace.
The Vrusk body is covered by a chitinous exosleleton, granting SOAK 5.
Comprehension.
Due to the complicated nature of Vrusk society they are able to understand complex social interactions. They gain +1d6 bonus to
social
skill checks.
Multiple legs.
Opponents suffer -2d6 penalty to attempts to knock down or trip a Vrusk.
Corporate Drone.
Vrusk start with four species skills rather than three. The bonus (fourth) skill must be either [technical] or [scientific].
Last edited: