Goodman Games, which produced
Fifth Edition Fantasy #1: Glitterdoom
and
Fifth Edition Fantasy #2: The Fey Sisters' Fate
has announced two new adventures.
Fifth Edition Fantasy #3: The Pillars of Pelagia
and
Fifth Edition Fantasy #4: War-Lock
are 16-page adventures by Chris Doyle and Michael Curtis respectively for 3rd-level characters, and costs $9.99. They are slated for "early 2015" and will be Kickstarted. Thanks to
Jeremy
for the scoop!
Fifth Edition Fantasy #3: The Pillars of Pelagia.
Along the windswept sea coast are several natural stone columns, sacred to the Sea Goddess Pelagia. One of these pillars is the tower of a reclusive wizard, a devout follower of Pelagia. But the wizard has gone missing, and the locals suspect foul play. Surely a powerful wizard must have many enemies! A band of fledgling heroes is tasked with entering one of the Pillars of Pelagia to contend with all manner of magical defenses, while uncovering cryptic clues to the wizard's disappearance planted by an unknown benefactor. The insidious evil plot they uncover could spell eventual doom for the surface world. But the Pillars are sacred to Pelagia, and the Sea Goddess herself might just play a minor role, aiding the heroes as they attempt to thwart a nefarious plot.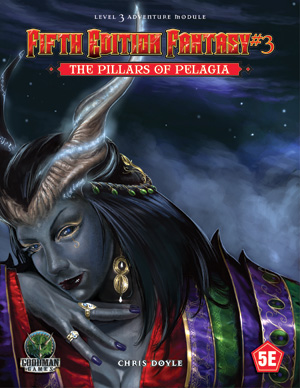 ​
Fifth Edition Fantasy #4: War-Lock.
Devilish sorcery and ancient steel merge in the form of a reborn menace rising in the wild hills on civilization's verge. As the badlands burn with wildfire, an arcane warlord gathers his monstrous troops under his tattered banner. He is rumored to be immortal, and it will take tremendous bravery, immense cunning, and more than a little luck for stalwart adventurers to end his campaign of malice. Can your mighty heroes locate the War-lock's one weakness before his forces drown the realm in blood and fire?
​
Last edited by a moderator: