A 4th Edition of the
Big Eyes, Small Mouth
anime roleplaying game
has been announced
, licensed from White Wolf, and to be updated by Mark Mackinnon with additional writing from David Pulver, Sean D Francis, Jeff Mackintosh, and Jude McLaughlin.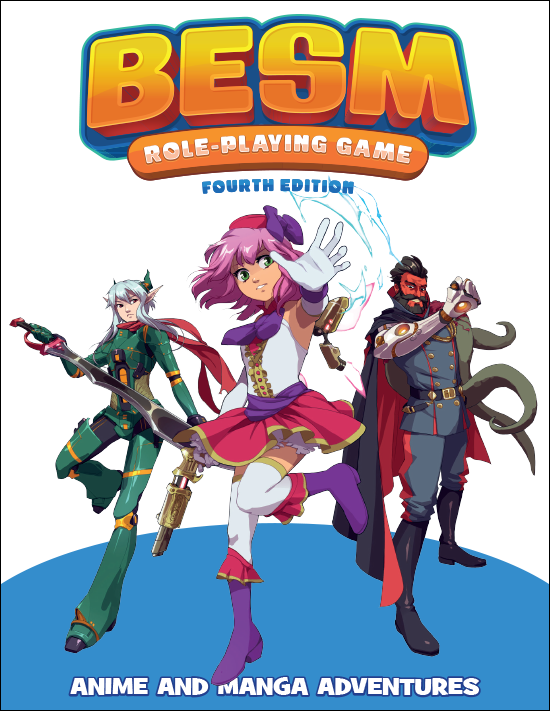 ​
Here's the press release.
"GUELPH, ONTARIO (29 April 2019) — Dyskami Publishing Company announced today that it has entered into a worldwide licensing arrangement with White Wolf Entertainment to produce new editions of the beloved Japanese anime role-playing game, Big Eyes, Small Mouth (or BESM), as well as the acclaimed superhero role-playing game, Silver Age Sentinels. The new fourth edition of BESM will be updated by its original designer and Dyskami Publishing founder, Mark MacKinnon, launching a line of expansions and supplements to support the game over the coming years.
"It's been well over a decade since I wrote the third edition of BESM, and having the chance to once again produce the game that means so much to me is a dream come true," said Dyskami Publishing Company President, Mark MacKinnon. "The fourth edition has been under development for many years and is an opportunity to reenvision an entire new game line, updating both the design and presentation of BESM for today's gamers yet hearkens back to the roots of earlier editions. Furthermore, we'll be expanding our relationship with Japanime Games to co-publish the BESM relaunch and provide exceptional customer service and support. What a year 2019 is going to be for anime and gaming fans!"

Since the release of the first edition of BESM in 1997 by Guardians Of Order, the anime role-playing game and related licensed expansions has been nominated for Ennies and Origins Awards across multiple categories, including Best Role-Playing Game, Best RPG Graphic Design, Best RPG Supplement, and Best RPG Adventure. BESM Fourth Edition features cover art by long-time BESM artist, Niko Geyer, plus interior art by Shilin, Zirong, Zearyu, Geyer, and more.
About Dyskami Publishing

Dyskami Publishing Company is a Canadian tabletop gaming company headquartered in Guelph, Ontario. They are dedicated to creating products for today's busy gamers, both casual and hardcore, who may not have as much time for their hobby as before. The company's tagline, "It's About Time", reflects their vision for an evolution in gaming design and implementation. The BESM Role-Playing Game, as well as Dyskami's line of tabletop games based on the popular Japanese anime series, Sailor Moon Crystal, is co-published by Japanime Games (japanimegames.com). For additional information, contact Dyskami Publishing Company at info@dyskami.ca or visit visit dyskami.ca."
There's also a new edition of Silver Age Sentinels on the menu.
Mark MacKinnon founded
Guardians of Order
, a roleplaying games company which which collapsed in 2006 owning money to
numerous freelancers and businesses
.
Update: The article above originally said "updated by Mark Mackinnon with additional writing from David Pulver, Sean D Francis, Jeff Mackintosh, Jude McLaughlin, and Jesse Scoble", taken from the press release.
I was contacted by Jesse Scoble who has no association with either the product or the company, so I've removed that name from the above list. It appears that the press release at the Dyskami Publishing Company has also been altered since, too, to instead read:


BESM CREATED AND UPDATED BY MARK MACKINNON • ADDITIONAL WRITING BY SEAN D. FRANCIS • FOUNDATIONAL BESM WRITING CONTRIBUTIONS BY DAVID PULVER, WITH JEFF MACKINTOSH AND JUDE MCLAUGHLIN