Today's
Pathfinder 2nd Edition
news update is a mixed bag covering Golarion's "infusion" (or "dusting") in the core rules, how the playtest process works, and the reasoning by the new Ancestry terminology. But, most importantly, we get our first introduction to the new
elves
and
dwarves
from the upcoming edition!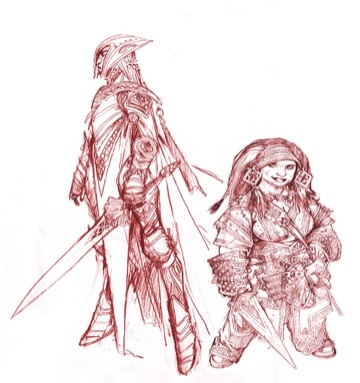 Elf and dwarf by Wayne Reynolds
​
---
Vic Wertz weighs in on the Ancestry terminology
--
"Look, folks, the terminology change has nothing whatsoever to do with politics. The problem is that the term is at best inaccurate, and at worst, limiting to design.
Let's look at the "Races" chapter from the Inner Sea World Guide:

Inner Sea World Guide:

The most expansive and populous of Golarion's races are known as the core races—humans, dwarves, elves, gnomes, and halflings. Half-elves and half-orcs, while technically not quite so common as many of the world's other races, are also considered part of the core races because of their close ties with humanity.​


Okay, so far, so good, I guess...

Inner Sea World Guide:

On Golarion, humanity is further divided into many different, unique ethnicities. While each human ethnicity is identical so far as rules are concerned, they have wildly different appearances, histories, and customs.Wait a minute—human ethnicities have wildly different appearances, histories, and customs, but their rules are identical? That limitation is imposed by the definition of the term "race," but mechanically speaking, it's pretty arbitrary, isn't it? In the Bestiary, dogs have different rules based solely on whether you can ride them or not.​


And let's think about that passage another second—only humanity is divided into many different, unique ethnicities? That's arbitrary and limiting too.

The chapter—remember, it's entitled "Races"—then goes on to detail Azlanti, Chelaxians, Garundi, Keleshites, Kellids, Mwangi, Shoanti, Taldans, Tians, Ulfen, Varisians, Vudrani, Dwarves, Elves, Gnomes, Halflings, and Half-Elves.

At this point, I want to sing "one of these things is not like the others," but really, from one point of view, 12 of these things are not like the others... and from another point of view, none of these things are like the others.

Now let's go back to the Core Rulebook, and its "Races" chapter. We get nice little writeups on Dwarves, Elves, Gnomes, Halflings, Half-Elves, and Humans, detailing their physical description, society, relations, alignment and religion, adventurers, and names. Or do we? Let's look a bit closer at the writeup for humans.

Physical Description: The physical characteristics of humans are as varied as the world's climes...

Society: Human society comprises a multitude of governments, attitudes, and lifestyles...

Alignment and Religion: Humanity is perhaps the most heterogeneous of all the common races...

Adventurers: ...Humans hail from myriad regions and backgrounds, and as such can fill any role within an adventuring party.

Names: ...humanity's diversity has resulted in a near-infinite set of names.

Was any of that actually useful? Let's face it: it's largely two columns of "we had to put text here to follow the format." That's a symptom of the format being too restrictive.

Ditching "Race" in favor of "Ancestry" lets us slice-and-dice across, er... racial lines, so we could—for example—easily confer the same mechanical benefit to characters who came from the same place without regard to whether they're human or elf, or we could give different mechanical benefits to Azlanti and Shoanti even though they're both human."
[FONT=&amp]Save[/FONT][FONT=&amp]Save[/FONT]
[FONT=&amp]Save[/FONT][FONT=&amp]Save[/FONT]
[FONT=&amp]Save[/FONT][FONT=&amp]Save[/FONT]
[FONT=&quot]Save[/FONT][FONT=&quot]Save[/FONT]​
Last edited by a moderator: