It's another day, and that means another round of
Pathfinder 2nd Edition News!
Today's menu includes more discussion on resonance, followed by the main course -- the new rules for death & dying! All added, as ever, to the
Pathfinder 2nd Edition Compiled Info Page
!
Photo by Paizo
​
There are Pathfinder Playtest pro-order posters at the GAMA trade show. See above! And below...
Gnome Stew reported on the Future of Pathfinder seminar at Gary Con. Mainly stuff we've heard before, but there are some new tidbits:

Shadow of the Demon Lord, white-box D&D, Magic: the Gathering, Tales from the Loop, and Star Trek Adventures were all referenced during development.
The item (shield) damage system has a name -- it's called "dented".
Some "signature gear" can level up with your character.
"

Background will grant a specific Lore, which is similar to a specialized knowledge skill, such as Lore—Alcohol being granted to a character with barkeep as a background"

.

Resonance proved divisive yesterday.
New Dying Rules! "RumpinRufus" reported on how they worked in the live streamed game at the GAMA trade show:

There are no negative hit points - if you take damage equal or greater than your HP, you go down to 0 HP and get the Dying 1 condition.
If a crit knocks you to 0, you gain Dying 2 instead of Dying 1.
Each round, you must make a save to stabilize. The save DC is based off the enemy - a boss may have a higher death DC than a mook, so you are more likely to be killed by bosses.
If you reach Dying 4, then you are dead.
If you make the stabilize check, you gain a hit point, but are still Dying. If you make another save at 1 HP, you are no longer Dying, and you regain consciousness.
If an ally heals you while you are Dying, you still have the Dying condition, even though you have positive HP. You still need to make a stabilize check to regain consciousness. But, once your HP is positive, you are no longer at danger of death from failing your checks - failing a stabilize check just means you stay unconscious.
The Stabilize cantrip puts you at 1 HP.
Mark Seifter further added -- "If you get well and truly annihilated by an attack, you die instantly. Even a 1st PC could probably insta-kill a kobold grandmother, even if the GM chose for full tracking of unconscious and dying NPCs."

Erik Mona on monster books again, and how self-contained stat blocks will be -- "I don't think we've fully committed one way or the other yet. The playtest monster book is going to be mega stat block dump without a lot of description of what, say, a skeleton looks like or eats. As for special abilities and how they're formatted, while I know the design team has been hard at work on this stuff, I haven't interacted with it too much yet (I just finished going through magic items last night!)."
Both Erik Mona and James Jacobs feel strongly about the presence of more outsider types on the summoning lists --

"No, actually, James Jacobs and I also feel very strongly about this. Very strongly."

Logan Bonner comments on complexity, options, and the 'cognitive load' --

"We're keeping it in mind for sure. That's one reason we've rejiggered the number of bonus types, altered the action economy to make choice clearer, and (at least mostly) made it so you have options for static feats instead of only giving options to expand your list of actions. We'll see in the playtest whether that mix is right."

Logan Bonner informs us that coffee and tea have been added to the Playtest Rulebook.
Mark Seifter on how corruption could work

"...gaining a corruption could unlock a new set of ancestry feats, as your fundamental nature has shifted."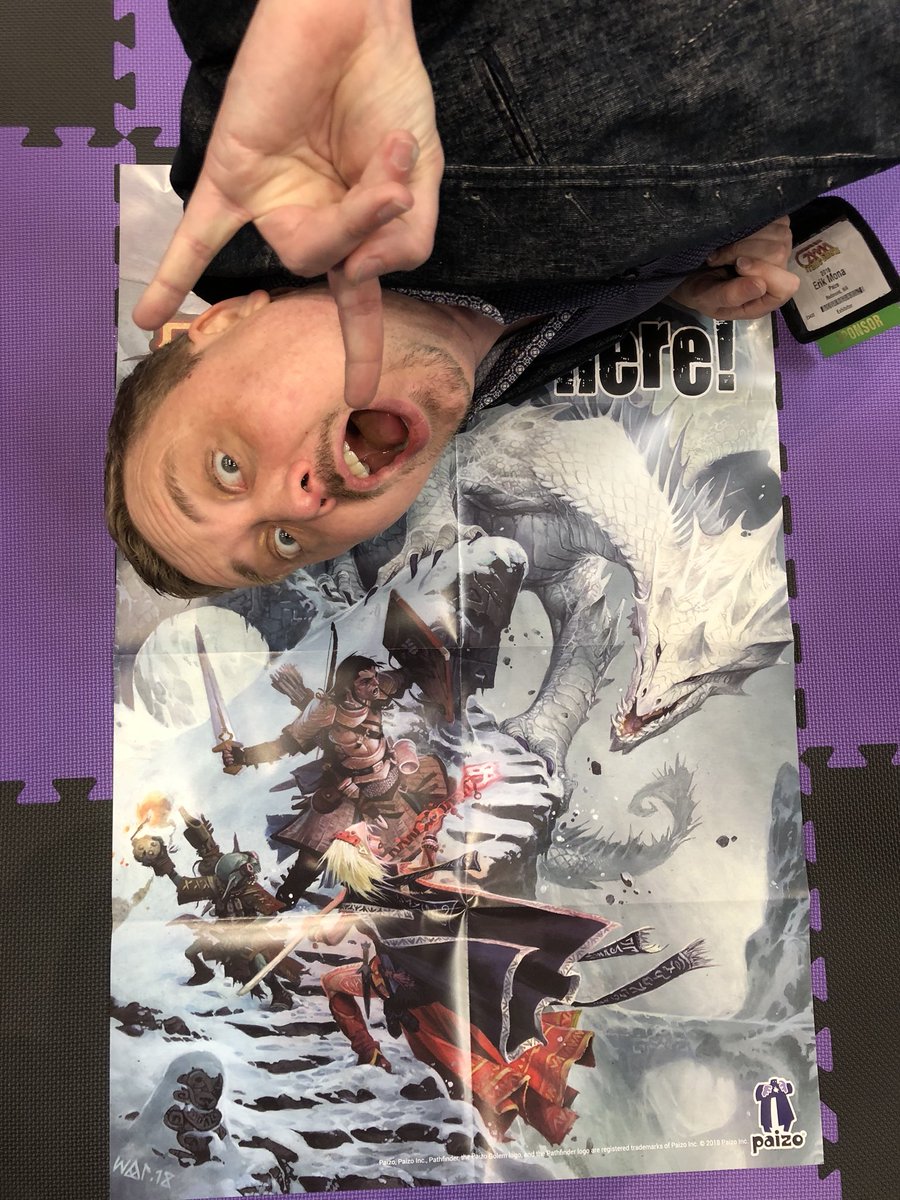 Photo by Paizo
[FONT=&amp]Save[/FONT]
[FONT=&amp]Save[/FONT]
[FONT=&amp]Save[/FONT]
[FONT=&amp]Save[/FONT]
[FONT=&amp]Save[/FONT]
[FONT=&amp]Save[/FONT]
[FONT=&quot]Save[/FONT]
[FONT=&quot]Save[/FONT]
​