Paizo has just launched Class Deck subscriptions for its Pathfinder Adventure Card Game. Each 109-card deck focuses on a single class and saves you 20% on the price of the deck. You can start with the upcoming Paladin Class Deck.
"With your ongoing Pathfinder Adventure Card Game Class Deck subscription, we'll automatically send you each new Pathfinder Adventure Card Game Class Deck, charging your credit card automatically as we ship each product. You only need to sign up once, so you'll never need to worry about renewal notices or missed products! Best of all, each subscription shipment will give you a discount of 20% off the MSRP of that release. Items from your Class Deck subscription will be combined with your other Paizo subscriptions (including your Adventure Card Game subscription) to save money on shipping.

When you start an ongoing subscription, any existing preorders for products covered by your subscription are automatically cancelled (or if you've preordered more than one of an item, they'll have their quantity reduced by one). If you've already preordered any of the upcoming decks, you do not need to do anything special when you subscribe."
The August release is the Paladin class deck. This one has three, rather than four characters, which is a permanent change in the class decks. In this case, we have Koren (a self-hating half-orc who follows Sarenrae), Raz (a halfling paladin dog rider), and Seelah (the iconic Iomedae-following sword-wielding lover of good).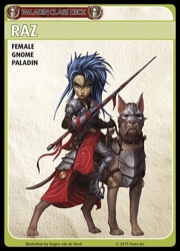 ​
Last edited by a moderator: