Pinnacle Entertainment Group has announced that it will be bringing Paizo's
Pathfinder
adventurer paths to
Savage Worlds
, starting with
Rise of the Runelords
. They will be launching a Kickstarter in January 2021.
The Kickstarter includes a core ruleset called
Savage Pathfinder
, and a
Rise of the Runelords
boxed set.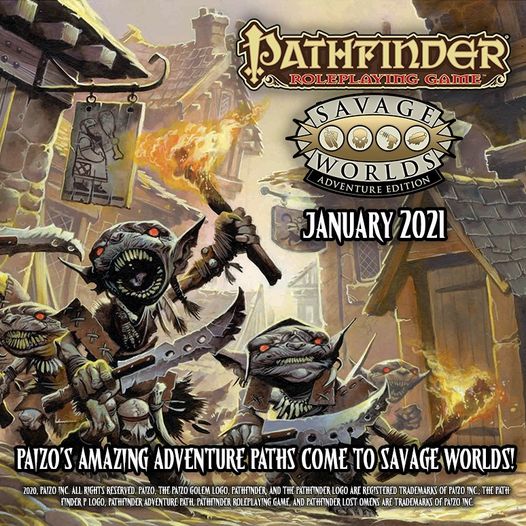 PRESS RELEASE

---

It's Thanksgiving here in the United States. For our international friends, that's a time when we come together as friends and family and tell everyone what we're thankful for.

Today, Pinnacle Entertainment Group is INCREDIBLY thankful to our good friends at Paizo for letting us play in their amazing world of Golarion, setting of the phenomenally successful Pathfinder Roleplaying Game!

Following the incredible reception we had with Kevin Siembieda's phenomenal world of Rifts®, we're bringing Pathfinder's fantastic Adventure Paths to the Savage Worlds™ system, starting with the best-selling Rise of the Runelords™!

The Kickstarter begins mid-January, 2021, and will feature the Savage Pathfinder core rules, a boxed set with all the usual Savage Worlds accessories, AND the Rise of the Runelords boxed set with all six books of the Adventure Path and other deluxe accessories!