All of these RPG crowdfunding projects end by August 13th. This week, while there are more than a dozen RPGs and dice options, I kept the focus on four projects, one RPG/board game hybrid, two sourcebooks for established properties, and one that offers a lot of bang for your buck.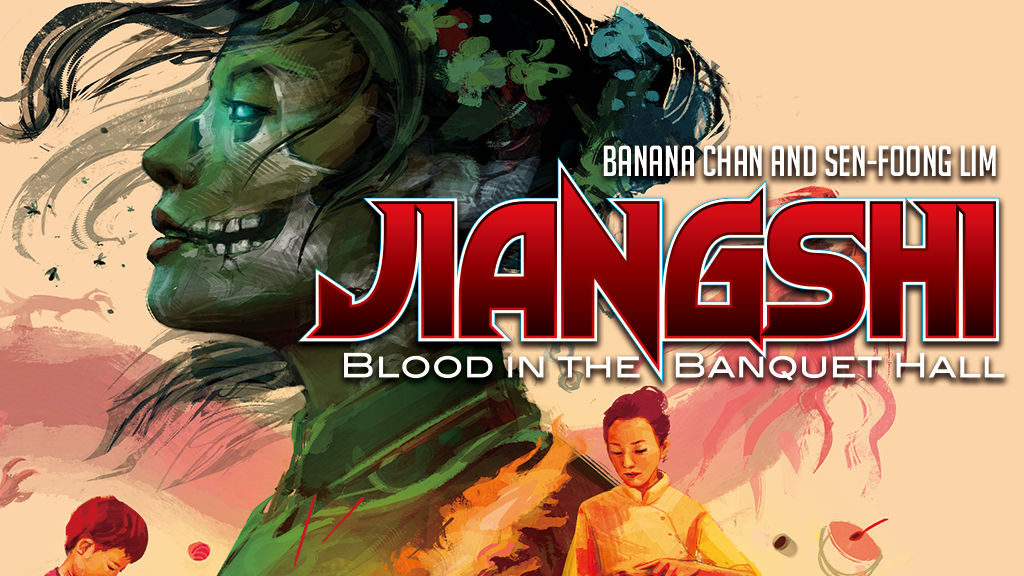 Jiangshi: Blood in the Banquet Hall
from Game and a Curry Games and
Wet Ink Games
END DATE: Thu, August 13 2020 8:00 PM EDT.
SYSTEM(S): An original system
PROJECT TYPE: Core rulebook
MOST POPULAR PLEDGE: $65 + S/H for the PDF and physical game
"An RPG of Chinese immigrants running the family restaurant by day, and dealing with the hauntings of Jiangshi by night! This is a collaborative, storytelling RPG about a Chinese family making their living by running a restaurant in one of America's Chinatowns, circa 1920. Despite societal backlash and anti-Chinese laws, they have turned a profit and their quality of life has recently improved. Night, however, brings a new terror. Players take on the roles of members of the Chinese family (mostly from Guangdong province), spanning three generations, who face threats of jiangshi (hopping vampires) at night and racism by day. It has players balancing the responsibility of maintaining their family business with protecting themselves and their community from the dreaded Jiangshi. This is primarily a game about storytelling. Combat is limited, but horror, drama and sometimes comedy are the primary vehicles for driving the game forward."
THE DARK EYE - GODS OF AVENTURIA (ENG)
from
Ulisses Spiele
END DATE: 08/11/2020 19:00 (GMT-4)
SYSTEM(S): The Dark Eye
PROJECT TYPE: Sourcebook
MOST POPULAR PLEDGE: $160 + $15 US S/H for PDFs and print books plus slipcase and cards
NOTE: This project is available through GameOnTabletop
"Now, more than ever, Aventuria needs the help of the Demigods and the blessings of all Twelve Gods… Gods of Aventuria gives you lore details about Church Customs around the everyday work of a Blessed One. It describes the importance of the Blessed Ones for their community and the rites surrounding birth, marriage, and death. You will learn how to swear a binding oath and to lay a soul to rest. In addition to over 150 new liturgies and ceremonies, Gods of Aventuria provides you with Liturgical Enhancements to all liturgies and ceremonies from the Core Rules. They might enhance reach, duration, or even unlock completely new ways of using the liturgies. In conjunction with Ulisses Online Con 2020, we are proud to offer a special charity version of Gods of Aventuria. This edition comes in a special white leatherette cover, and we are donating all proceeds from the sales of these books, including our production costs, to Doctors Without Borders (Médecins Sans Frontières)."
The Fantasy Trip: Hexagram #5 and Ardonirane
from
Steve Jackson Games
/ Warehouse 23
END DATE: Mon, August 10 2020 6:54 PM EDT.
SYSTEM(S): The Fantasy Trip
PROJECT TYPE: Sourcebook
MOST POPULAR PLEDGE: $90 + S/H for both books in PDF and print plus a deck of cards and a playmat
"The fifth issue of the Hexagram series and a new city guide for use with The Fantasy Trip roleplaying game. The Fantasy Trip: Ardonirane. This 72-page book, written by David Pulver and edited by Steve Jackson, describes the city of Ardonirane, ruled by Dhallak m'Thorsz Carn, the Thorsz, the ruthless warlord who built the Death Test labyrinth (as described in the boxed adventure of the same name). Hexagram, the official zine for The Fantasy Trip, started in early 2019 as a part of Kickstarter's Zine Quest event. Since that first issue, we have returned to Kickstarter twice for the creation of more issues (#3 and #4) and now, with your support, we will release the fifth issue in the series. As with previous issues in the series, Hexagram #5 comes in as an 8.5" x 5.5" 36-page B&W zine (not counting the covers)."
A Dozen Frightening Rumors, for use with Fantasy RPGs
from
Philip Reed Games
END DATE: Thu, July 30 2020 4:57 PM EDT.
SYSTEM(S): System neutral
PROJECT TYPE: Sourcebook
MOST POPULAR PLEDGE: $1 for all of the PDFs unlocked by the stretch goals
NOTE: Read Michael Tresca's interview with Phil Reed here on EN World
"A PDF of rumors that the GM may use as background flavor and inspiration. Unlocking stretch goals adds more PDFs to the campaign! With your support, we'll bring the third wave of the A Dozen . . . series to life. Starting with A Dozen Frightening Rumors, this latest Kickstarter campaign was designed around a single goal: To create more! Each rumor is designed to fit on a single page (with artwork), so that you may print only the page that you need for your next game session. A Dozen Frightening Rumors comes in at 14 pages and includes -- as you may have guessed from the title -- twelve different rumors + a cover page and a page outlining the anatomy of a rumor (as well as tips on using the rumors in your game). Stretch Goals: A Dozen Frightening Rumors, A Dozen More City Encounters, A Dozen Distressing Rumors, A Dozen Destructive Dragons, A Dozen Dungeon Encounters, A Dozen Dungeon Denizens, A Dozen Strange Locations, A Dozen Whispered Rumors, A Dozen Terrifying Rumors, A Dozen More Dungeon Treasures, A Dozen Peculiar Lizardfolk, and A Dozen More Strange Locations."
​
RPG Quick Hits
Cartomancy
from Smoke and Mirror Games
END DATE: Sun, August 9 2020 5:00 PM EDT.
"A RPG, A Card Game, A Gamer's Toolbox"
The Palace of 1001 Rooms
from Michael Grayson S

END DATE: Thu, August 6 2020 10:12 PM EDT.
"1001 Ways to Die In a Dungeon."
Brass Rings: A game of steam punk rodents on Saturn's rings
from
Orcs Unlimited
END DATE: Sun, August 9 2020 3:02 AM EDT.
"An RPG that fits in your pocket that you can play with your pocket change!"
Magic Seekers: Role Playing Game (RPG) for Young Adventurers
from Tomorrow River Games
END DATE: Mon, August 3 2020 12:16 PM EDT.
"A thrilling new role-playing game (RPG), for teens and young adults. Rule book, magic cards, dice & quest consisting of 3 adventures."
Save Hashtakaar!
From
Diego Pisa Artworks

END DATE: Tue, August 4 2020 6:44 PM EDT.
"Nature has gone mad. Be the last possibility of Hashtakaar to survive. D&D 5e, Pathfinder and Pathfinder Second Edition compatible."
Book of Beastly Creatures (Horror Movies & Books!)
from Hex Media

END DATE: Thu, August 13 2020 2:30 PM EDT.
"Beautiful Hardback Horror Anthology filled with Stories, Stunning Art, bonus RPG Rules & spectacular Special Edition Movies!"
Tome of Alchemy: Magic Item and Potion Creation for 5e
from Necromancer Games

END DATE: Fri, August 7 2020 4:14 PM EDT.
NOTE: For those concerned about coverage of a project from a subsidiary of Frog God Games, I'm linking the Joint Statement of BJ Hensley and Frog God Games
"5th Edition rules for alchemical creation of magical and mundane items in your 5th Edition game!"
Foldable Metal Dice for RPG Tabletop Gaming (d20)
from Kickin' It
END DATE: Sat, August 1 2020 3:40 PM EDT.
"Yes, you CAN put a d20 in your wallet and carry it with you every day - and you should. We attempt to prove it in this Kickstarter."
Mythological Figures & Maleficent Monsters for 5th Edition
from
EN Publishing


END DATE: Fri, July 31 2020 6:00 PM EDT.
NOTE: This project is published by EN Publishing, the parent company of EN World
NOTE TWO: I'll cover this in more detail in the following weeks
"A beautiful 5th Edition hardcover tome of legendary figures from Achilles to Robin Hood, Thor to Dracula, King Arthur to Baba Yaga!"
Egg Embry participates in the OneBookShelf Affiliate Program and is an Amazon Associate. These programs provide advertising fees by linking to DriveThruRPG and Amazon.