Between September 20th to 26th, ten RPG, and RPG-related,
Kickstarters
end. Compared to recent weeks, that's a
notable
decrease
. However, this is not the start of a trend. Instead, it's the result of
Gen Con
week and its impact on RPG
Kickstarter
launches (when many of the crowdfundings that would have ended this week likely would have begun).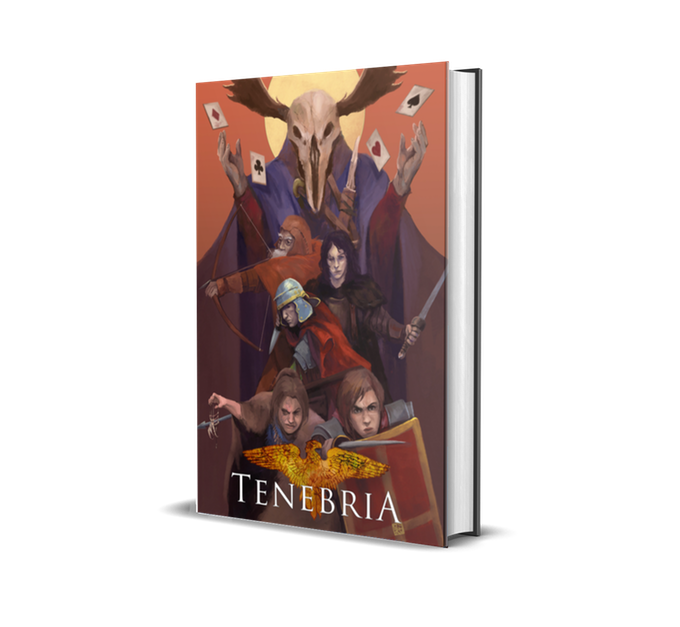 Tenebria: Remnant of Rome
by Wet Ink Games
END DATE: Sat, September 21 2019 9:00 PM EDT.
SYSTEM(S): +One System
PROJECT TYPE: Core rulebook
MOST POPULAR PLEDGE: $10 for the PDF of the game
"A survival and resource management RPG after the fall of Rome. Rome, the famous Eternal City, has fallen and the last imperator exiled in obscurity. There are no more supply trains to support the legions. There is no more trade with the coasts. As far as you know, you are the last Romans, stranded a thousand stadia from anywhere. All you have left is your training, your eagle standard and your will to preserve civilization as you know it. Here in Tenebria, at the base of a crumbling aqueduct, you will make your final stand. Created by writer and artist Steven Wu, the newest from Wet Ink Games is ready to challenge you with a desperate fight for survival at the edge of a fallen empire. Create a survivor at the end of an age, choose what you can contribute to rebuilding, meet your fellow refugees in Tenebria, and take up the fight against the many others who want what you have preserved. Perhaps this is the beginning of a new age..."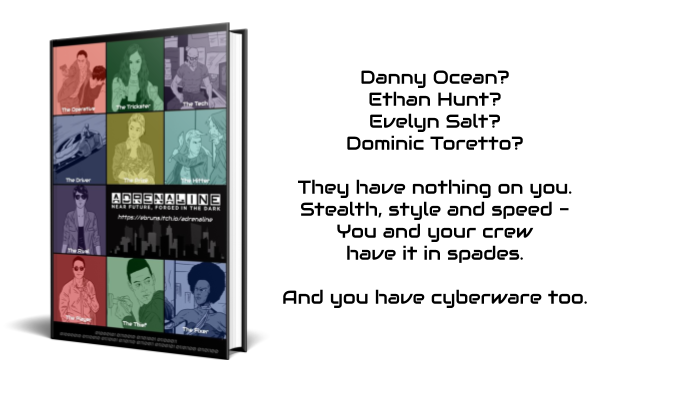 Adrenaline: Near Future, Forged in the Dark
by Eric Brunsell
END DATE: Mon, September 23 2019 9:00 AM EDT.
SYSTEM(S): Forged in the Dark
PROJECT TYPE: Core rulebook
MOST POPULAR PLEDGE: $20 for the PDFs and PODs for both books and decks
"A tabletop RPG of near future action and intrigue. Think Ocean's 11, Mission Impossible, or Fast and Furious... With cyberware! Adrenaline is a Forged in the Dark game about a group of thrill-seeking characters in a close-knit crew who swindle, steal, and shoot their way to infamy and fortune - or die trying. The game takes place in a fictional setting that looks just like our modern world. Adrenaline can be played in a modern-day setting, or use the cyber, bio and pharmaceutical augmentations to take your action into the near future or cyberpunk. The crew is at the heart of Adrenaline game play. The player selects from one of three crews to determine the style of pay that they are interested in. They then create their characters from one of eight playbooks."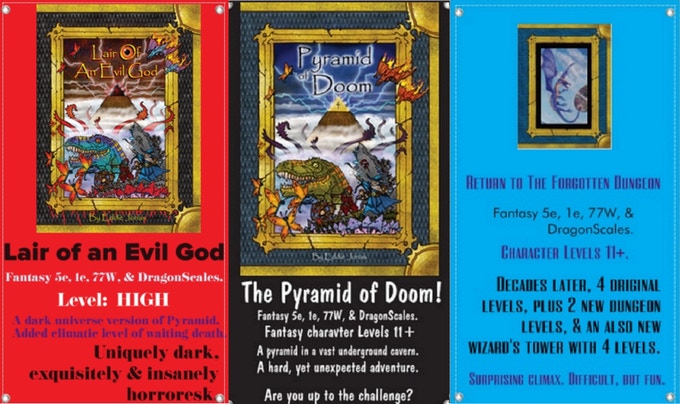 The Geneva Cavern Adventures D&D 5e
by Fireside Creations
END DATE: Tue, September 24 2019 5:05 PM EDT.
SYSTEM(S): Dungeons & Dragons 5e
PROJECT TYPE: Adventures
MOST POPULAR PLEDGE: $50 for the softcover book
"The Geneva Cavern Series. This effort will produce three new adventure Modules for AD&D 1e, D&D 5e, 77Worlds, & DragonScales RPGs. This Kickstarter will produce three new adventures in the Geneva Cavern Adventure series which began with The Forgotten Dungeon and Mirror Mirror. These adventures were designed for use with D&D 5e and also include stats for 1e, 77 Worlds, and Dragonscales. We will produce Return to The Forgotten Dungeon and the "Beyond the Forgotten Dungeon" Adventures Pyramid of Doom and Lair of an Evil god. In addition, we will produce the Geneva Cavern Map and map booklet and the Monster Folio."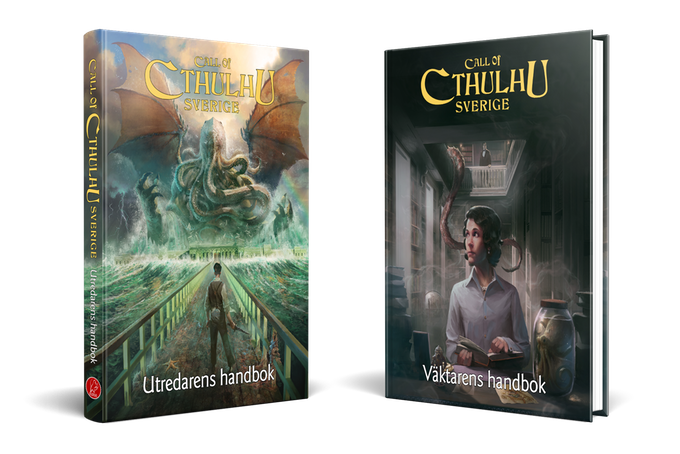 Call of Cthulhu Sverige
by Eloso Förlag
END DATE: Wed, September 25 2019 6:15 AM EDT.
NOTE: This Kickstarter is for a Swedish-language edition of Call of Cthulhu
"This is a Kickstarter for the officially licensed Chaosium RPG Call of Cthulhu, with an international collector's pledge available. It's all in Swedish, since our license only covers that language, but we do hope you will enjoy the collectible value. We have prepared two levels for you that are available internationally. One is the Core package with the Swedish Investigator's and Swedish Keeper's Handbook. The other one is the Collector's edition that also includes mini-campaign, the scenario and the two mini-scenario collection. You can read more below about them, but they are written by some pretty talented people. All international backers will also get the reproduction of the 1926 map of Stockholm. Please note: there is no English content, but Swedish is a beautiful (and frightening) language."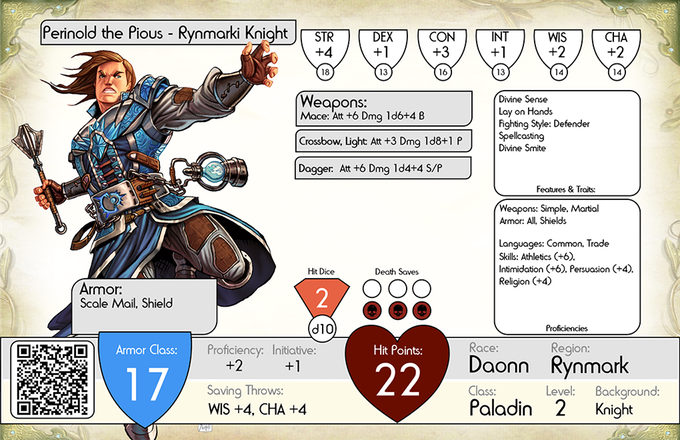 Eryphir - A Four-Part Adventure Series for 5e D&D (S118)
by WizCo Games
END DATE: Wed, September 25 2019 12:03 PM EDT.
SYSTEM(S): Dungeons & Dragons 5e
PROJECT TYPE: Adventure
MOST POPULAR PLEDGE: $16 for 4 PDFs
"Join WizCo Games as we team up with World Anvil on this incredible journey to create episodic RPG adventures for 5th Edition D&D! Welcome to the WizCo Games Kickstarter for the creation of our first Adventure Series, "Corruption in Daelus," supported online by the Blackwood Society Organized Play and WorldAnvil for Dungeons & Dragons 5th Edition! Power up your aether-jets and jump into the action-packed, neo-arcane high adventure of our Eryphir campaign setting with these four thrilling adventures! When word reaches the adventurers of a murder in a small, remote hamlet, they are tasked with uncovering the truth behind the unusual event. Their investigation leads them down a desperate road of horror and sorrow as they chase the culprit across the colonies, attempting to bring them to justice. Not everything is as it seems (naturally) and before the adventurers can bring the murderer to justice, they will have to struggle through a quagmire of lies and conspiracies; battle through treacherous traps and cutthroat creations. This Adventure Series consists of four, 4-part episodes. Each episode can be played in a single, four-hour session OR incorporated into your campaign as your characters gain experience and levels."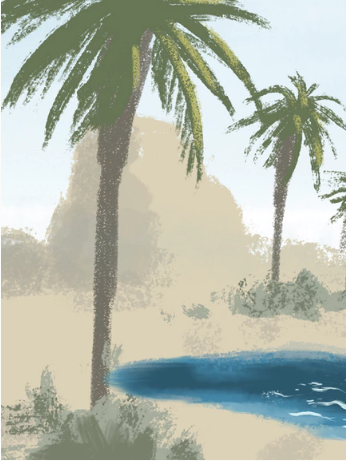 Oasis of the Elementals (for D&D 5E and Pathfinder 2E)
by Douglas Sun
END DATE: Wed, September 25 2019 1:25 PM EDT.
SYSTEM(S): Dungeons & Dragons 5e and Pathfinder 2e
PROJECT TYPE: Adventure
MOST POPULAR PLEDGE: $6 for the PDF of the adventure
"It's the Arabian Nights meets A Fistful of Dollars in this location module for Dungeons & Dragons and Pathfinder. Oasis of the Elementals, our eighth Places by the Way location module for D&D 5E, and Path to the Mizar Oasis, our eighth Found by the Way module for Pathfinder (and the first for Pathfinder 2E, although 1E compatibility notes are included). This campaign offers you your only chance to get copies of the Limited (Kickstarter Only) Edition of both modules. The oasis at Mizar is a popular way station in the bleak, endless desert. It's just a village, but the water from one of its springs, the Spring of Wonder, is said to have remarkable properties: It cures the sick and lame, it dispels curses and magical effects, it restores lost hair, it increases stamina and promotes intimacy. And that's not the half of it. Many folks come to Mizar believing that the water is literally magical. These awestruck tourists don't know and may not notice that Mizar is in trouble. For generations, the Phares family owned the land containing the Spring of Wonders and they managed this tourist attraction wisely and well. The entire village benefitted. But the last of the family died without an heir, leaving their followers — the guards and other staff who took care of the spring — to split into rival camps and contest who should inherit this landmark of incredible value. Driven by greed and cruelty, they're using Mizar as their battleground and the once-happy residents as pawns."
RPG ACCESSORIES
5mm Metal Micro Dice
by Dragonheart Designs
END DATE: Fri, September 20 2019 9:00 AM EDT.
"A full 7-die polyhedral set of 5mm metal micro dice in a range of colors."
The Path of Chaos Metal RPG Dice Set
by Blue Wizard Gaming
END DATE: Fri, September 20 2019 6:59 PM EDT.
"Path of Chaos Metal RPG Dice Set - D4, D6, D8, (2x) D10, D12, D20."
Fantasy Gaming Coins: Project Alpha
by Fantasy Coin, LLC
END DATE: Sat, September 21 2019 11:00 PM EDT.
"9 new coins and 10+ legacy sets."
Fire Bunny Games Store Library
by Jill and Erik Henriksen
END DATE: Tue, September 24 2019 3:18 PM EDT.
"We are opening a family board game and toy store in Auburndale and we need your help to grow our game library."
Last edited by a moderator: