All fantasy, all week. Mix 'em all together to create an entire campaign world if you'd like. Phillip Reed Games wins the prize this week for most ornery and entertaining GM RPG supplements in pocket map form ranging from jiggly cubes to useless dungeons.
Dungeons & Dragons
has an interesting series of adventures that can be combined into a massive adventure path. Also some wild taverns. With stickers!
Warhammer's
Enemy Within
is back with the latest installment set in
Middenheim
and featuring Skaven and
LotFP
gets two adventures as well about dinner party poisons and the end of the world. And
Talisman Adventures
gets a screen and game pack along with a bit of new content for the GM.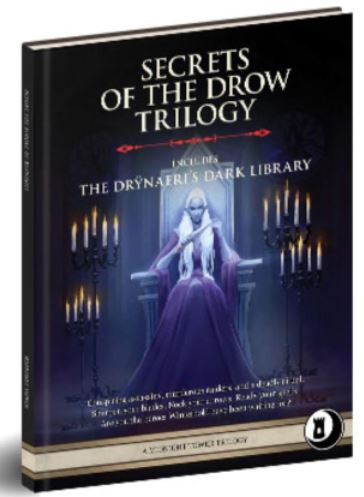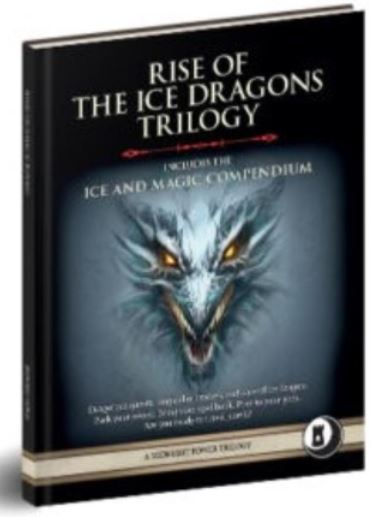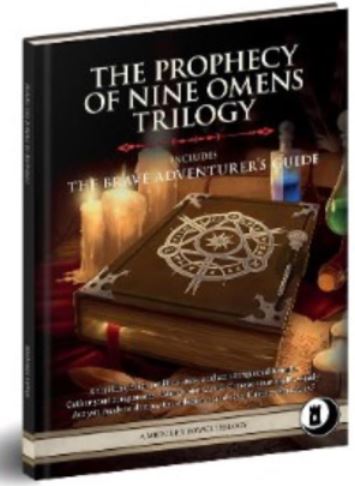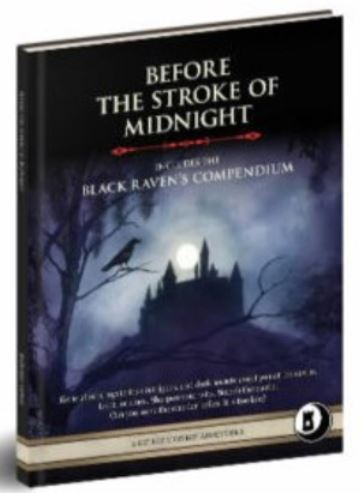 ​
Note:
RPG Print News
covers new RPG releases and some classics, reprints, and sales available from retailers. It does not cover products that are only available directly to customers through kickstarter or as print on demand.
Secrets of the Drow Trilogy
|
Rise of the Ice Dragons Trilogy
|
The Prophecy of Nine Omens Trilogy
|
Before the Stroke of Midnight
by Midnight Tower
SYSTEM: Dungeons & Dragons
PRODUCT TYPE: hardcover adventures
RETAIL PRICE: $39.99 each
DESCRIPTION: These adventures can be played separetly or linked together into a massive campaign. Each one includes additional content like new monsters, NPCs, new magic items, new spells, maps, full-color illustrations, and more. Secrets of the Drow Trilogy is a series of three adventures designed for a group of three to five 3rd to 6th-level characters. The isolated mountain town of Winterhold is under threat from dark elves who are raiding nearby villages, burning farms, and kidnapping innocents. The PCs must stop the drow. Rise of the Ice Dragons Trilogy is a series of three adventures for three to five 7th to 9th-level characters that can be played as a sequel to Secrets of the Drow Trilogy. The PCs need to help the dwarven scholar Bjorn Amberclan to find three magical orbstones near Northwind Gate. But the evil ice dragon Isdrekin Nixius wants to use them to summon the rest of his kin and enslave everyone in Eastern Farraway.
The Seeker's Guide to Twisted Taverns - Wandering Adventurer Pack
by Ghostfire Gaming
SYSTEM: Dungeons & Dragons
PRODUCT TYPE: map pack
RETAIL PRICE: $59.95 each
DESCRIPTION: A variety of taverns with the rooms and patrons found inside. Ranging from the grim and seedy dealings in the Bloated Bounty to the world shaping Wildaback Tavern, each tavern and inn are a spectacle and a wonder. Contains: a hardcover book, a map pack, and stickers.
The Horned Rat
by Cubicle 7
PRODUCT TYPE: hardcover fourth adventure in the Enemy Within campaign
RETAIL PRICE: $39.99
OTHER RPG COVERAGE: What Threatens Middenheim in the Adventure The Horned Rat?
DESCRIPTION: The PCs are recruited into the service of the city of Middenheim. The PCs turn the tables on pursuing enemies and now the enemies have to defend themselves. The time has come to uncover their scheme and break apart their organization. Includes: the adventure itself, a toolkit to exploring Middenheim's complex undercity, and a series of investigations dealing with the implications of previous adventures and uncovering a new, far greater threat.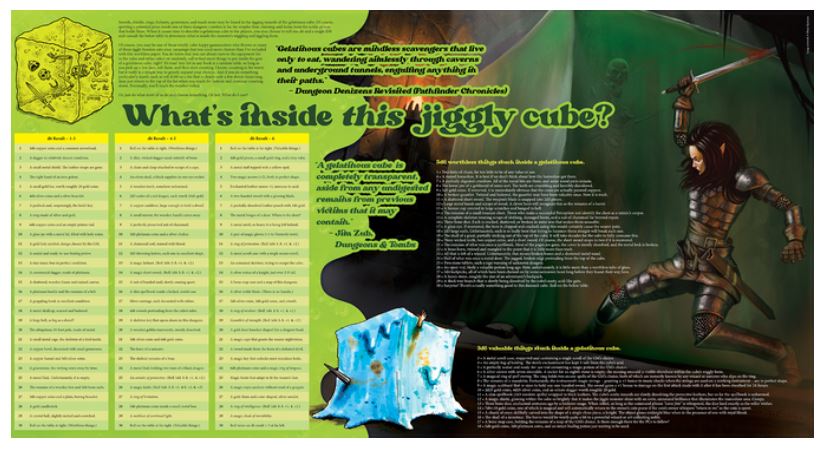 Mimics - An Unnecessary Work
| Dungeons - Useless Ideas | Jiggles & Wiggles - Gelatinous Cubes Rule! | Snowy Scenes by Phillip Reed Games
SYSTEM: Dungeons & Dragons
PRODUCT TYPE: pocket maps
RETAIL PRICE: $20 each
DESCRIPTION: These are foldable maps of RPG words and art that fit in a pocket with a grouchy attitude. The author, Phillip Reed, says these works suck. His words not mine. Which should make you want to buy them even more. Mimics, An Unnecessary Work. This collection of useless thoughts is divided into four camps: Making mimics more wondrous and magical. A 4d6 table as well as a 3d6 table, each offering some quick ideas about what is the mimic imitating this time. A multitude of mimic encounter ideas. And a mysterious mimic's lair with which to kill characters. Dungeons: 1d10 terrible ideas for what the PCs may find when they open a locked door in the dungeon. More dungeon encounters. 3d6 dungeon inhabitants. Jiggles & Wiggles, Gelatinous Cubes Rule! Now what is that damn cube doing? What's inside this jiggly gelatinous cube? Take inspiration from these words and use a few of these ideas to wipe-out the party. After all, the adventurers likely deserve death for some past offense. Snowy Scenes offers several encounter seeds for those times when the PCs are exploring an arctic environment and the GM is sick of their nonsense. Playing in the snow on one side for 4d12 encounters and winter encounters with 2d20 on the other. GM can't decide which one to use? Use playing in the snow if the PCs have been likable this session and use winter encounters if someone at the table has been annoying or unusually foolish.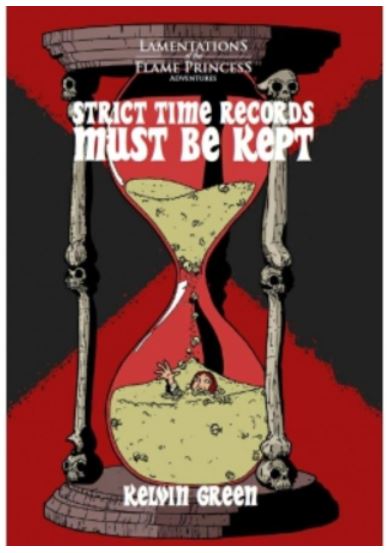 Strict Time Records Must Be Kept
| Earth Incubation Crisis by Lamentations of the Flame Princess
PRODUCT TYPE: hardcover adventures
RETAIL PRICE: $29/$33
DESCRIPTION: Strict Time Records Must Be Kept is an adventure for characters of up to third level. The PCs are staying with a "friend" doses them with a slow-acting and fatal poison as part of a demented game for the perverse amusement of wealthy people. The PCs are trapped miles from help, surrounded by murderers, confounded by puzzles and traps, and inching closer to a horrible and messy demise. Earth Incubation Crisis is an adventure with missing kids, rumors of witchcraft, strange things skulking about the mountains and marshes under the cover of darkness, and the sounds of murder. The PCs investigate a mystery of titanic proportions that begins in the Cretaceous Period and might end in the destruction of Earth itself.
Talisman Adventures - GM Kit
by Pegasus Spiele
SYSTEM: Talisman Adventures
PRODUCT TYPE: screen, pamphlet tokens, and character sheets
RETAIL PRICE: $19.99
OTHER RPG COVERAGE: Talisman RPG: What Makes It Unique?
DESCRIPTION: 24 pages of useful Game Master guidance and expanded rules including new locations, encounters, and enemies. Example include the Black Squire, face the Duelist's Challenge, a Faery Revel, and the Haunted Ruin. Also has four-panel screen, a sheet of Fate tokens, and blank Player Character sheets.