Ptolus is back and it is still huge. Many more D&D products are also out for monsters, monster building advice, new spells, dragons, the world of Midgard, and conditions tracked by rings used with miniatures. Battlelords has new adventures and for fans of Star Trek,
Boldly Go!
offers a new RPG to allow exploring the galaxy. And a
Traveller
adventure is available again.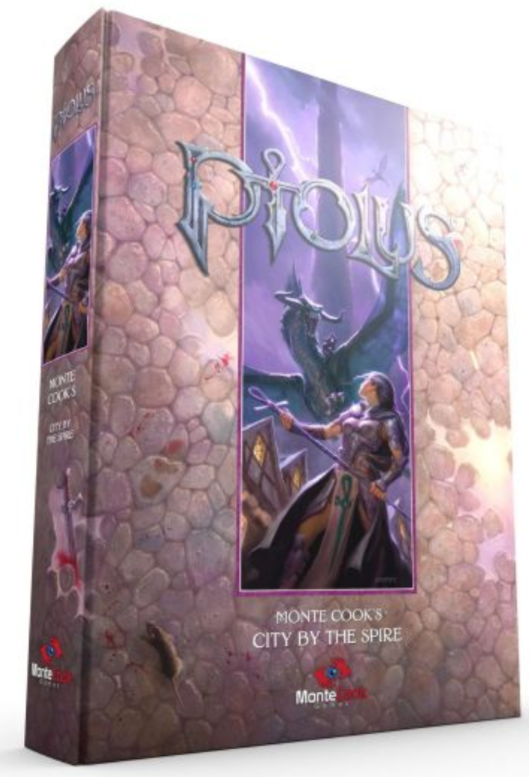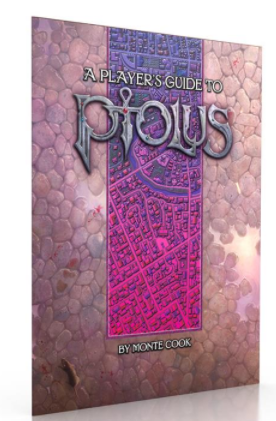 Note:
RPG Print News
covers new RPG releases and some classics and sales available from online retailers. It does not cover products that are only available to customers through kickstarter, directly from a publisher website, or as print on demand.
Ptolus: Monte Cook's City by the Spire | A Player's Guide to Ptolus by Monte Cook Games
SYSTEM: Dungeons & Dragons Fifth Edition
PRODUCT TYPE: massive hardcover setting/softcover supplement
RETAIL PRICE: $149.99/$17.99
DESCRIPTION: Ptolus is 672 pages plus a packet with a poster map and dozens of handouts. Plus another 300 pages of downloadable content. The city is built on mysteries, secrets, and dark histories that lies forever in the shadow of an impossibly tall spire, an enigma and a reminder of evil long past. Below the city`s streets a seemingly endless network of ancient dungeons draws adventurers from all corners of the Empire. If that isn't enough for you, A Player's Guide to Ptolus takes you into the City by the Spire, introducing its districts, organizations, and history, along with its people and their customs and traditions. It is also a guide to character creation. It introduces the species and cultures unique to the setting, offers character background ideas, and discusses the roles of various classes and types within Ptolus society. It is system-neutral. A free PDF version is available at Monte Cook Games.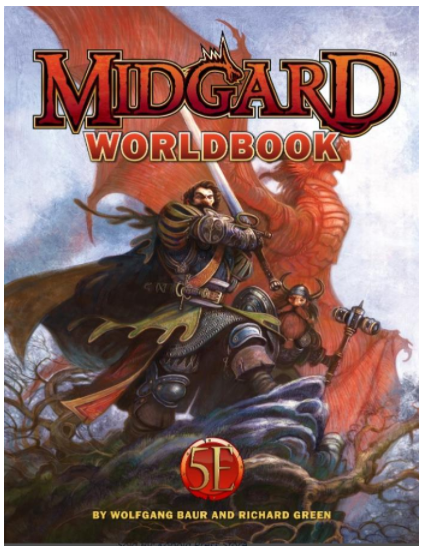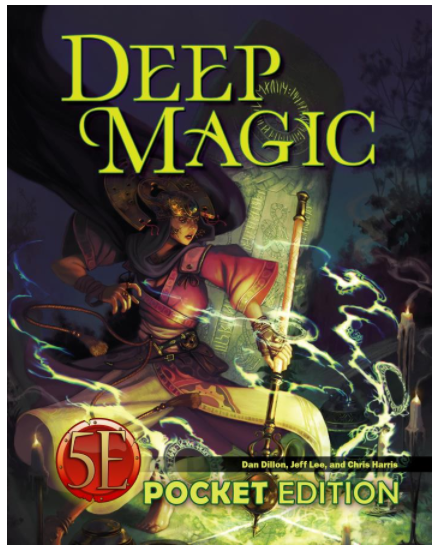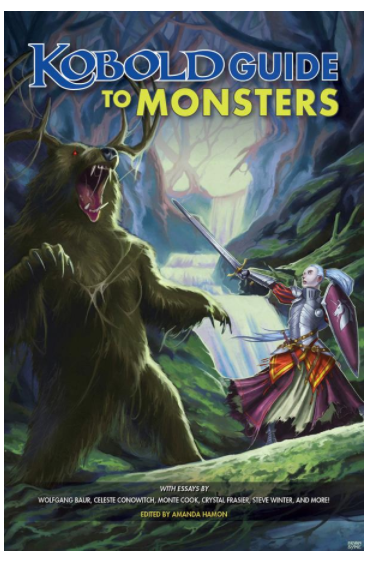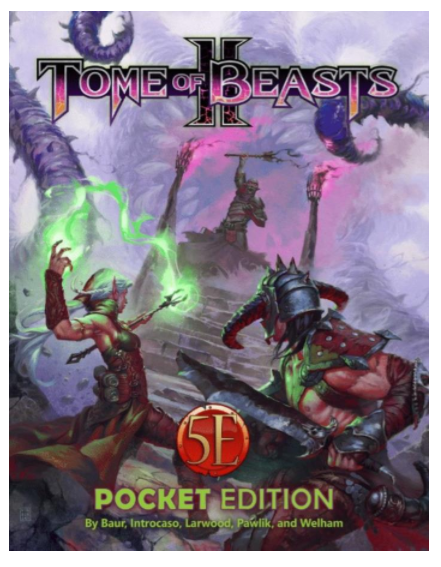 Midgard Worldbook | Deep Magic (Pocket Edition) | Kobold Guide to Monsters | Tome of Beasts 2 (Pocket Edition) by Kobold Press
SYSTEM: Dungeons & Dragons Fifth Edition
PRODUCT TYPE: 460-page hardcover setting book/356-page digest sized softcover/ softcover monster advice/digest sized monster advice book
RETAIL PRICE: $49.99/$24.99/$19.99/$29.99
DESCRIPTION: The Midgard Worldbook describes a world embroiled in an age of war. The roads to the shadow realm are open again, the fey have returned to claim their ancient tribute, the giants prepare for Ragnarök, and the goblins grow restless. In the Crossroads, the shadow of the vampire princes falls across the land and the World Serpent is stirring. Includes: detailed description of Midgard's empires, cities, and kingdoms; characters like Baba Yaga, the lords of the Dragon Empire, the honest folk of Zobeck, various elven holdouts of Dornig, and the vampire lords of Morgau; and full lore on the pantheons of the Northlands, Crossroads, Elves, and others. For the GM only are rituals and ambitions of the Dark Gods, forbidden lore of blood magic, void magic, and various dooms and items. Also includes revised and expanded lore for the planes, history, calendars, and conflicts of the world. Deep Magic contains over 700 spells, the Beer domain among others, and new info on familiars. I now want to make a cleric of Leinenkugel, god of beers, named Bud. And I'm thirsty. The Kobold Guide to Monsters contains essays by RPG veterans Monte Cook, Wolfgang Baur, Mike Mason, and more on how to improve monsters including how to: put their environment and resources to best use, employ common-sense motivations to guide their behavior and choices, develop realistic alternatives to just fighting and dying, and develop sensory-filled descriptions. Tome of Beasts II includes over 400 new monsters including magma octopuses and wraith bears.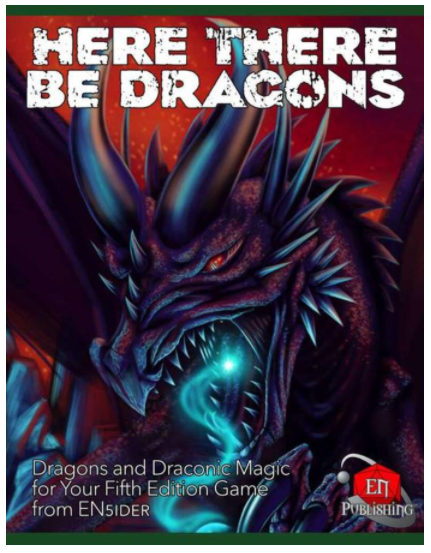 Here There Be Dragons by EN Publishing
SYSTEM: Dungeons & Dragons Fifth Edition
PRODUCT TYPE: 28-page softcover book of unique dragons
RETAIL PRICE: $28.95
DESCRIPTION: Covers five unique dragons ranging from CR 9 to a mighty CR 27 detailed over several pages, with its own description, backstory, illustration, and game statistics. Also includes additional draconic rules and player options. Dragons include Syndrathrax the Soul Hoarder, Bezkusmet the Unscaled, Glamdrellyxxana the Gold, Teyladin the Reclaimer, and The Librarian of Orban Tur.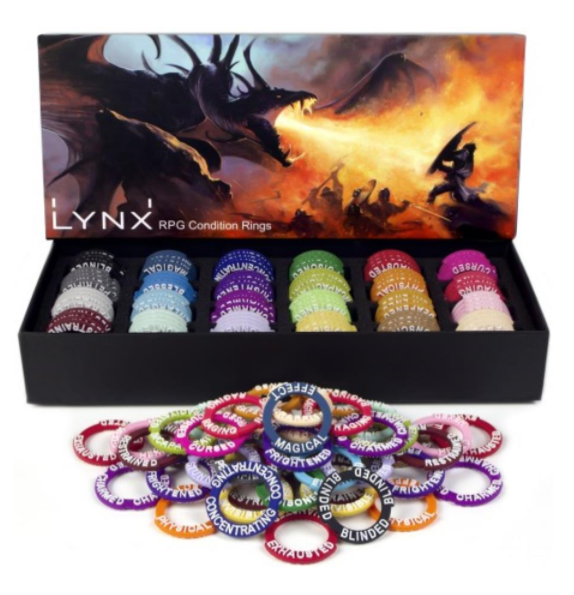 LYNX RPG Condition Rings by Nord Games
SYSTEM: Dungeons & Dragons Fifth Edition
PRODUCT TYPE: 96 condition rings
RETAIL PRICE: $39.99
DESCRIPTION: 96 conditions rings to track 24 different conditions. Tracks the most frequently used spell & ability effects. Works with any brand and type of miniatures. With an inside dimension of 1 inch, they fit exactly over the base of standard 25mm miniatures. For larger size figures simply hang the rings on the miniatures.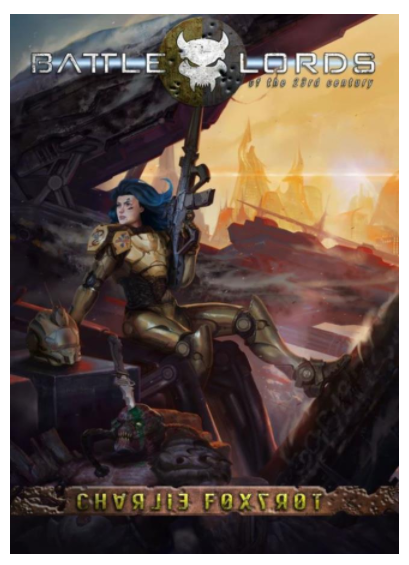 Battle Lords of the 23rd Century - Charlie Foxtrot by 23rd Century Productions
SYSTEM: Battlelords of the 23rd Century
PRODUCT TYPE: hardcover adventures
RETAIL PRICE: $40.00
DESCRIPTION: A Charlie Foxtrot is a clusterfiasco but not using the word fiasco. Includes five one-shot, scenarios complete with pre-generated characters. Each scenario is set at a different level of character experience. The scenarios range from corporate espionage, to military actions against the Arachnids, to mercenary work, to run-ins with the Atlanteans, and all the way up to flat out piracy. In between several of the scenarios are short fiction pieces that help set the tone, as well as providing deeper insights into the Battlelords universe. Situations in the adventure may go from bad to worse and embrace the dark humor of the game.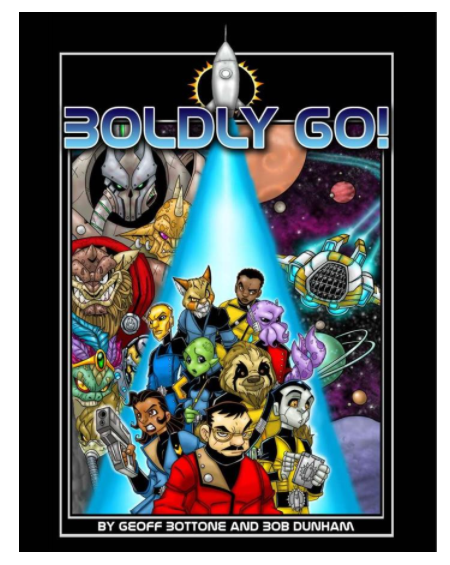 Boldly Go! by GeoffQuest
SYSTEM: unique system
PRODUCT TYPE: softcover core rulebook
RETAIL PRICE: $30.00
DESCRIPTION: PCs are officers in Space Fleet, the military and exploration force of the Stellar Alliance. Players design and take command of their own starship, filled to the brim with advanced technology and crewed by NPC shipmates that the players create. Characters travel the stars, meeting new species, solving ancient mysteries, and experiencing all the horrors and wonders the galaxy has to offer. Includes: seven Alliance species, such as a war-like and indomitable human, a rational and calculating synthoid, or a hierarchical and betentacled krakenoid and eight occupations aboard ship such as security officer, engineer, and captain. Uses the Traits System. Avoid injury by tearing your uniform and having it take the brunt of the damage. PCs test their wits against the paranoid spymasters of the Xukunian Union or cross swords with the cybernetically augmented space dragoons of the Vatizaran Empire.
The Last Train Out of Rakken-Goll by Mongoose Publishing
SYSTEM: Traveller
PRODUCT TYPE: softcover adventure
RETAIL PRICE: $14.99
DESCRIPTION: Available again. An invitation from Sir Willard Vorstaten leads the Travellers to Rakken-Goll, a dying cattle town in the middle of nowhere. Fire, flood and feuding threaten to wipe out the town's economy and perhaps destroy it. Sir Willard has the authority to act and he is eager to do right, but he is inexperienced and indecisive. Now he needs allies who can help him stop the last train out of Rakken-Goll.