This week play a Little Grey Alien in
Dungeons & Dragons
, enjoy other PC supplements, as well as adventures some complete with miniatures and game mats. There are character journals for players and 1000 adventure seeds for GMs. Some old school monsters and an adventure for fantasy Brazil will appeal to some GMs. Also a brand new RPG by Jonathan Hicks.
Little Grey Aliens by Why Not Games
SYSTEM: Dungeons & Dragons Fifth Edition
PRODUCT TYPE: supplement
RETAIL PRICE: $19.99
DESCRIPTION: PCs can play Little Grey Aliens in a fantasy world. The Greys as a playable race with stats, culture, history, and info on how to integrate them into a D&D game. Includes five new backgrounds for the Command, Engineering, Medical, Science and Security departments and new class archetypes such as the Commando, Psychic, and Technomancer. Also details the strange advanced technology of the Greys like a disk beamer, a phase induced field generator, an autodoc for healing, or and datapads complete with apps. Finally, a hundred entry trinket table suitable to Little Grey Aliens and other sci-fi or science fantasy games.
Underworld Player's Guide by Kobold Press
SYSTEM: Dungeons & Dragons Fifth Edition
PRODUCT TYPE: supplement
RETAIL PRICE: $19.99
DESCRIPTION: A book of new player options, including new underworld races, new subclasses and tools, backgrounds, and undead-themed spells. Includes eight playable races including: derro, mushroom folk, deep trollkin, drow and more. Also includes new backgrounds such as the Siwali Embalmer and Ghoul Imperium Deserter, the Herald of the Ebon Star roguish archetype, Grave Binder and White Necromancer arcane traditions, Primal Path of the Sarastran, Imperial Hunter ranger archetype, and more.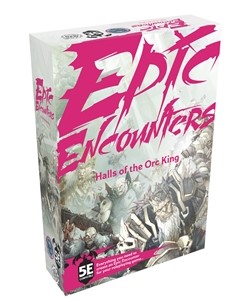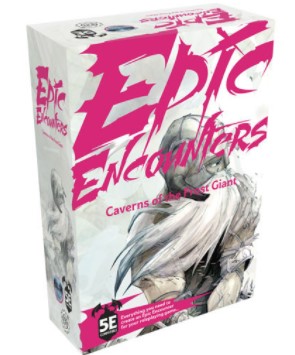 Halls of the Orc King | Caverns of the Frost Giant by Steamforged Games
RETAIL PRICE: $49.95 | RETAIL PRICE: $39.95
SYSTEM: Dungeons & Dragons Fifth Edition
PRODUCT TYPE: adventure, miniature(s), and game mat
DESCRIPTION: In the bitter winter, the Orc King's frost orcs launch brutal raids on nearby settlements before vanishing into the snow. Rumors say the King grows stronger, his ambitions grander, and his army more powerful. The frost orcs must be tracked back to their lair and defeated in their icy halls. Contains: 20 Detailed Frost Orc Minis (9 unique sculpts), Double-Sided Game Mat, and an Adventure Book with Monster Stats. Hall of the Orc King works as a standalone encounter or combined with Caverns of the Frost Giant. Frost giants hit hard and fight hard. Hard headed and stubborn, the giant is consumed by bloodlust only matched by their brute strength. Though they rush into battle, their survival instinct is strong, so they have a nasty habit of laying murderous traps. Contains: Frost Giant Miniature, 12 Grimfang Orc Tokens, 6 Trap Tokens, 1 Double-Sided Game Mat, and an Adventure Book with Monster Stats. Can be used as the finale to Hall of the Orc King or as a stand alone conflict.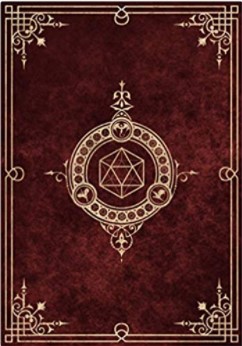 Character Journal for D&D 5E by Dandy Beyond
SYSTEM: Dungeons & Dragons Fifth Edition
PRODUCT TYPE: 7 by 10 inch with soft, matte cover
RETAIL PRICE: $9.95
DESCRIPTION: This journal is for players and it includes five detailed character sheets with some features that are often overlooked (carrying capacity, jumping distance etc.) One character sheet includes: a backstory page, a class/race/personal info page, an inventory page, an ability scores and skills page, a combat, movement and features page, two pages for spells (1-9th lvl) and spell slot tracking, and a blank page for additional information or drawing. Also includes 100 lined college ruled pages for note taking and 10 graph pages with 1/4' grid for drawing maps.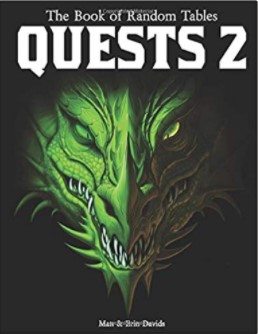 The Book of Random Tables: Quests 2 by Matt Davids and www.dicegeeks.com
SYSTEM: systemless
PRODUCT TYPE: RPG supplement
RETAIL PRICE: $7.99
DESCRIPTION: Cut down GM prep with 1000 quest seeds for fantasy tabletop role-playing games.The quest ideas are arranged by a broad topic and are placed in D100 random table formats. The tables of ideas are Curses, Deserts, Disasters, Dragons, Dwarves, Fighter Guild, Ghosts, Halflings, Mountains, and War. Each table is developed around a general idea, some basic and some more detailed, to help GMs determine what ideas will work best for their campaigns or sessions.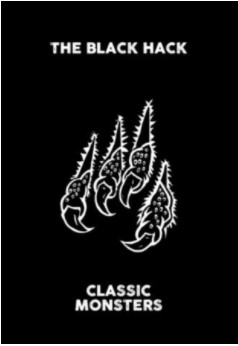 Classic Monsters (softcover) | Classic Monsters (hardcover) by Square Hex
PRODUCT TYPE: monster supplement
RETAIL PRICE: $8.95 | $17.49
SYSTEM: The Black Hack Second Edition
DESCRIPTION: 240 monsters drawn from B/X and First Edition, all converted for use with The Black Hack. This book allows Black Hack GMs to use early D&D, AD&D, and OSR modules in their games without having to convert all of the monsters. Also includes: Monsters' Spell Index, Monster Conversion rules, and New Poison/Venom rules.
Those Dark Places Industrial Roleplaying by Osprey Games
SYSTEM:unique
PRODUCT TYPE: core rulebook
RETAIL PRICE: $25
DESCRIPTION: PCs lead lives of exploration, isolation, and survival in a dark and dangerous universe. Space is hell. The idea of space exploration to further the frontiers of humankind sounds noble, but really it is about making money. And money can be made. But…. There are equipment malfunctions, strange discoveries, crewmembers going insane.... The PCs are along out in all that black for months or years, breathing recycled air and drinking recycled water, with nothing but a few feet of metal and shielding between them and certain hideous death. A rules-light, story-focused roleplaying game about the darker side of space exploration. The PCs travel the stars in claustrophobic, dangerous metal cans with everything funded by budget driven corporations.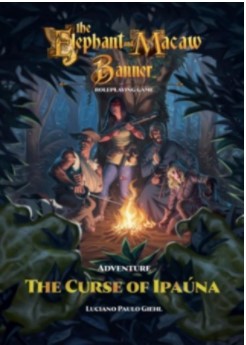 The Elephant and Macaw Banner--The Curse of Ipauna by Porcupine Publishing
SYSTEM: unique
PRODUCT TYPE: module
RETAIL PRICE: $12
DESCRIPTION: An adventure of exploration and horror. The archives of the Society of Jesus hold a mysterious letter detailing how a group of around fifty Frenchmen who entered the salt marsh beyond Uruçumirim were never seen again. The letter also describes that by Captain Remy LaSalle, leader of the expedition, brought along a great treasure. In the years since, no banner company has found this supposed treasure. Now it is the PCs turn to try.