Lots of new support for D&D, Pathfinder, and OSR RPGs including a magazine, a new class, adventures, monsters, and psionics. Fantasy Trip gets character collections. The week rounds out with a miniatures cathedral and miniatures that work well in post-apocalyptic RPGs.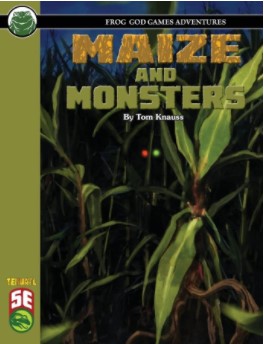 PLEASE NOTE: RPG Print News
covers new RPG releases and some classics and sales available from online retailers. It does not cover products that are only available to customers through kickstarter, directly from a publisher website, or as print on demand.
Maize and Monsters 5E | Maize and Monsters Pathfinder | Maize and Monsters Swords and Wizardry | The Hidden Shrine of Tmocanotz 5E | The Hidden Shrine of Tmocanotz Pathfinder | The Hidden Shrine of Tmocanotz Swords and Wizardry by Frog God Games
PRODUCT TYPE: softcover adventures
RETAIL PRICE: $20 each
DESCRIPTION: In Maize and Monsters the PCs learn the grim reality that time sometimes opens old wounds rather than healing them. Investigating a recent murder in the village of Pilhua the PCs must wade through a list of suspects and motives that lead them to discover the ugly truth about a heinous crime that spawned a greater evil than even its perpetrators could ever imagine. The Hidden Shrine of Tmocanotz introduces the PCs to an old foe making an appearance in the forsaken Izmalli Swamp on the island of Tehuatl. In a subterranean and partially submerged complex beneath the ground, the deranged worshippers of a foul deity have made a sudden and unexpected resurgence in their efforts to spread madness and wickedness beyond their isolated corner of the wetlands.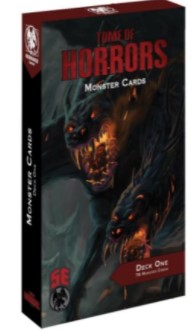 Tome of Horrors - Deck One | Tome of Horrors - Deck Two | Tome of Horrors - Deck Three by Frog God Games
SYSTEM: Dungeons & Dragons Fifth Edition
PRODUCT TYPE: tarot-sized card decks
RETAIL PRICE: $35 each
DESCRIPTION: 78 unique monster cards with complete 5th edition stats drawn from Necromancer Games Tome of Horrors 5e 2020. Can be used as flash cards to show players or by a GM to organize her campaign and make her job easier.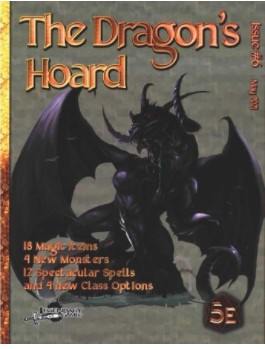 The Dragon's Hoard Issue #6 by Legendary Games
SYSTEM: Dungeons & Dragons Fifth Edition
PRODUCT TYPE: magazine
RETAIL PRICE: $11.99
DESCRIPTION: A monthly anthology of magic items, spells, monsters, and more from Legendary Games' ongoing Legendary Loot Patreon. The Treasure Trove features the magic items: cane of butterflies, winterbark barding, fluid modulation gloves, and the scepter of forgotten time. Basker's Books includes new spells like powerslave, dream alliance, form of the dragon, and subjective reality. Class Acts features new class options like the Circle of Shapeless and Primal Terror for druids and the Knight Hospitaller for fighters. And Marvelous Monsters includes the bakeneko, disenchanter, and stained glass knight.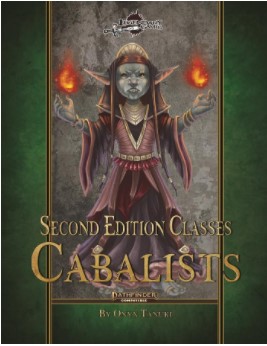 Second Edition Classes - Cabalists by Legendary Games
SYSTEM: Pathfinder Second Edition
PRODUCT TYPE: softcover supplement
RETAIL PRICE: $12.99
DESCRIPTION: The cabalist is an occult spellcaster devoted to the secret mysteries of hidden spirits within the world and in worlds beyond. They tap into the hidden world of magic through their familiars, either following the teachings of a cabal like the Beastcallers, Leyline Cult, or The Seekers of Perfect Form or attempting to remain unbound to master their powers alone. Each cabalist binds with an animus like pyre, storms, portents, or wisdom, and this mystical communion shapes their eldritch power, sometimes even changing their casting tradition, with animus blessings and bonus spells, familiar adaptations, and taboos. Includes over 150 options here including nearly 50 class feats like Bizarre Weaponry, Chant, Secret Lesson, Animus Wellspring, and Toil and Trouble, general feats like Familiar Inspiration and Mystic Animal Tattoo, and spells like ice tomb, silverlight, and blood mantis clutch. Also include complete rules for nearly 20 familiars, from common toads and spiders to oozes, imps, tomes of teeth, and broomstick mimics.
Planar Compass- Issue 1 by Planar Compass
SYSTEM: Old-School Essentials
PRODUCT TYPE: softcover supplement
RETAIL PRICE: $15
DESCRIPTION: Dreamhaven is called "The friendliest Port in the Planes." Residents may be spirits recently separated from the body or visiting PCs traveling between worlds. Includes four new classes, psionic rules and over 40 psionic powers, three small adventures, and a dungeon.
Elven Towers by Pelgrane Press
SYSTEM: 13th Age
PRODUCT TYPE: softcover supplement
RETAIL PRICE: $24.95
DESCRIPTION: A champion tier 13th Age adventure for 3 to 6 adventurers. PCs adventure through plotlines and options throughout the Queen's Wood, with multiple elven-themed encounters. Ages ago the Elf Queen locked away a portion of her power in a magical vault which in the chaotic 13th Age has turned out to be a terrible idea. Over time, the original elven guardians of the vault's keys have been stealthily defeated or corrupted; and now the keys to the Elf Queen's power are hidden in three magical towers and the elves themselves cannot pierce their defenses. The PCs are needed.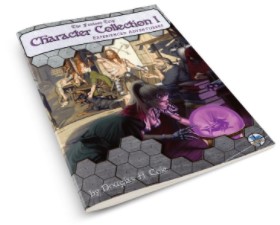 Character Collection 1 | Character Collection 2 | Character Collection 3 | Character Collection 4 by Gaming Ballistic
SYSTEM: The Fantasy Trip
PRODUCT TYPE: softcover supplement
RETAIL PRICE: $10/$10/$15/$10
DESCRIPTION: Character Collection 1 has 20 experienced non-magical characters for The Fantasy Trip. Ranging from 33–41 points, it includes warriors, merchants, burglars, scouts, and spies. Plus the occasional village lout. Character Collection 2 contains 40 starting characters for the Fantasy Trip ranging form 30-33 points. All are rookies like worthy town-folk. Character Collections 3 contains 72 characters for The Fantasy Trip, each of whom exits with their own ulterior or nefarious motives. Features bandits and outlaws ranging from 30-38 points. A full dozen are an organized squad of heavily armed soldiers, freelancing in their own special way. Character Collection 4 contains 40 characters ranging from 32-40 points for The Fantasy Trip, each of whom is a Wizard with several spells and arcane abilities. Not all are adventurers thirsting for lucre or reclusive power-drunk schemers locked in a far-off tower. Others are enchanters of items or the fearless combat mage.
Rampart Modular Terrain: Eternal Cathedral by Archon Studio
SYSTEM: systemless
PRODUCT TYPE: 32/28mm scale modular terrain
RETAIL PRICE: $69
DESCRIPTION: Plastic unpainted miniature terrain. Preparation and assembly are required. Contains a variety of ruins and floors, torches, gargoyles, peaks, columns, and statues as well as a gate, stairs, and a ladder.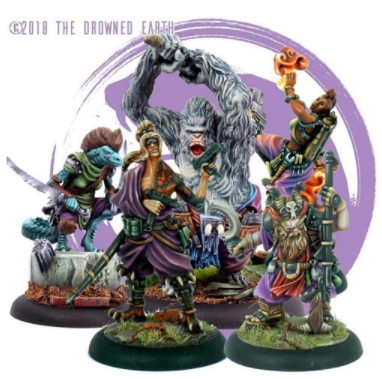 The Drowned Earth: Firm Faction by Olmec Games
SYSTEM: The Drowned Earth skirmish game
PRODUCT TYPE: metal miniatures
RETAIL PRICE: $54.99
DESCRIPTION: Five unpainted miniature gangsters, cutthroats, and thugs requiring preparation and assembly. While made for a skirmish games, the minis would also work in sci-fi and post-apocalyptic RPGs like Gamma World and Mutant: Year Zero.
Last edited: