2300AD
is back and it is time to once again take to the stars. Pentapods await.
D&D
gets star unicorns! Plus lots of adventures and frozen fun with new rules. And there are frozen battle maps (depicted not actually frozen ) along with planar and dungeon battle maps. Cthulhu gets a boxed set because the Old One demands it.
G.I. Joe Role Playing Game
gets miniatures including Snake Eyes. And Modiphius has GM support for
Dishonored
. Seems like a great week to be an RPG gamer. I have Pentapods again. Rock 'n' Roll (hopefully with his M-60) is back but as a miniature now instead of an action figure with swivel arm battle grip (bonus points if you get the reference), there are battle maps, and more Cthulhu fun. Also, star unicorns. Maybe the villain of Stranger Things season 5?!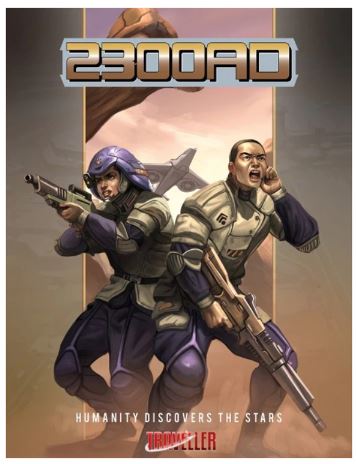 ​
Note:
RPG Print News
covers new RPG releases and some classics, reprints, and sales available from retailers. It does not cover products that are only available directly to customers through kickstarter or as print on demand.
2300AD
by Mongoose Publishing
SYSTEM: Traveller
PRODUCT TYPE: box set with three softcovers and a poster map
RETAIL PRICE: $99.99
DESCRIPTION: One of my favorites, back in a new edition. Highlights for me are walkers to pilot and the alien Pentapods. A hundred years from now, humanity is claiming worlds far from Earth. Despite nearly destroying itself in the Twilight War, humanity has held on and kept its dream alive. Humanity reaches for the stars via stutterwarp. Campaigns includes interstellar exploration, war on the far frontier, building new colonies on hostile worlds, discovering and understanding alien species, and engaging in espionage and crime. Contains: Book 1 Characters & Equipment including robots and drones, Book 2 The Worlds of 2300AD including aliens and animals, Book 3 Vehicles & Spacecraft including a glimpse at the alien spacecraft that have been encountered thus far by humanity, and a poster map Starchart of Known Space.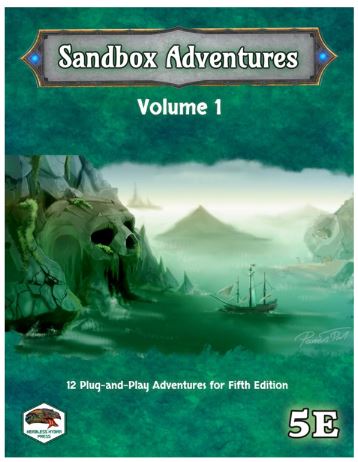 Sandbox Adventures Vol. 1
by Headless Hydra Press
SYSTEM: Dungeons & Dragons 5th Edition
PRODUCT TYPE: softcover supplement
RETAIL PRICE: $39.99
DESCRIPTION: A twelve adventure collection from 1st to 7th level with guidance on linking them together into a campaign. Includes Within the Cursed Mine, The Last Stand Tavern, Hunted on the Snow Barrens, Horror Beneath the City, Tomb of the Forgotten, Monster at the End of the Nightmare, Lair of the Goblin King, Mystery in Blackthorn Keep, Secret of the Sunspear, Lost in the Caligo Fields, Attack on Broad Apple Farm, and The Vanishing Bandit Fortress. Also has 18 original monsters, dozens of NPCs, new magical weapons and potions, and a new playable race.
Mag of Holding Issue #1 - Frozen Wastelands
by Penny Dragon Games
SYSTEM: Dungeons & Dragons 5th Edition
PRODUCT TYPE: magazine
RETAIL PRICE: $29.95
DESCRIPTION: Includes subzero adventures, icy creatures, expanded rules, magic items, lore, and more. Examples: go toe to toe with a Primal Yeti and its swarm of frostwing ravens, escape the clutches of the Cryo Hydra, and explore the lair of Blizwing the Withering Winter.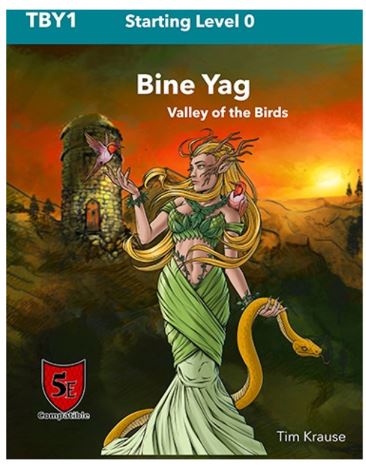 Bine Yag - Valley of the Birds
|
Teufel's Manor
|
Valley of the Unicorns - Asterion's Ascent
by Tomorrow River Publishing
SYSTEM: Dungeons & Dragons 5th Edition (alternate AD&D and Magic Seekers stats)
PRODUCT TYPE: softcover supplements
RETAIL PRICE: $24.99 each (last one is $29.99)
DESCRIPTION: Bine Yag is a campaign starting at level 0 and ending at 8th level. More than 75 full-color pages of adventures, maps and monsters, over a dozen original monsters, unique to Sakylana Island, six new magic items, over a dozen new spells, a new character class. Teufel's Manor is an adventure for 10th level PCs. PCs face off against a necromancer rumored to live therein. Includes custom demons, devils, and monsters, with illustrations. New spells. And unique treasure. Valley of the Unicorn leads PCs deep into the forest They meet the mysterious Oryx and wage battle against the evil wizard Rallina and his Anth 'Ops all in an effort to find and save the elusive, mysterious Asterion — a race of unicorns destined to return to their home in the stars far above the lands of Legendaria. I have to admit, that sounds pretty rad. Custom monsters, demons, and devils, with large, full color illustrations. New spells and over a dozen new magic items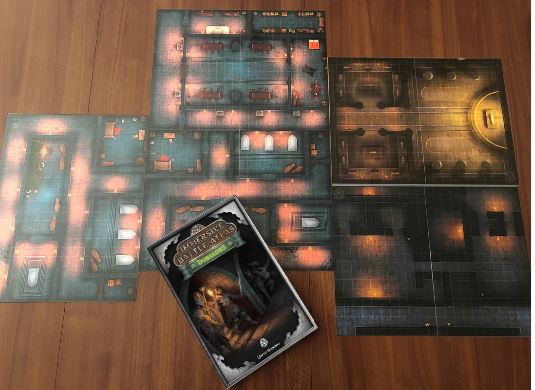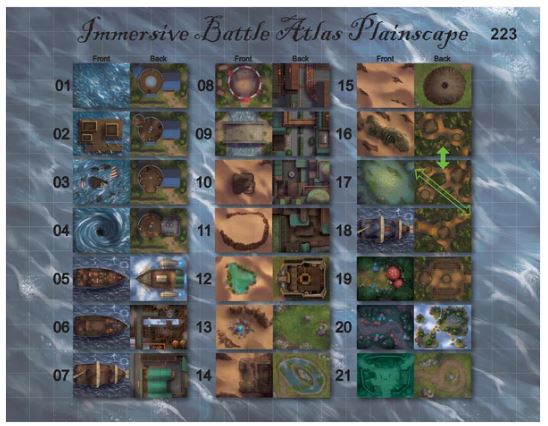 Battle Maps: Dungeons
|
Battle Maps: Frozen Wastes
|
Battle Maps: Plainscapes
by Yarro Studios
SYSTEM: Dungeons & Dragons 5th Edition
PRODUCT TYPE: box set of dozens of 17" by 22" battle maps
RETAIL PRICE: $80 each
DESCRIPTION: Each map pack features: 21 double sided (42 total) full color 17"x22" modular battle maps. Dry and wet erasable and takes static cling stickers. Has a tab system for quick organization and a lay flat design.
Cthulhu Hack All the Books
by Just Crunch Games
SYSTEM: The Cthulhu Hack based on The Black Hack
PRODUCT TYPE: box set
RETAIL PRICE: $82.95
DESCRIPTION: This bundle has every currently-in-print physical book released for The Cthulhu Hack, a standalone game of investigation and Lovecraftian horror. Features: simple mechanics to handle threats and investigation, ready-to-play archetypes or a fast and flexible character creation system, a range of tweaks including Wealth, Fortune, Adrenalin and Shock, and a shambling horde of Mythos horrors: Mi-Go, Deep Ones, Shoggoth, and more,. As well as the core 52-page The Cthulhu Hack A5 booklet with looming Cthulhu cover and an adventure - Save Innsmouth, it also includes: a copy of From Unformed Realms, random horror generator; The Haunter of the Dark, a story-to-adventure how-to guide; The Dark Brood, a guide to the cult and worship of Shub-Niggurath; plus copies of adventures, including Valkyrie Nine, Three Faces of the Wendigo, and a hardback copy of Mother's Love. The books are contained in an A5 sized deep box and comes with 4 wipeable character cards.
G.I. Joe Hero Miniatures Set #1
by Renegade Game Studios
SYSTEM: G.I. Joe Role Playing Game
PRODUCT TYPE: 11 unpainted 28 mm miniatures
RETAIL PRICE: $55
DESCRIPTION: Modeled after classic G.I. Joe characters, the unpainted miniatures can be customized and painted to look like a player's character. Examples: Bazooka, Cover Girl, Duke, Gung Ho, Mutt & Junkyard, Rock 'N Roll, Scarlett, Snake Eyes, and Stalker.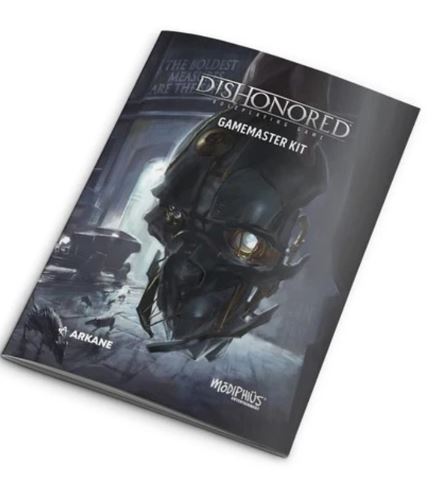 Dishonored - Gamemaster Toolkit
by Modiphius
SYSTEM: 2d20 Dishonored
PRODUCT TYPE: softcover supplement
RETAIL PRICE: $34.99
DESCRIPTION: Includes advice, details, locations, NPCs, and new rules to help start a campaign. Contents: A 51-page Gamemaster's booklet, a Gamemaster's Mat with key rules and a dedicated area to track Chaos, reference sheets for players, and a set of Chaos and Momentum tokens. Gamemaster advice includes alternative ways to start campaigns and use Chaos to its full potential. Dunwall locations to explore, a short adventure set in the Roseburrow Ruin, and new NPCs. New optional rules for crafting, inventing and tinkering.