Video games are a little off-topic, but this one is based on Green Ronin's 18-year old
Freeport: City of Adventure
setting. Coming from Drowning Monkey Games is a CRPG based in a virtual game room, hosted by a virtual GM (who, from the sounds of the press release, is a celebrity) with virtual dice, miniatures, and more.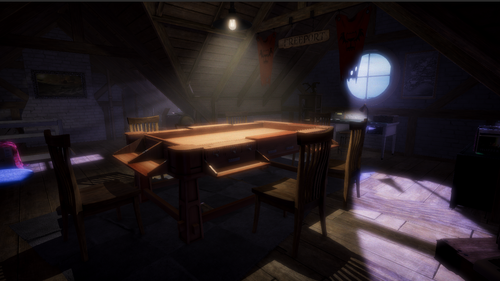 ​
The full announcement is below the trailer. Return to Freeport, which the game is based on, is a six-part series of adventures for the Pathfinder RPG. Here's some
more information from their site
:
This game is the culmination of two years of experimenting with different view angles, styles, and gameplay mechanics. We want Freeport to look, feel, and play, like a magical tabletop experience. It wasn't enough to make stylistic art that looked like real life miniatures, we want the player to feel like they are in a world, playing with actual minis.
The game takes place in a virtual world on a virtual tabletop. This will feel especially enhanced in VR. The table is your play space. There will be a 'back stage' where you can walk around the town, and when you enter buildings, we will build a 'front stage' that gives you a more intimate and detailed look of the world you are occupying
You will go through a real life process of picking out the type of character you want to play, opening a pack of minis, and painting them. We're using Unity Multipurpose Avatar, which means the possibilities are endless.
We set out to make this game look as real as possible. To accomplish this, we licensed actual miniatures from companies that produce miniatures, and converted them to game-ready 3D models.
A dedicated table exists behind the DM, complete with a set of brushes and pots of paint. Almost any combination is possible!
It's virtual tabletop the way you deserve: in a virtual attic with a virtual table! Design of the table was inspired by actual gaming tables that you (probably) can't afford.
Whatever you can imagine is in a true tabletop experience you'll find here. You'll have a quest journal that magically fills itself in, a character sheet that does the same, dice, maps, etc.


[video=youtube;2boFqFAPNR8]https://www.youtube.com/watch?v=2boFqFAPNR8[/video]
​
"August 2, 2018—SEATTLE, WA: Green Ronin Publishing and Drowning Monkeys Games are proud to announce the first Computer Role Playing Game (CRPG) based on Green Ronin's original tabletop fantasy setting Freeport: The City of Adventure.

"How incredible would it be to have a magic table that comes to life as the Game Master describes what is happening? What if you could play a tabletop game with friends over the internet in VR?" said Drowning Monkeys Games' Josh Chudnovsky. "These are the questions we ask to fans of computer and tabletop RPGs and these are the questions the Freeport Video Game will answer. This game is a wholly-new, fun, and unique approach on the CRPG experience. You play in a virtual room, hosted by a virtual Game Master (whose voice promises to be familiar to tabletop fans everywhere) on a virtual table. Everything that exists in real tabletop gaming; Dice throws, playing with friends, painting miniatures, dioramas, character sheets, etc. is represented in the play space."

Freeport is setting well-known to tabletop roleplayers. First launched in 2000 with the award-winning Death in Freeport, the "City of Adventure" mixes classic fantasy elements with pirates and Lovecraftian horror. Over the years Green Ronin has supported the setting with a series of sourcebooks and adventures, including the Pirate's Guide to Freeport and Freeport: The City of Adventure.

"When I created Freeport, I certainly wouldn't have guessed that it'd still be going 18 years later," said Green Ronin president Chris Pramas. "To see the setting thrive for all these years has been amazing. Now I'm thrilled we have the opportunity to bring the City of Adventures to video games."

Freeport: The City of Adventure will closely follow the recent adventure series Return to Freeport published by Green Ronin. It will also feature several hours of additional roleplaying side quests and offer a never-before-seen deep dive into learning more about the Lovecraftian world that Freeport inhabits.

Availability & Requirements: Freeport: The City of Adventure is slated for a Holiday 2019 release, and will require Windows 7/10, a 7th generation core-i5 processor, 16gb of RAM, and a DX11- capable graphics card."