Recently WotC has put on their website an opening for a Game Designer, as pointed out by Morrus earlier in the week.
And I am sure many people have applied. Many good, qualified people. And of course, many non-qualified people.
Now, I am all for all types of people working in all types of fields, it doesn't matter to me. As long as you're right for the job, and can do a good job, I don't care who you are.
But then there is this retweet,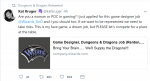 Now, I don't mind what she said, she can say whatever she wants on her twitter account. But, Wizards of the Coast, a public company retweeted it.
To me, that means if you're a man, don't apply because we already made up we're going to choose a woman (it literally doesn't say that, but it feels that way).
Now, do you feel they retweeted it because of:
Guilt?
To retweet a positive message of inclusion/positive reinforcement?
Let me know in the comments how you feel about this retweet.
Did you apply? Do you care if somebody gets hired over you because of gender?
Last edited: