Cubicle 7 has revealed Johan Grenier's cover art for the new Warhammer 40K Wrath & Glory core rulebook.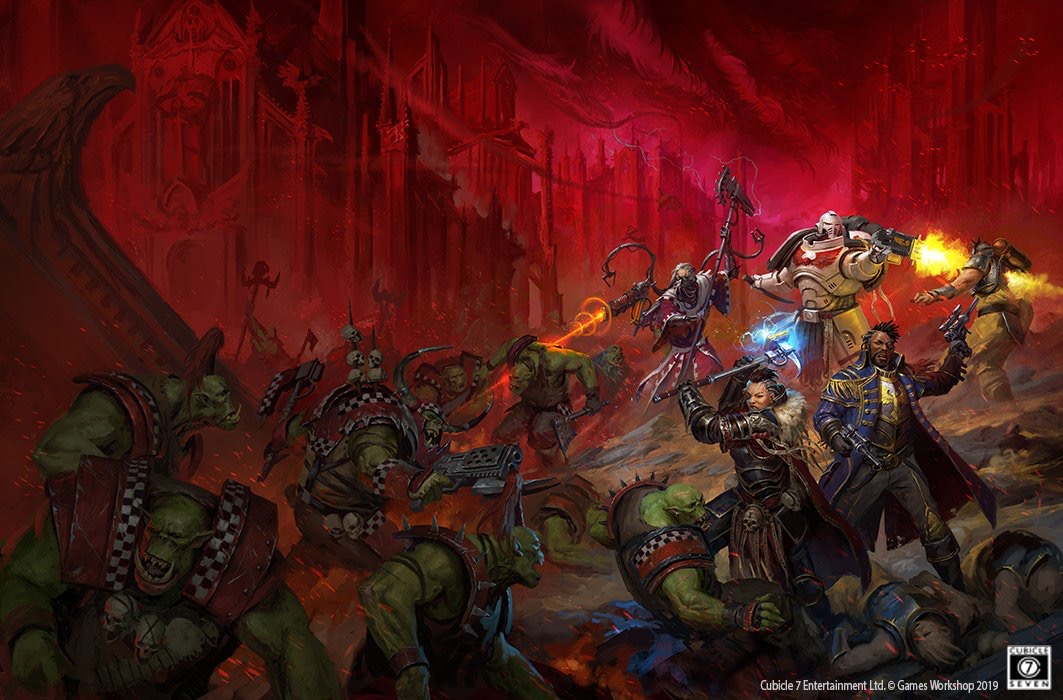 ​
UPDATE! Cubicle 7 has now
shared the actual book cover
along with a breakdown of the characters depicted:
"The Rulebook cover shows a group of Iconic adventurers battling off Orks and Chaos cultists in a mission to save the Gilead system.
Jiao Abaijan
, Ordo Malleus Inquisitor, is determined to maintain the purity of the Gilead system in the absence of the Emperor's light – in this instance, by pulverising an Ork with her thunder hammer.
Zaire Obasi Varonius
, a minor dynast of a noble Rogue Trader house, watches Jiao's back with his twinned needle pistols. If he survives this mission, the exploits of this rag-tag warband might make his name as a defender of the Gilead system (and maybe make him a small fortune too).
Invictor Braham
, a Primaris Intercessor of the mysterious Absolvers chapter fires his bolt rifle point blank into a heretic. Due to the low number of Astartes in the isolated Gilead system, they frequently find themselves operating as kill teams, on solo missions, or accompanying groups such as this one.
Phea Osowicz
has found herself in a similar predicament; after travelling from Mars to the Gilead in search of archeotech, the Tech-Priest found herself trapped by the Great Rift. She now lends her technological knowledge and volkite blaster to this warband as she searches for the secrets that could unlock a way back home."
Last edited: