It's been over a million words and dozens of modules but here we are: the
D&D 5E
conversion for the
ZEITGEIST
Adventure Path has reached its end!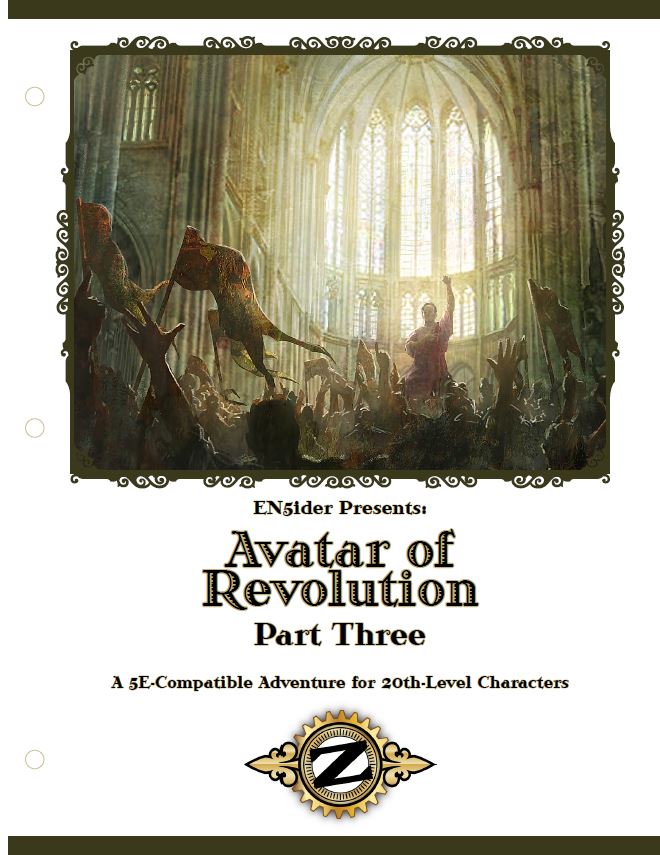 This final PDF includes a staggering
36
different high-level NPCs and creatures ranging from series favorites like the Ash Wolf to the master antagonist Nicodemus, elite ship crews, and even a dragon mage. In addition to this absolute trove of material for tier 4 play, there are also several handouts to help GMs make the epic climax of this
ZEITGEIST
campaign truly reach up into the stars.
Get it by joining EN5ider! Or if this is the first you've heard about ZEITGEIST, check out www.adventuresinzeitgeist.com for more information and a ton of great free resources!​
If you've ever thought "
gosh I wish that there was a really in-depth campaign for 5E"
and you somehow have not already caught on to the
ZEITGEIST
Adventure Path, it is
massive
and you are not going to find anything even remotely as nuanced and detailed. What's more even if you could find a more detailed adventure path—and I want to be perfectly clear here that you absolutely won't—you'll be paying out the nose for it. Not so with
ZEITGEIST
! For a few dollars (or pounds
) each month you can become a member to get every single part of every module for this truly epic and engrossing campaign, all downloaded from the absurdly large archive of more than 370
EN5ider
articles at no extra charge.
Stay tuned to see what adventure EN5ider gets cracking into next month!​