Josh Gentry - Author, Minister in Training
Hi everyone! I just dropped a new A5e heritage, a conversion of the classic elan heritage!
Elans are beings of psychic energy walking among us in human guise! These characters fit easily into almost any heroic fantasy setting, but especially in settings with psionic themes (whether contemporary or old-school)!
Included in this supplement are the following rules expansions:
New player heritage: the elan
New player culture exploring the elan backstory
4 new heritage gifts to customize your elan character
3 paragon gifts to reward exemplary elan characters
A new spell for transforming a character into an elan
Reflections on contemporary sources for psionic storylines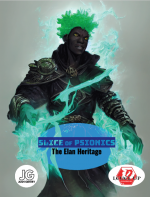 Now available for $4.99 on DTRPG
Slice of Psionics - The Elan Heritage (A5E) - Josh Gentry | DriveThruRPG.com
Last edited by a moderator: